"Mummy, bhukh Lagi hein, Maggi chahiye." Our go-to food phrase whenever we're hungry! We can never say no to Maggi, whether it's 3 AM or 3 PM, evening or morning, snack time or dinner time. Because our chemistry with Maggi is something, we are proud of! Hein na? Normally, we're all aware of making the simple Maggi dish and relishing it within no time. But our "Aaj kuch toofani kartein hein" feeling is intact no! Trying Maggi in it's all new aavtaar is totally fun. Hence, we've come up with the best ways to eat/redefine Maggi for you. So, let us take our beloved Maggi noodles to the next level and have fun. Maggi stock kar lijiyee abhi, kyunki you'll crave for MAGGI the most after reading this blog!
Best Ways To Redefine Maggi
1. Maggi Noodles Salad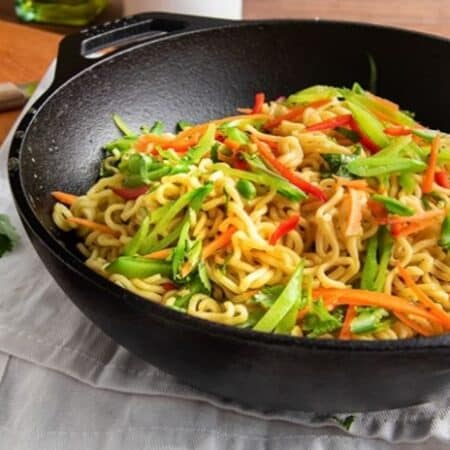 Salad anyone? Umm, you might be wondering, "aree salad khana hein, are you kidding me?" Haha, we can totally understand your love for everything food but salad. 😛 But trust us, you're not gonna say NO to a salad after relishing this beautiful Maggi Noodles Salad! It's crunchy, tasty, juicy, and colorful.
2. Maggi Cheese Corn Balls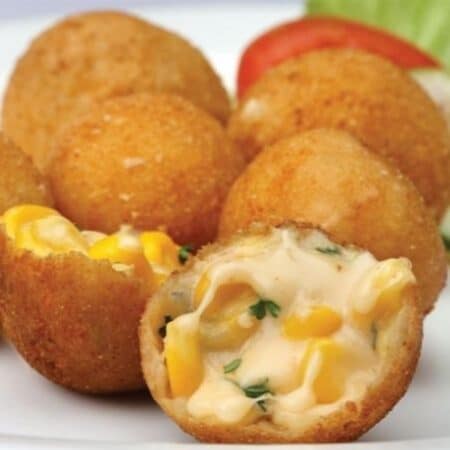 Let's Cheese it! What do you say? Of course, we don't say no to cheese no! 😛 Maggi Cheese Corn Balls are one hell of a delight. This melt-in-mouth goodness is easy to prepare and is the best option for a light snack. Tiny crispy balls of corn, mixed herbs, masala, and cheese have the potential to melt you. You can make these appetizing balls at home with this amazing recipe.
3. Crispy Maggi Pizza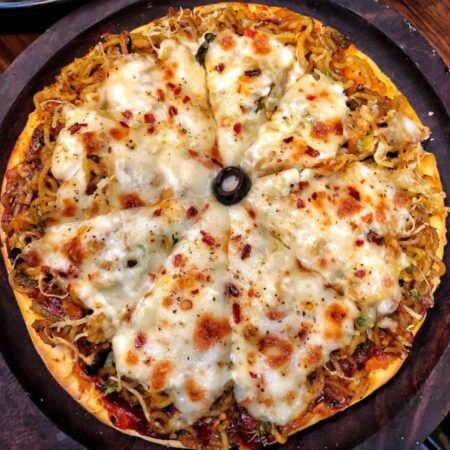 Would you not like to have a slice of heaven on your plate? Ahh, you got it right. We're talking about the Crispy Maggi Pizza guys! The luscious Maggi noodles as a pizza base or as toppings are totally drool-worthy. It sure has a unique taste and is perfect for all your savoury cravings. However, it has varied versions. But the pizza drenched in cheese is what makes it more appealing! Try it with your favorite toppings and you'll find it more interesting.
4. Maggi Burger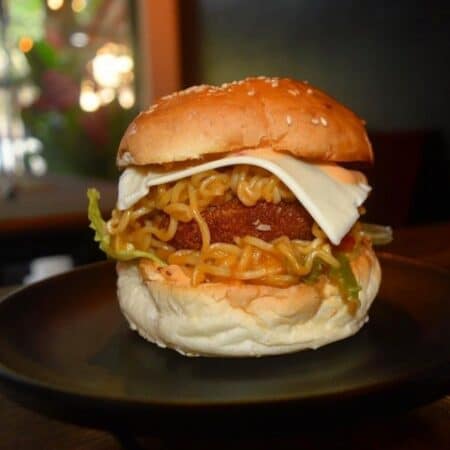 Let's make ordinary extraordinary. Let's top our cutlet patty and vegetables with Maggi and make it a Maggi Burger! Cause our love for burgers is eternal! Wouldn't it be our favorite combo on a plate? Maggi burger would be a mountain of happiness that is surely going to take your taste buds on a joy ride. Click here to see how you can make this oh-so-cool and easy burger at home.
5. Maggi Pakora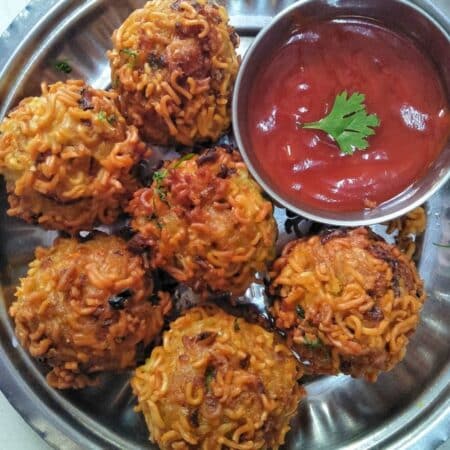 Are you a Pakora obsessed person? Or someone who loves enjoying a cup of chai with garma-garam pakora? Aree bhai, toh phir you need to try the Maggi Pakoras ASAP! It's crispy, flavorful, gooey, and inviting. Maggi pakoras is creativity on a plate and is ideal way to spice up your mundane evening snacks. Delight your family today by making a batch of fresh Maggi pakoras. Serve it with some ketchup or green chutney and witness the wide smiles on their face!
6. South Indian Style Maggi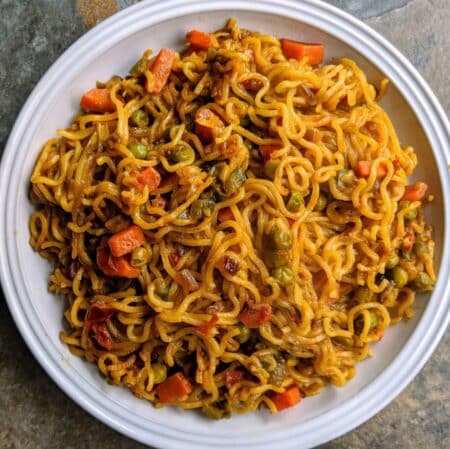 "Aiiyoo, you too? South Indian cuisine fan?" If you're nodding your head in agreement, then we've got you a perfect Maggi recipe. It's yumminess with a whole lot of goodness. Yes, it's the South Indian style Maggi also known as Vegetable Masala Maggi. Toss the Maggi noodles in Indian masalas, and toss it in oil with some mustard seeds. Add your preferred combination of vegetables to amp up your health quotient. You can offer this dish to the elders of the family and trust us, they won't be able to resist it! "Aur ghar mein koi Maggi khane se mana bhi nahi karega aage :P"
7. Chinese Maggi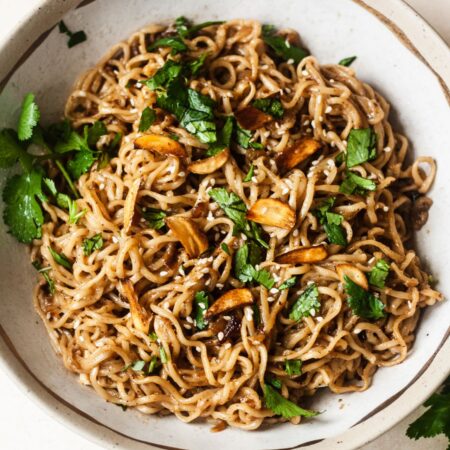 Imagine binge-watching your favorite Korean drama and wanting to have some noodles. Because every other meal in the Korean drama shows the OG noodles, isn't it? Annnd food + favorite show sounds perfect! Hence, we thought of listing the delightfully delicious Chinese Maggi in the list. Chinese Maggi or Chow Maggi is a simple way of preparing Maggi with some soy sauce, green chili sauce, and vinegar. Believe us, you're never going back after tasting this appetizing dish.
8. Maggi Bhel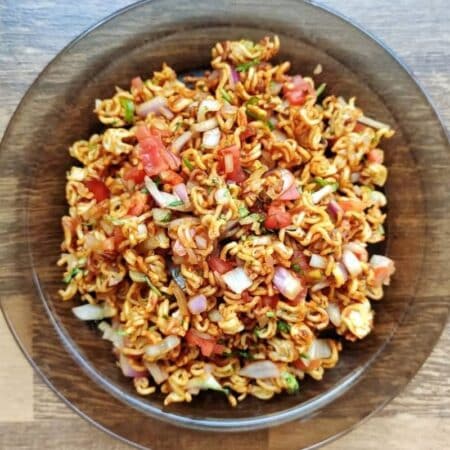 A twist with our beloved Maggi to make it even more delicious. Maggi Bhel is one such interesting dish with lots of texture and flavors. It is made from roasted Maggi noodles, spices, herbs, spices, chutney, and ketchup. A wonderfully tangy and savory dish for all those evening snack cravings. This crunchy and delightful snack can be made in a jiffy and saves your time too! It also happens to be a quick and easy fix for all our sudden cravings. Seeee, you can make it like this!
9. Cheesy Maggi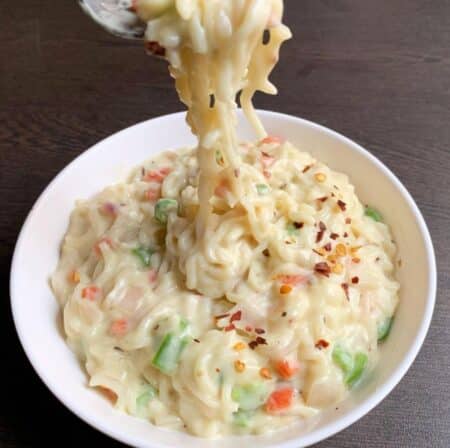 Maggi + Cheese = Ultimate Heaven! We know, we know you totally agree with us on this fact! The most loved Maggi noodles recipe ever is THIS! Additionally, this dish is fascinating due to it's unique flavors which is loved by all. It is a tasty twist to our comfort Maggi dish. When you sense the aroma of the boiling Maggi and melting cheese, you know "kuch aacha pak raha hai!" Did you know that you can enjoy a good plate of cheesy Maggi for breakfast, lunch, or dinner ya!
10. Lemony Instant Noodles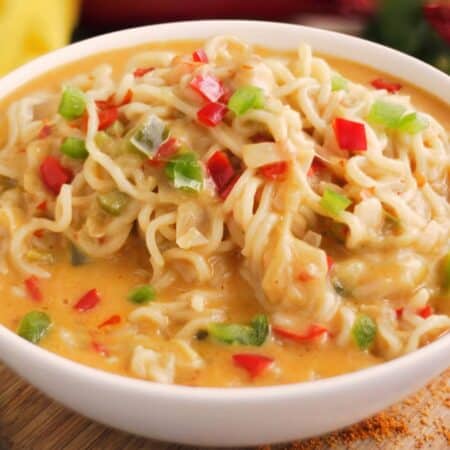 When life gives you lemons, make a hot tempting plate of Lemony Instant Maggi Noodles ya! A delightful twist to our Maggi indeed. This Indian style simple dish can be made with few ingredients at home. But we assure you that your taste buds are gonna have a blast after tasting this awesome Maggi. Also, if you're a lemon rice fan then Lemony Instant Maggi Noodles is just for YOU! Tell us which of these awesome recipes will you touch today with the best ways to eat/redefine Maggi.