Freshly baked croissant, hot pancake, chocolaty waffle, and a cup of coffee… Will this be enough motivation for you to wake up and go out for a perfect breakfast? Sometimes we deserve to treat ourselves out of the blue and the best time to do that is- the start of the day. For us honestly, when we think about all these fancy breakfast delicacies is enough to have breakfast all day and at any time of the day 😛
As said by everyone around you breakfast is the most important part of your day. It is the one thing that defines your day and lets you know that you have started it right! So why not get a little fancy and have some of the amazing fancy breakfast? Here are 5 Fancy Breakfasts in Ahmedabad for the perfect morning breakfast. If it's a lazy Sunday or a boring Wednesday these Fancy Breakfast places in Ahmedabad will make you feel good for the remainder of your any day!
The Mad House Cafe is a cozy cafe perfect for a morning outing. It has both vegetarian and non-vegetarian varieties of breakfast options. In addition to the mouth-watering breakfast, it is quite a relaxing place to visit. You must try their pancakes and English breakfast. Also, it opens at 10 AM.
Must-Try: Hashbrown, Breakfast Sandwich, Chocolate Chunk
Average Cost: 900 for two.
The cozy and aesthetic ambiance and tasty food of Cafe Soul Square are what you need to kick start your morning. They serve mouthwatering french toast, pancakes, bruschetta, Mushroom Benedict, and a lot more for the ideal breakfast feast. They open at 9.30 AM. Additionally, you can also take home some of the fancy cutlery, soaps, and other things that they sell in their store at the cafe.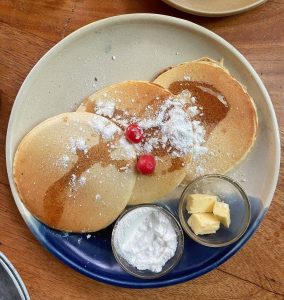 Must-Try: Stuffed French Toast- Masala Cheese Twister, Pancakes with Honey and Maple Syrup.
Average Cost: 850 for two.
The Project Cafe Yellow House is one of the most peaceful places to start a lazy morning. They serve amazing waffles, hummus, porridge that is perfect and healthy to start your morning. They open up at 10 AM. It has an artistic and unique ambiance. They also have a store that sells furniture, jewelry, stationery, and other beautiful interesting things.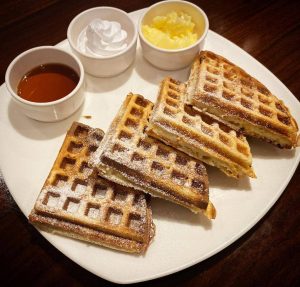 Must-Try: Oatmeal or Red Amarnath Porridge, Waffles.
Average Cost: 800 for two.
This is the place that serves all-day breakfast with a super cool ambiance and delicious food. You can find classic waffles, Nutella pancakes, and toasties for breakfast here. Apart from their all-day breakfast, Cappuccino cafe is a great place for pizza fondue, fried pizzas, and sizzlers.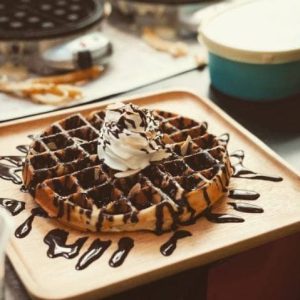 Must-Try: Red Velvet Waffles, Bruschetta.
Average Cost: 650 for two.
I Love Sandwich House is the best place to have a sandwich breakfast feast. You can indulge in their variety of sandwiches and other varieties like Potato pancakes, french toast, croissant sandwiches, bagel sandwiches, and salads. Additionally, the place opens at 8 AM perfect for early birds to grab breakfast.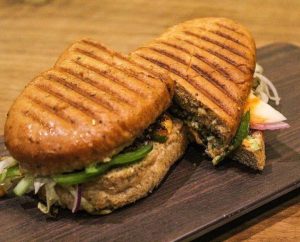 Must-Try: Potato Pancakes(Roschti), Salad Croissant Sandwich, Toasted Bagel with Thyme Cream Cheese and Avocado.
Average Cost: 900 for two.
Which of these fancy breakfast places in Ahmedabad would like to have a hearty breakfast and set the rest of your day right?