With the wide range of deliciously flavourful street food, to some of the special cuisines will amaze you. One can immerse themselves into this vibrant city of food. The old city of Ahmedabad is a treasure. With its rich domestic wooden architecture and distinct Havelis of older times. All these things are also reflected in the restaurants/cafes/eateries which are in the old area of the city. If you are new to the city then you must explore these 6 best places to eat at, in the old city of Ahmedabad stated below. Or if you are already a resident of the city then you can always visit these places again to explore its heritage.
While you roam on the modern side of Ahmedabad and places like SBR, it will be a refreshing experience to visit the old city of the city. You will absolutely have a gala time while taking a tour to some of these best eateries.
Manek Chowk Food Market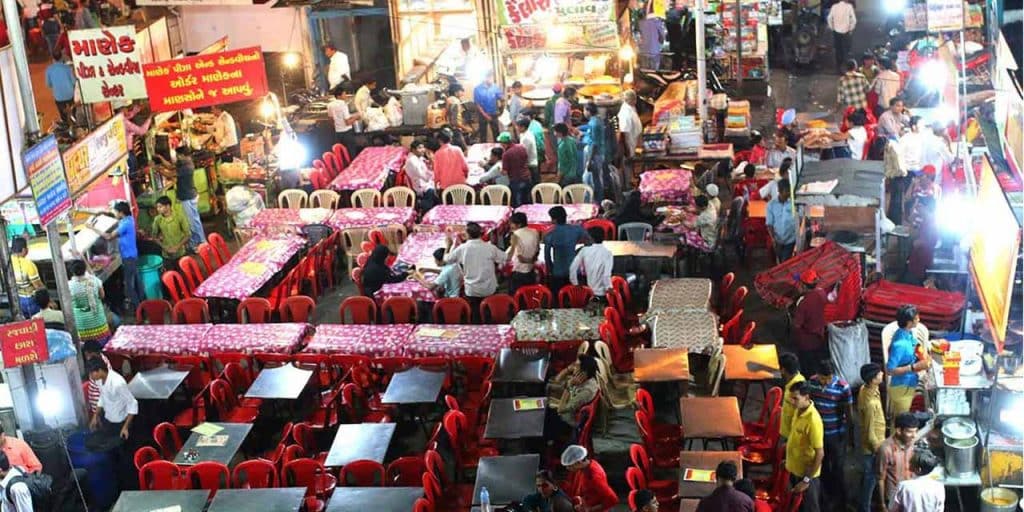 The other name of Manek chowk is foodies destination which is one of the highlights of Ahmedabad. As it always attracts every foodies or traveller who are in Ahmedabad. You will definitely love the vibe of this place and the wide range of food items can leave you amazed. The place offers multiple flavours of ice-cream sandwich, wide varieties of cheese sandwiches, and some delicious and different types of pav-bhaji and veg-biriyani. It is also the gem of Ahmedabad. It is one of the best places serving the authentic age-old food to the new-age food items/flavours. Manek Chowk is also a jewellery market during the day time. You will have a different experience altogether while visiting this wonderful place during the day time or at night.
Pol Kholi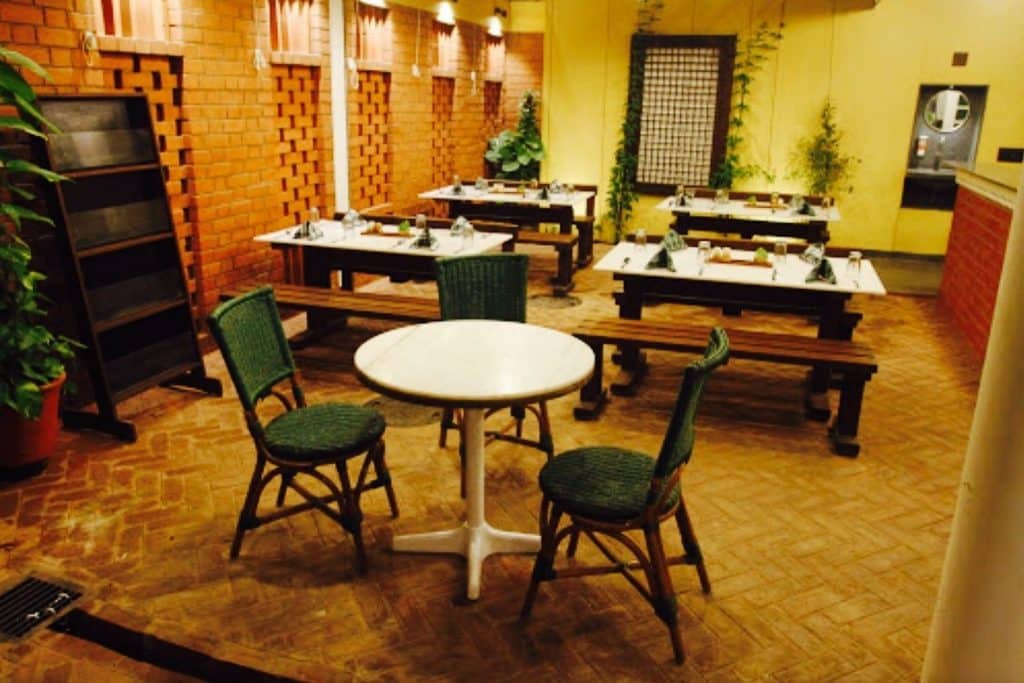 Pol kholi is in the old city of Ahmedabad. The place is popular for the peaceful ambience like an old haveli and good hospitality. It serves deliciously delightful Gujarati, continental, and street food. If you are fond of exploring the heritage of the old city then you must visit this place.
The Green House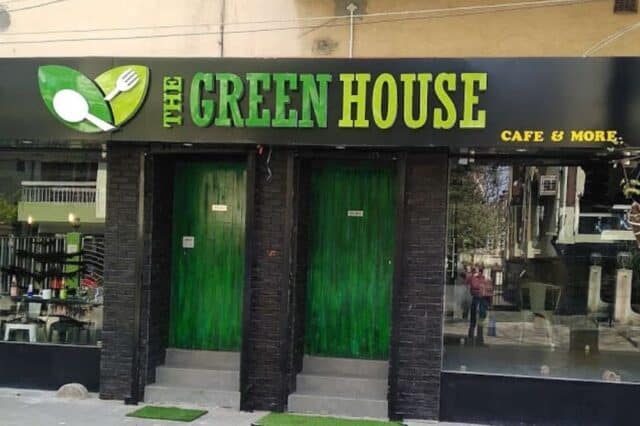 The Green House Café lies in the house of MG, Laldarwaja. It is surrounded by beautiful plants and veils and has a soothing ambience. The café is also famous for its hygienic food at a reasonable cost and offers all kinds of Gujarati food. It is mostly popular for its relaxed atmosphere and courteous staff.
Must-try Food Items – Dalwada, Dudhi Muthiya, Haandvo, Patra.
Lucky Restaurant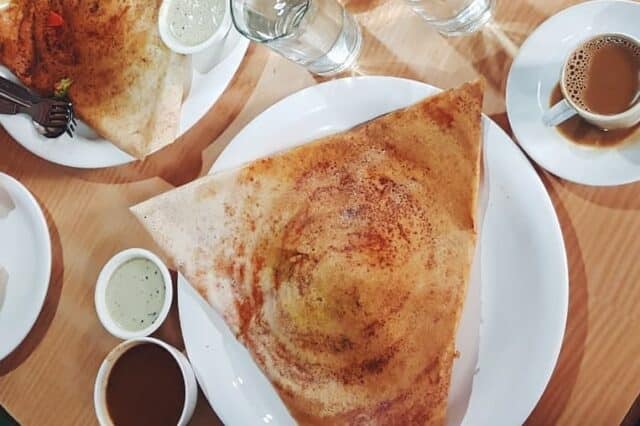 Lucky Restaurant is opposite city college, Laldarwaja. It is a 60-year-old restaurant built at an old Muslim cemetery which is known for its popular menu and spacious seating. If you are fond of art than you will definitely be willing to visit this place. As one of the original paintings of MF Hussain hangs on the wall here! Isn't it amazing? The place is also famous for its taste of food, good staff, and reasonable food prices. You must visit this cafe for its Unique location and history. The eatery serves mainly three cuisines which are north Indian, South Indian, and fast food.
Must-try Food Items – Maska Bun, Chai, Idli Sambhar, Masala Dosa.
Agashiye Take Away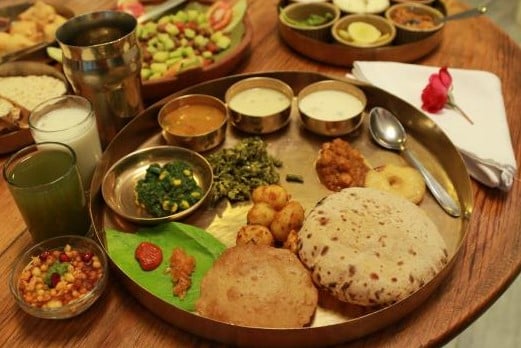 Agashiye is in the house of MG. The fine dining is most popular for its wide range of Gujarati dishes which will satiate your palate. It is a sophisticated and beautiful place with a rooftop ambience and authentic food. The place serves prompting thalis of different states. The royal with a traditional Indian touch is the highlight of the restaurant.
Must-try Food Items – Guava Ice-cream, Dhokla, Chass, Deluxe Veg Thali.
Chandra Villas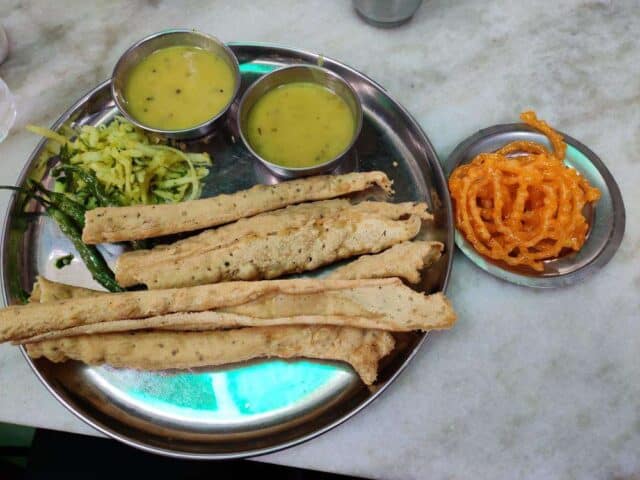 Chandra Villas is one of the oldest and most famous restaurants in the city. It is an iconic heritage of the city and an esteemed restaurant. This place has the honor of serving prestigious guests like Sardar Patel, Mahatma Gandhi, and Raj Kapoor. It is also most popular due to its constant serving of aromatic and delightful food with utmost simplicity. Chandra Villas offers you comfort food with a good ambiance. You can have a wholesome Gujarati food experience here with the wide range of food items that the eatery offers.
Must-try Food Items – Fafda-Jalebi, Puri Shak, Sev Usal,
Let us know your exquisite choice from these 6 best places to eat at, in the old city of Ahmedabad. Tell us which mind-blowing food items you tried there from the above-mentioned places which are in the heart of the city.