A big hellowww to all you chatoras out there! 😛 We know that you have got a list of all the chaatwallas that you swear by, cause street food is LOVE! Chaat dishes are a magic served on a plate and the chaatwalla bhaiya is a magician for us. And who does not love a plate packed with flavors? A beautiful mix of khatta, meetha, aur teekha that we can never get bored off! The spicy and tangy chutneys, crunchy dry snacks, chattpata masala, and a dash of savory lemon is all we need for our heart and tummies! Now that you're drooling right away, check out this list of 7 lip-smacking chaat dishes that we've made for you. Trust us, these chaat dishes will definitely leave you craving for more and more, cause they're just awesomeeeee!
1. Sev Usal from Vadodara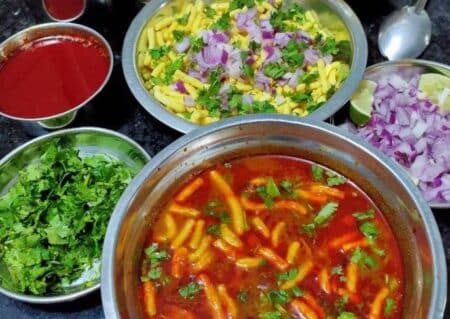 Kem cho, majama ne? Chalo Sev usal khava! You gotta try the oh-so-delicious sev usal of Vadodara if you have spicy and tangy taste buds. Barodians are well-known for serving distinct varieties of this tasteful dish. Enjoy this delight as your evening snack or as a complete meal for lunch or dinner. You should sprinkle some extra sev when the this platter makes way to your table for that extra crunch ya! Location: Jay Mahakali Sev Usal, Shraddha Sev Usal Center
2. Palak Patta Chaat from Agra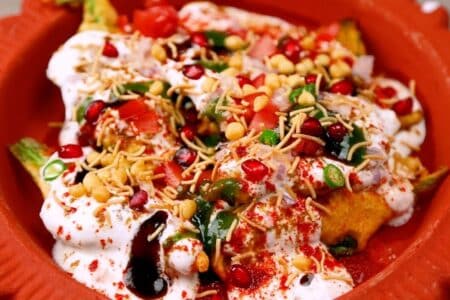 Love spinach or hate spinach but you'll not resist yourself from eating this scrumptious Palak Patta Chaat! The popular dish of Agra is chatpata, crisp, and delicious. It is a delightful assemble of spinach, thick and creamy yogurt, vegetables, chutneys, tempting dry masalas, and sev. Location: Agra Di Mashhoor Chaat Corner
3. Aloo Chaat from Delhi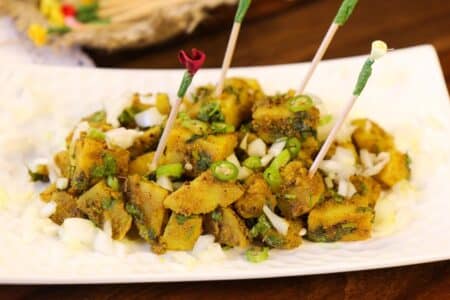 When was the last time you ate something made from potatoes? Today morning, last night, or maybe you're eating some fresh fries while reading this! 😛 We're all fond of this all-rounder vegetable, right? But if you're a bit bored of the regular aloo ki sabzi then try devouring this classic delight popular as Aloo Chaat. It is a mix of sweet, tangy, spicy, and creamy flavors. Once you taste this yumminess, trust us, there's no going back! Location: Vaishno Chaat Bhandar, Chaat Chowk
4. Basket Chaat from Lucknow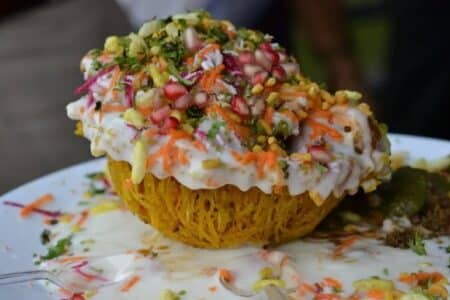 Toh phir aaj kya naya khaya jaye? Katori chaat khana pasanad karenge kya? The yummy Basket Chaat is an incredibly unique chaat from Lucknow. The edible cute basket of the chaat surely adds the beauty and taste quotient to the entire dish. Basket chaat is known by different names such as Aloo Tokri Chaat, Potato Basket, Kurkuri Chaat, and Aloo Laccha Chaat. Location: Royal Cafe, Hazratganj
5. Sev Puri from Mumbai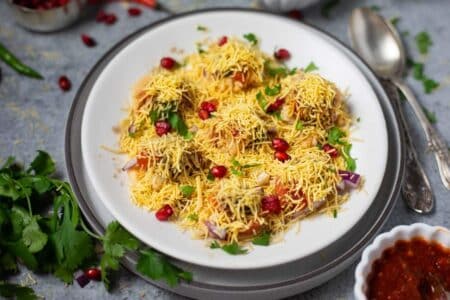 Even seen the making a platter of delicious bites? Hands down when it comes to the prominent Sev batata puri from Mumbai as t is surely a work of art and is winning the hearts of people! This delightful, stomach filling, and affordable for all sev puri is one of the best crunchy delights that the city has to offer. This is undoubtedly one of the best lip-smacking chaat dishes that you'll ever find! Other famous chaat dishes of Mumbai are Bhelpuri, Dahi Puri, Ragda Patties, Sev Puri toast, Pani Puri. Location: Elco, Bandra, Kailash Parbat, Andheri, Ram and Shyam Chaatwala, Santacruz
6. Jhal Muri Chaat from Kolkata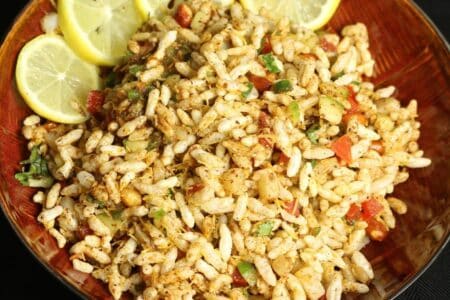 We know, we know that sev mamra/murmure is the ultimate munching snack for Gujaratis. But have you ever tried Jhal Muri chaat, a chaat dish made from sev mamra? We bet you'll fall in love with this snack even more! What makes it even more worth is it's preparation time. Assemble all the ingredients, prepare it in 10-15 minutes to satiate your cravings! Location: Hedua Chaat center – Headua Park, Chowrasia Chaats
7. Corn Chaat from Indore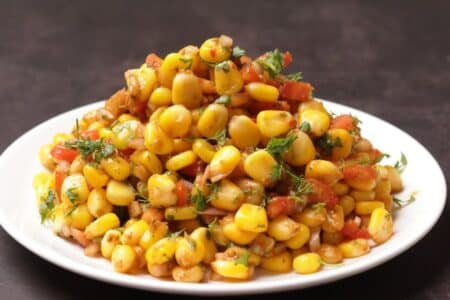 A tangy and spicy mix of freshly boiled corn, onions, tomatoes, chaat masala, and fresh dhaniyaa on a plate is nothing less than heaven! The incredibly flavorful corn chaat is something that you cannot miss whenever you visit Indore. It is a delectable, nutritious, and healthy monsoon time snack loved by all age groups. Location: Vrindavan Corn Choupati, Cafe Bakewell Don't forget to share which is your favorite from this list of lip-smacking chaat dishes. Also, we'd like to know if we've missed out any.