Remember the days when summers are around, most of us crave for Gola. After the long tiring sunny day, the only thing that would bring a smile on your face was Gola. Though, some of you might prefer ice cream, shakes, cold coffee, etc. But nothing could be better than having Gola, forgetting every single problem and just focusing on it. Gola time would be mostly after dinner, going with friends and family, having different delicious flavors of it. Just perfect for the day to end! We've listed down 7 best gola places in Ahmedabad to visit this summer for you!
The most common flavors are Cadbury with extra malai, Kalakhatta for those people who like the mixture of khatta mitha, Orange with lemon and masala on top of it and the list would be never-ending. When the Gola is prepared, most of us would tell, "Bhaiya thodi aur malai dalo na.." And while having Gola, making the slurpy sound, brings out the inner child from inside us. So here are some of the best Gola places in Ahmedabad for you to visit.
Someshwar RO Ice Centre, Satellite
Someshwar RO Ice Cener offers varieties of tasteful delights, especially during the summers. The best part about the spread is that they are always concerned about their customers hygiene. Therefore, they believe in using only the RO water to make the mouth-watering gola dishes.
Must-Try Gola Dish – 'Fruit Gola' with all the seasonal fruits like watermelon, kiwi, pomegranate, mangoes, orange etc.
Find this at:Below Raksha Hospital, Judges Bungalow Road, Bodakdev, Ahmedabad
Gulab golawala serves some of the best and delightful gola flavors. We're sure that you'll always be tempted to eat more after tasting their famous dishes. This is a place in Ahmedabad where you will always be able to see a long queue of customers waiting for their turns to come. Hence, it is one of the busiest places during the summer season offering some of the tasty sweet dishes.
Must-Try Gola Dishes – Falsa Gola, Exotic Falsa fruit filled with their secret masalas.
Find this at: 46 Maneklal Marg, Shantinagar, Sharda Colony, Usmanpura, Ahmedabad
If you're looking to relish the authentic flavors of golas then you must visit Swati Snacks. They have the amazing combination of fruit flavors that tastes awesome. Their supernatural and delightful gola dishes are a must try for every sweet lover.
Must-try gola dish – Orange and Lichy gola
Find this at: Swati Snacks, Law Garden, Ahmedabad
Candy Crush RO Water Gola, Bodakdev
If you're someone who is looking for the various options of the basic golas then Candy Crush RO water gola is a must-visit place for you. This gola center stands unique due to it's authenticity. They make sure that all their flavored syrups are prepared by themselves rather than using the market ones. Isn't this best?
Must-Try gola dishes – Candy Crush special topped with vanilla ice-cream, chocolate sauce, and gems, Mousse Gola, Ice-cream gola
Find this at: Ratna Palace, Opp. Mother Milk press, near Sambhav Press, Judges Bungalow Road, Ahmedabad
Every Ahmedabadi must have visited the renowned shopping place of the city, i.e Law Garden. Now when you go for shopping at Law Garden, don't forget to visit one of it's best gola center, Mewad Golawala. They offer some of the flavorsome gola dishes that consists of dry fruits, tooty fruity, cherry, etc. Believe us, this is as tasteful as it sounds! You can ask them to add your favourite flavoured syrup on the delight, and voilaa you're good to go.
Must-Try Gola Dishes – Mewad Rajwadi, Cadbury special.
Best Traditional Flavors – Rabdi, Kesar and Mawa.
Find this at: Mewad Gola, Samartheshwar Mahadev, Law Garden, Ahmedabad
Ram Aur Shyam Golawala, Bopal
Ram aur Shyam golawala provides some of the delicious sweet dishes. They specialize in the dry-fruit flavors of gola that also consists of cadbury, kesar-pista, badam-pista, kaju-draksh, butterscotch, etc  which is as tasteful as it sounds!
Must-Try gola dishes – Kaju Draksh Butterscotch, Kaju Badam Cadbury, Special Ram and Shyam Cadbury, Special Ram and Shyam Mango
Tropical SNO, Bodakdev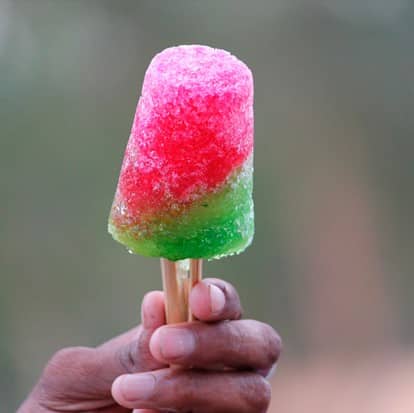 You'll be surprises to know that Tropical SNO serves the deadliest combinations of the furit flavor golas. It is the newbie place in the city that has the newer version of the gola flavors altogether. They are a U.S based outlet which is known for serving the golas with cute packaging and the best quality of snow. So, the next time when you're sipping your favorite gola flavor, it won't get messier anymore!
Must-Try Gola Dishes – Sunrise Corns, Lemons and Ornage.
Find this at – SBR Social, Beside Sattva Vikas School, Sindhu Bhavan Road, Bodakdev, Ahmedabad
Patel Dry Fruit Dish Gola, Satellite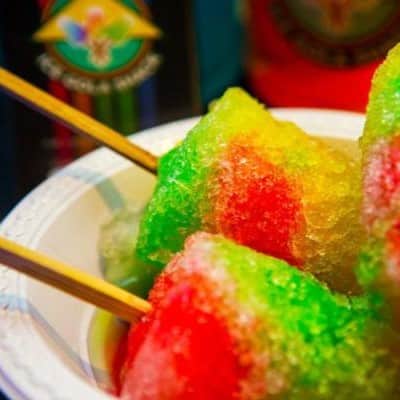 Patel Dry Fruit Dish Gola is a place that offers the beautiful mixtures of gola flavors that tastes delight. Your taste buds will absolutely thank you later once you enjoy it's gola dishes. Tell us which flavor of the spread was your favorite!
Find this at: Shop No-14/B, Vraj Vihar-5, Prernatirth Derasar Road, Satellite Road, Ahmedabad – 380015, B/h Rahul Tower
Do visit these Gola places in Ahmedabad this summer with your friends and family and enjoy the slurpy Golas full of yumminess. Also, tell us what kind of specifications you like on the mouth-watering plate of gola that you always order. Are you a food enthusiast who loves also loves trying and experimenting the new gola flavors? We would love to know your preferences!
To know more about this awesome city and the life of Hungrito in the city follow us on Facebook, Instagram.