Wondering what to do this weekend in Ahmedabad?
Out of fun outing options with your friends?
We have you covered! We are here to take you on a mouth-watering stroll across the Sindhu Bhavan Road – THE CAFE HUB OF AHMEDABAD.
There are innumerable cafes at Sindhu Bhavan Road.
Want to grab a quick cup of coffee? Head over to
Ares.
Are you planning a romantic dinner? @ Mango welcomes you.
Want to munch on crispy fries? The doors to Xero Degrees are open.
So, we have something for everyone here at Sindhu bhavan road cafes. And you have to stay to uncover it all.
Where do we start, though? Let's sip a steaming cup of coffee at Ares, first. Come!
Stop 1 – Ares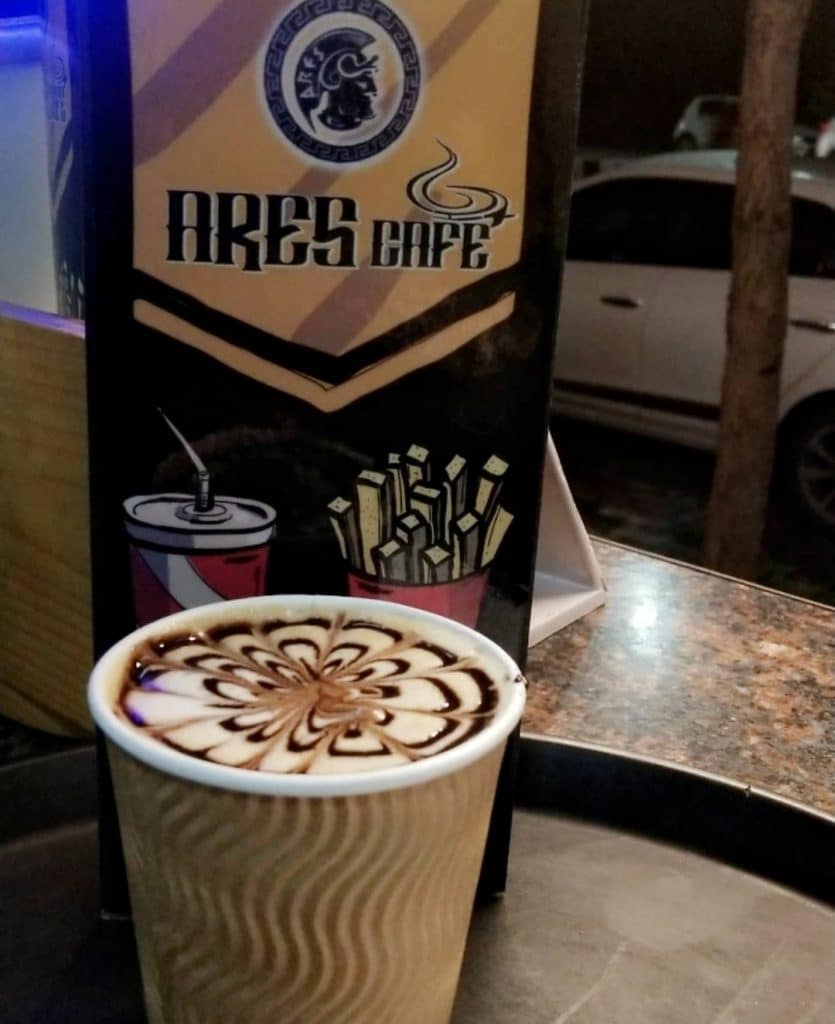 We cannot start our day without having a cup of coffee. Ares is an underrated cafe on Sindhu bhavan road. They have such wonderful flavours that have the power to entice the non-coffee drinkers too.
Their Mocha Frappe (Hot) is a widely famous beverage. Ares's open-air vibe invites visitors to chat over a cup of coffee.
Avg cost: 500/- for two
Location: Bodakdev, Ahmedabad
Must-try Dishes: Mocha Frappe, Manchurian Dry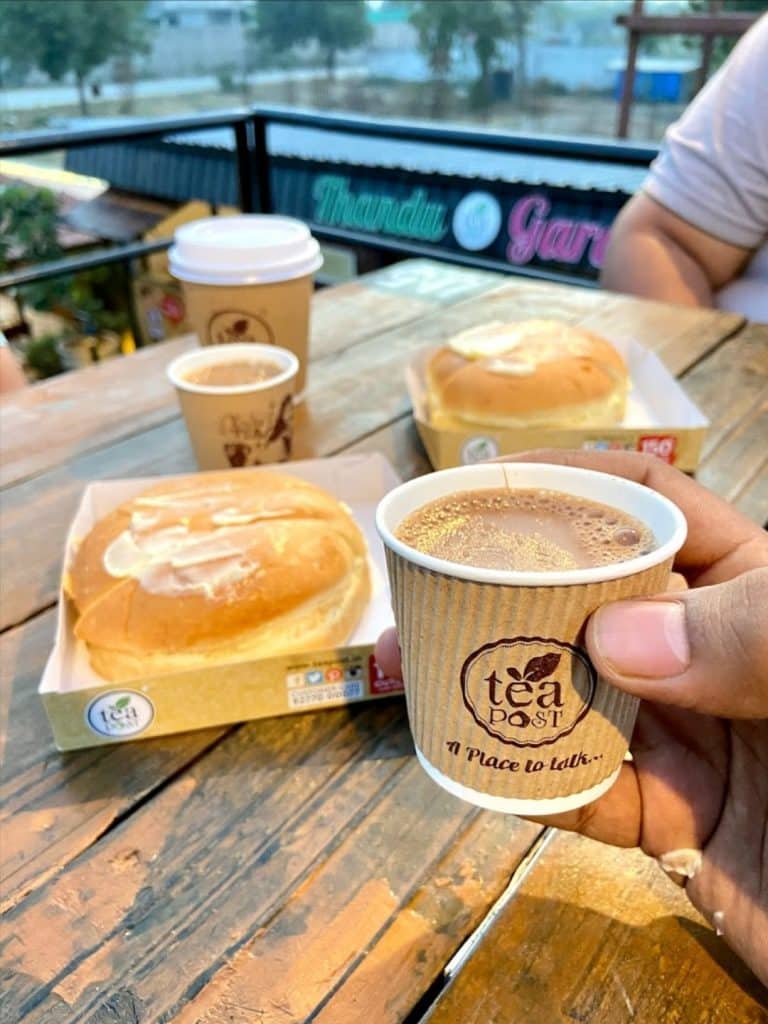 Oh hey Chai Person, ruko zara. Hum karte hai kuch prabandh.
Tea Post – The Desi Cafe is here to serve you. It is the most favourite chai stall for every amdavadi.
Order your cup of tea along with thepla or the OG Maskabun. It is the perfect spot to kick-start your day.
We feel, we have done equal justice to both the parties, and are starting the Sindhu Bhavan Marg food excursion on a delicious note.
Avg cost: 300/- for two
Location: Sindhu Bhavan Road, Ahmedabad
Must-try Dishes: Masala Tea, Thepla, Butter Maskabun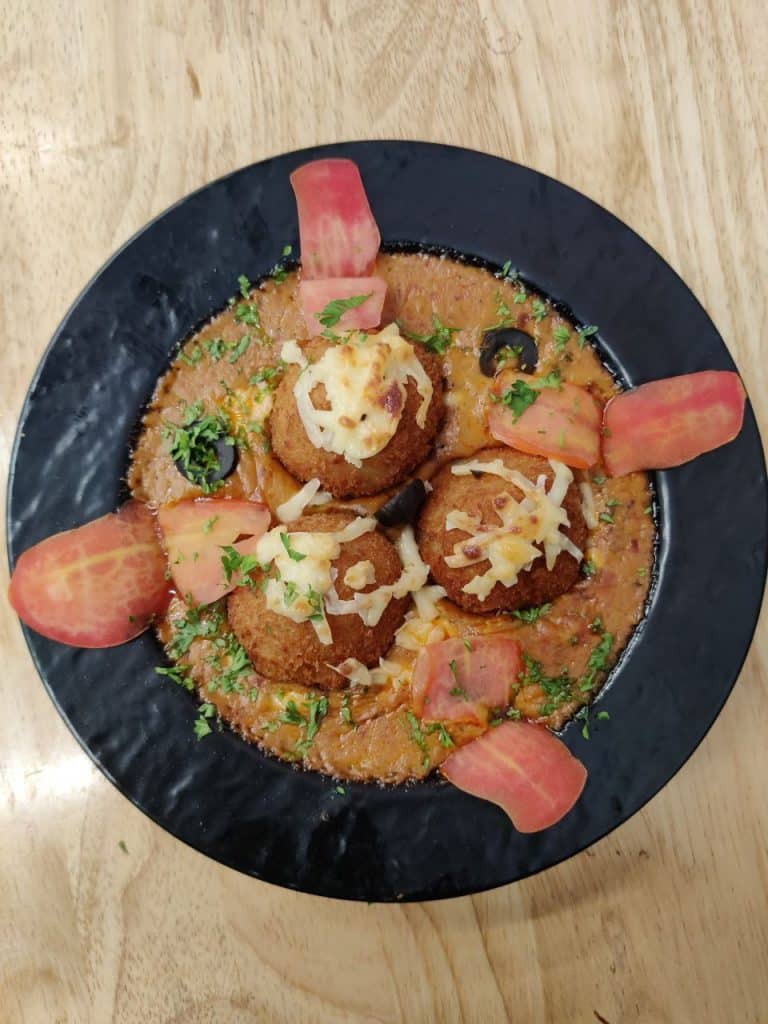 The Cafe Baraco has been the oldest cafe at Sindhu Bhavan road.
Wondering which dish to try here? Order Mac N Cheese balls. The creamy gravy makes it extremely appetizing.
Along with this, you can order The TCB Mojito as a refreshing accompaniment.
With modest interiors, Cafe Baraco makes it a great hangout spot, and it is budget-friendly too.
Avg cost: 1,000/- for two
Location: Bodakdev, Ahmedabad
Must-try Dishes: Mac N Cheese Balls, Jumbo Baraco Sandwich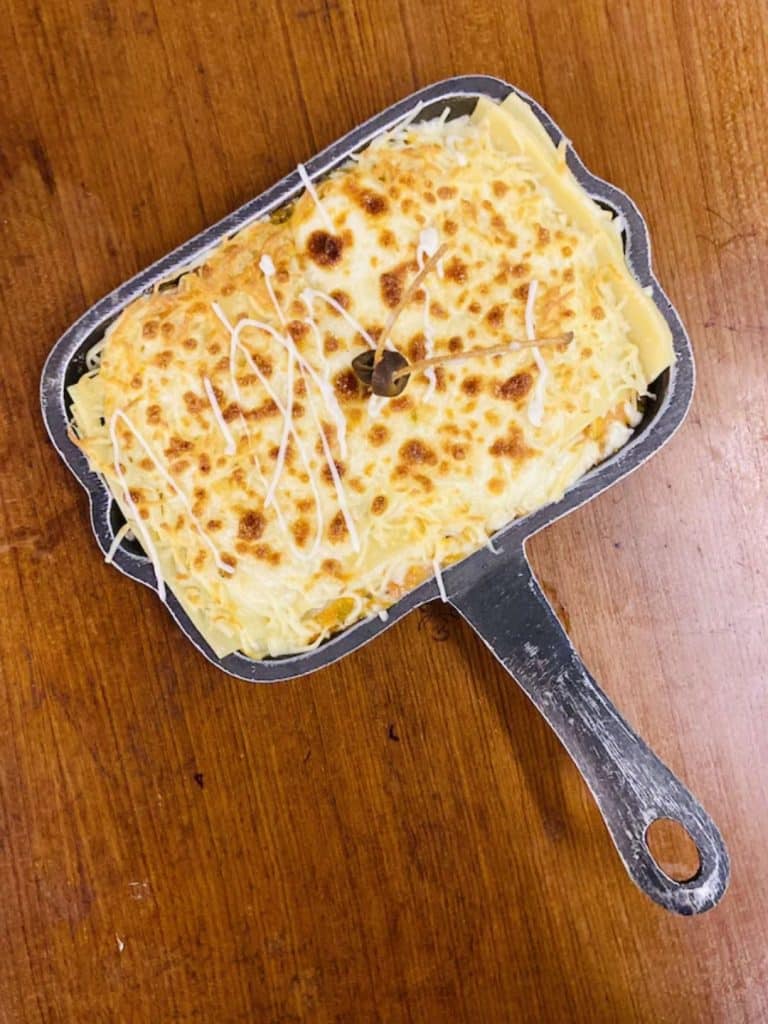 Wait a minute, who says NO to North Indian Cuisine?
This thought struck our mind when we spotted Parosa at the opposite end of the road.
At Parosa, one must order Veg Mac and Cheese right away. It is fully loaded with cheese and has a mouth-watering creamy texture.
In addition to this, let's dip our fingers in the delicious Dal Makhani with Garlic Naan.
Parosa is one of the best cafes on SBR, Ahmedabad. And for good reason as it has a wonderful ambiance with flavorsome food.
Uff! We are full, so full… oh! hey, did someone say Pizza?
Avg Cost: 900/- for two
Location: Sindhu Bhavan Road, Ahmedabad
Must-try Dishes: Mac N Cheese, Veg Classic Cheese Fondue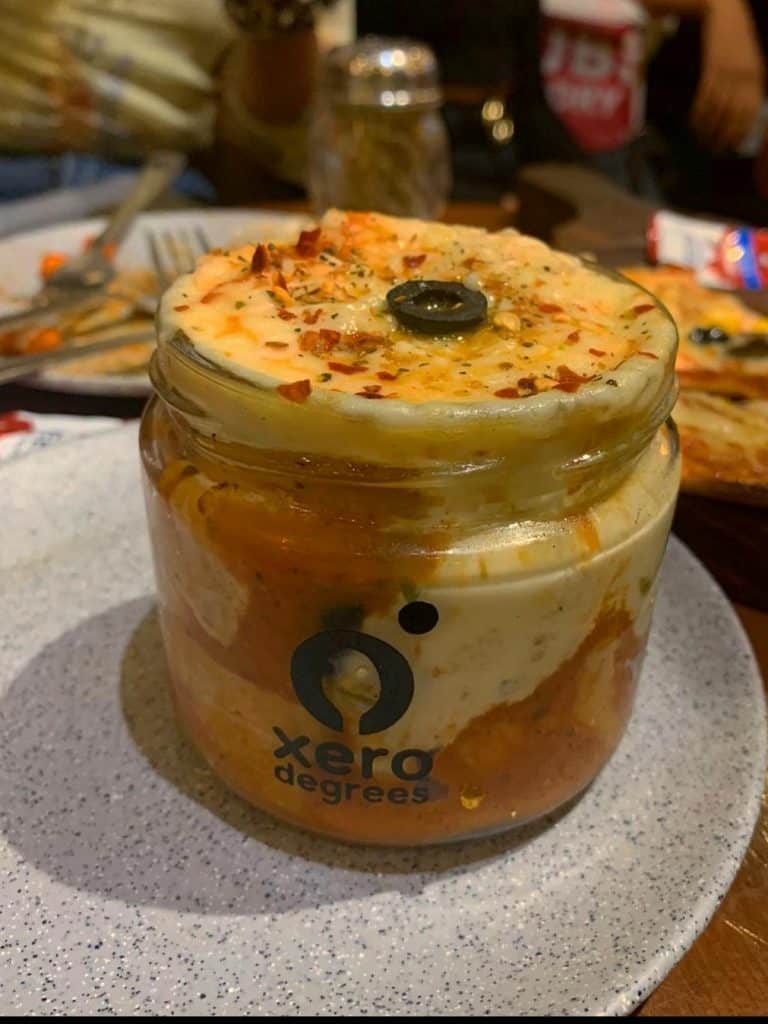 Pizza ne kon na pade? This question has led us to our favorite innovative pizza joint. Xero Degrees!!!
The hippie interiors of the place welcome us with a wisp of yummy food in making. Well, for pizza tumhare paas 2 raaste hai.
Order Pizza in a jar, or eat it in a creative shape. Yes, they serve heart-shaped pizza. Hello lover, rings a bell?
Try out Minty Tandoori Pizza in a jar. And for the flatbread pizza, Xero Extravaganza wins the game.
We proudly fought for the last slice!!! Why? You'll know once you get your hands on it.
Avg cost: 850/- for two
Location: Bodakdev, Ahmedabad
Must-try Dishes: Mint Tandoori Pizza Jar, Peri Peri Fries
Stop 6 – Muse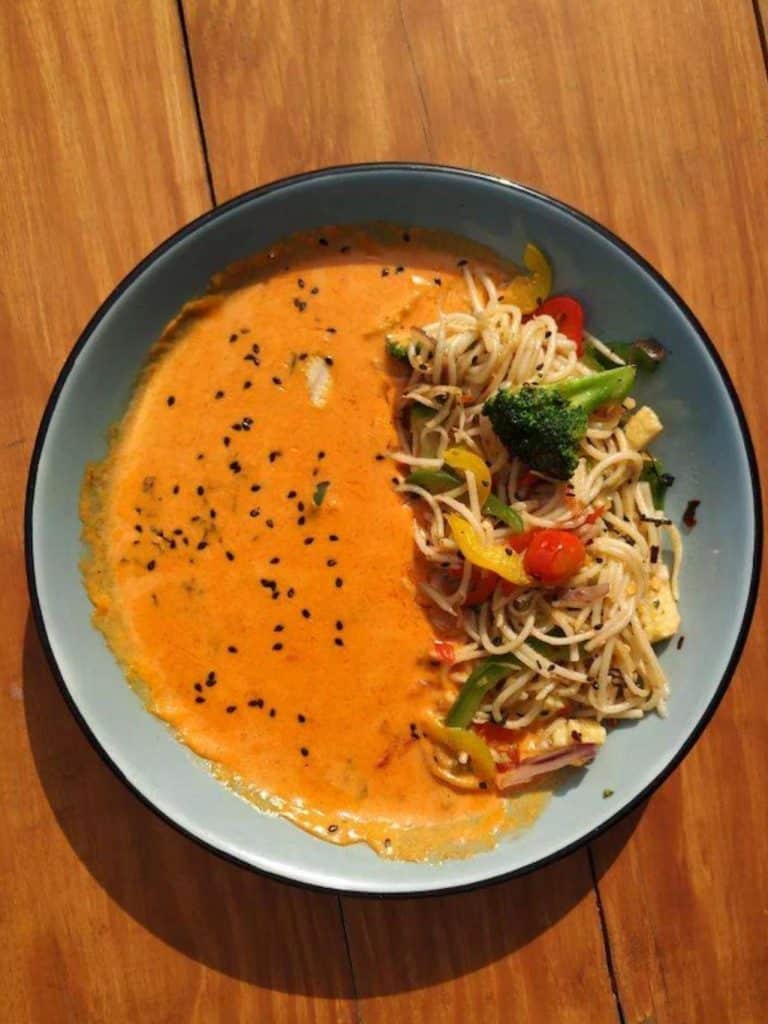 It's already evening, do you feel like chilling in an open-air space? And maybe try a Chinese noodles bowl? Then you are at the right stop.
Muse serves the best Chinese cuisine in Ahmedabad. The relaxing ambience of the cafe is inviting, and the food is delectable too.
So it's a win-win situation right? You can chill out, read a book or just soak in the evening breeze.
You should definitely check this one out, as it is steadily becoming the best cafes on Sindhu bhavan road, Ahmedabad.
Avg Cost: 800/- for two
Location: Sindhu Bhavan Road, Ahmedabad
Must-try Dishes: Chinese Noodle Bowl, Chimchuri Paneer Tikka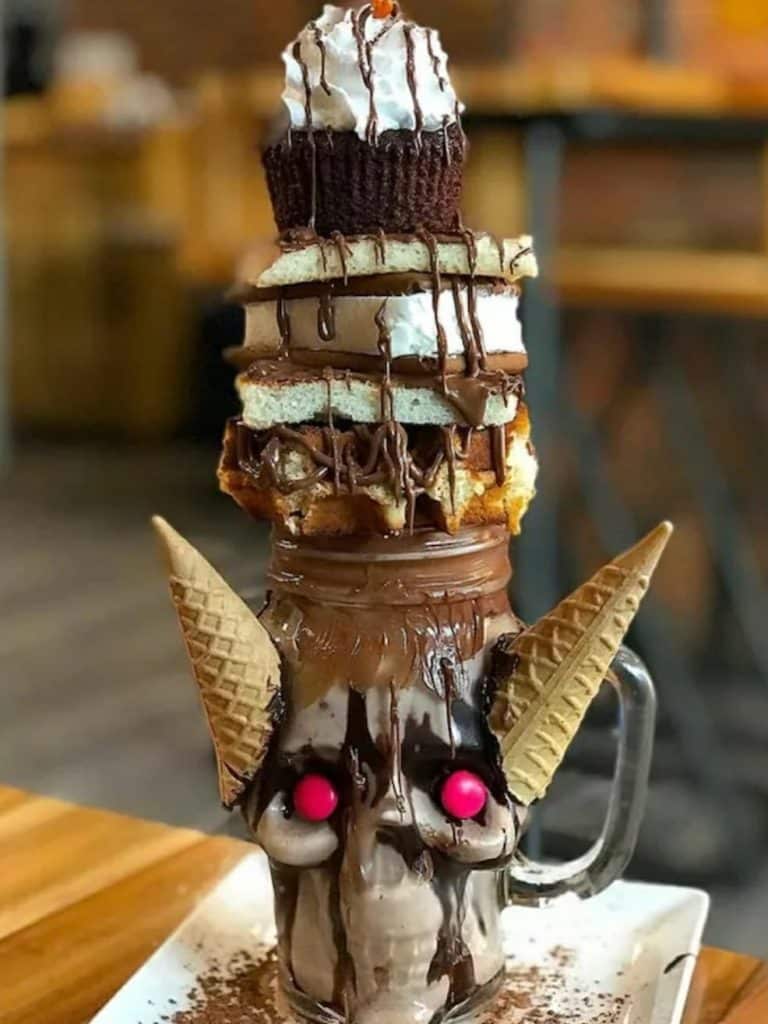 Cafe De Italiano is known for its magnanimous freak shakes. The rustic ambience of the cafe welcomes visitors all throughout the day.
It is often noticed that people are either savoring delicious pizza or sipping the infamous freak shakes.
We strongly recommend Death By Chocolate Freak Shake; it lures every taste bud that is present in the cafe.
Along with the shake, you can munch on BBQ Cheese fries. Cafe De Italiano is loved for its homely interiors and scrumptious food options.
Ending our foodilicious adventure with this freak shake was the best decision we ever made! So heavenly!!!
Avg cost: 950/- for two
Location: Bodakdev, Ahmedabad
Must-try Dishes: Monster Freak Shake, Melting Cheese Sandwich, Peri Peri French Fries Pizza
It was a wholesome experience to try out these delectable dishes. Just not these, there are innumerable cafes lined up on the Sindhu Bhavan Road that serves soul food. If you visit any of these and try our recommended dishes, do tag @Hungrito on Instagram.