A Cafe Culture Feel With Bageshree, Ahmedabad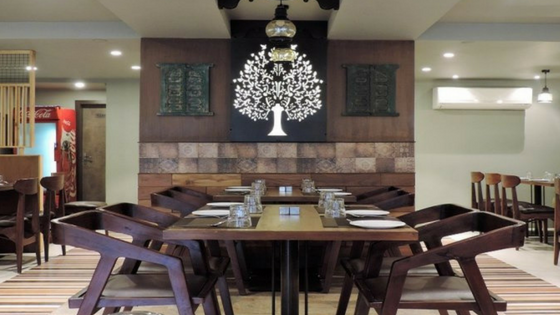 Hello Bhukkads, Most of us love visiting cafe's right? Whether it's a group of friends hanging out or a romantic date we tend to visit cafes. The amazing team of Hungrito invited me to the new restaurant called Bageshree, Ahmedabad. I am more of a cafe person but this venture turned out to be one of the most amazing ones.
Ambience
Bageshree is a fine dining restaurant which is designed like a cafe. Good ambience, good music, good food! The owners Utsav and Joohi make a really good pair and have made this landmark. Joohi has designed the interiors and believe me, she is really good.
Food
1. Green Apple Mojito
Soda based mocktail with just the perfect amount of green apple syrup. (4/5)
2. Soups
It was made up of beet. Well, to be honest, I am not a huge fan of beet. But the oriental flavours just settled well with the beet. I loved this. (4.5/5)
It was a clear vegetable soup with some different sauces and spices. It gave a good taste. Definitely a hit for all the veggie lovers! (3.75/5)
3. Starters
Roasted Vegetable Stuff Potatoes
This dish contained small pieces of diced vegetables, diced cottage cheese with some sauce all together stuffed as a filling. Pretty much appealing to the taste. (4/5)
Stick Basil Cottage Cheese
Rectangular cottage cheese in cubes tossed in a delicious sauce with a tinge of basil and chopped red and green bell peppers. (3.5/5)
That's right, our most favourite PIZZAAAHHH with a new innovation. Pizza Naan was basically a naan pizza which had the Indian taste of pizza. This dish was like a limelight of the whole show. Just perfect! Cheese, onions, olives, capsicums just like our old Italian Pizza. Hit me like Wow! None of you should miss out on this! (5/5)
4. Main Course
Moving on towards the main course, they served their signature Indian dish called Paneer Shaan-E-Bageshree. This sabzi was served in two gravies: Green Gravy and Red Gravy. The green gravy was the spicer one with spinach and chilli as a main ingredient whereas the red gravy was the regular tomato and onion gravy. I liked the green gravy more because of the spicy taste is left on my tongue! (4/5)
5. Daal Khichdi
For the rice dish, we were served with Daal Khichdi. Again another showstopper of the show! Yellow daal with the perfect taste of spices and masala served with curd and papad. Loved it. You can't miss out on this one as well! (5/5) We all like visiting the mainstream cafes and restaurants. Bageshree, Ahmedabad is one such restaurant which you might not have heard of. You surely can't miss out on this one! Happy Eating! Mrunalini Gonsai is a big time foodie, you can follow her here: @thehungryinsaan