Jamvama su che aje? Undhiyu, Dhokla, Handvo, ke pachi Thepla? These faaaab Gujarati dishes would bring an instant smile on our face, isn't it? One of the most beautiful thing is how we Gujjus are known to carry our food everywhere. Whether it be khakharas, dhokla, chevdo, or gathiya(dry snacks). However, you can never go wrong with the oh-so-amazing Gujarati cuisine that is truly an explosion of wonderful flavors. We aren't kidding yeah, as we bring to you the list of best Gujarati comfort foods that will lift your mood in seconds!!!
Best Gujarati Comfort Foods
1. Thepla and Suki Bhaji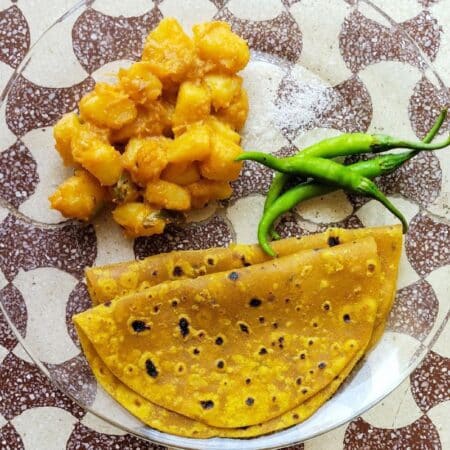 Isn't that Gujarati friend of yours a savior? Cause they would always have a dozen or two of theplas whenever they are travelling!! And you can't deny that thepla along with suki bhaji (dry potato sabji) with some green chilies is an ideal meal combination. Ane sathe thodu dahi ya toh ek glass chhash hoi, toh kevu j su pachi! It's ultimate heaven. Also, you ought to feast on this delicious delight if you happen to be a true Gujarati cuisine fan! Serve Thepla with – Chai, Pickle, Ketchup, Chutney Where To Get Thepla In Ahmedabad – Iscon Gathiya
2. Kadhi Khichdi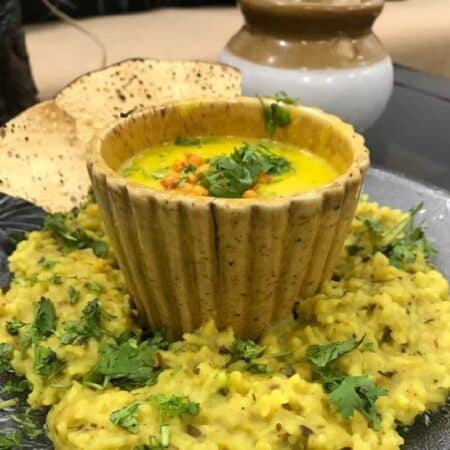 Aje jamvama raate Kadhi, Khichdi, Sev Tameta nu Shaak, Papad ane Chhash che, chalse ne? Ever heard a true Gujarati saying no to this best food platter? As kadhi khichdi rocks and will make you smile even when you don't want to! What you require is a handful of basic kitchen ingredients with some tadka and voilaaa, you're ready with a nutritious, delicious, and comforting meal for your dinner! We'd suggest you to garnish this instant pot meal with some coriander for that extra flavor and fragrance. Serve Kadhi Khichdi with – Any type of Pickle/Aachar, Fried Papad, Roasted Papad, Green Chilies, Masala Chhash Where To Get Kadhi Khichdi In Ahmedabad – Shree Jalaram parotha House
3. Dhokla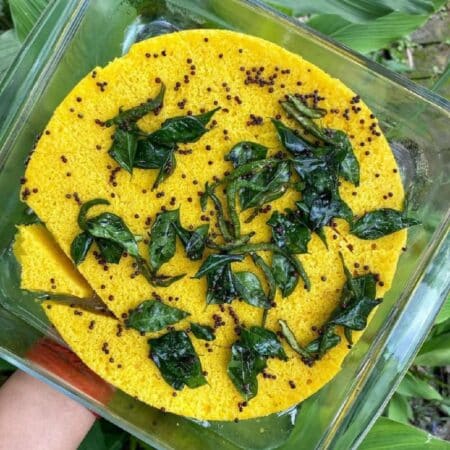 Don't you jump and say, "Mummyyyy, aje Khaman dhokla aathva toh sandwich dhokla thai jai nasta ma" when you are craving for something sweet or savory? If yes, then you're totally a big time dhokla fan! These fluffy bites can be enjoyed for an evening or morning snack or even as a tasty side dish with lunch or dinner. Dhokla – the quick farsan item can be made with rice, rava, besan, or aata flour which is highly popular among the Gujaratis. Serve Dhokla with – Kadhi, Chutney, Ketchup Where To Get Dhokla In Ahmedabad –Jalaram Khaman House
4. Dhebra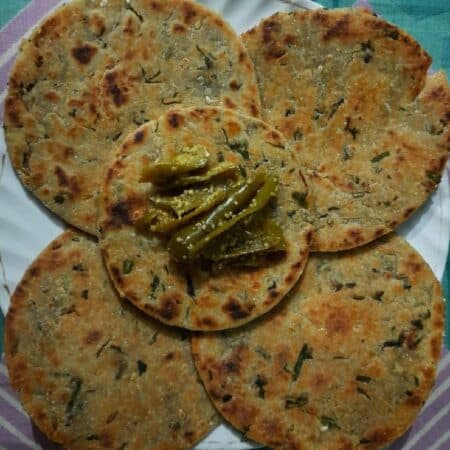 Dhebra is a famous Indian flatbread usually made during the winter season. It can be a delicious tea-time snack consisting of flavorful ingredients such as green chilies, garlic, ginger, and the aromatic spice powders. These binge-able snacks can be enjoyed in the form of parathas or deep-fried scrumptious puris too! Su tamne khabar che, that dhebra can be eaten anytime during the day be it breakfast, lunch, or dinner?! So, now you know what to eat when you have savory and spicy food cravings. Serve Dhebra with – Green Chili Pickle, Mango Pickle, Ketchup, Chai, Potato Fry, Red or Green Chutney Where To Get Dhebra In Ahmedabad – Supper Snacks
5. Mixed Vegetable Muthiya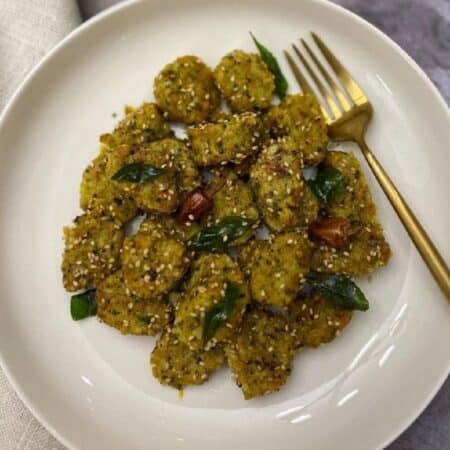 Mix Vegetable Muthiya is a super delightful dish that can be savored for an evening snack or a meal. This popular food dish is a mix of varieties of vegetables, mixed flours, and spices. Certainly, these cute little muthiyas are a treat for those who would love relishing a plate full of goodness, flavors, and nutrition. Serve Mix Vegetable Muthiya with – Chai, Any type of Aachar, Ketchup, Red Chutney, Green Chilies, Garlic Chutney Where To Get Muthiya In Ahmedabad – Aagashiye – The House Of MG
6. Fafda-Jalebi

Fafda-jalebis are the pride of Gujarat and we certainly cannot argue on this fact that we can live on Fafda and Jalebis on a weekend! 😛 Cause it's just too cool! The blend of sweet and salty taste of this dish is just awesomeeeee! You'll find this quick and light snack items at every street corner of Gujarat. Just while seeing the visuals of it and smelling the aroma of the freshly prepared jalebis and fafdas will bring a wide smile on your face. Serve Fafda-Jalebi with – Fafda Special Kadhi, Green Chilies, Sambharo, Chutney Where To Get Fafda-Jalebi In Ahmedabad – Laxmi Ganthiya Rath
7. Basundi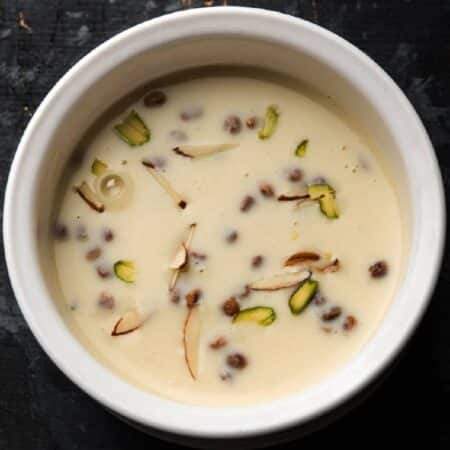 You can never go wrong with a bowl of drool worthy Basundi if you're fond of sweets. Basundi – a rich, delicious, and creamy pudding similar to rabdi is full of flavorful dry-fruits, cardamom, and nutmeg. You can indulge into this sweet dish at home or order a take away and satisfy your sweet cravings. Serve Basundi with – Masala Puri, Paratha, Roti, Bhakhri, Puri Where To Get Basundi In Ahmedabad – Vipul Dudhiya Sweets
8. Srikhand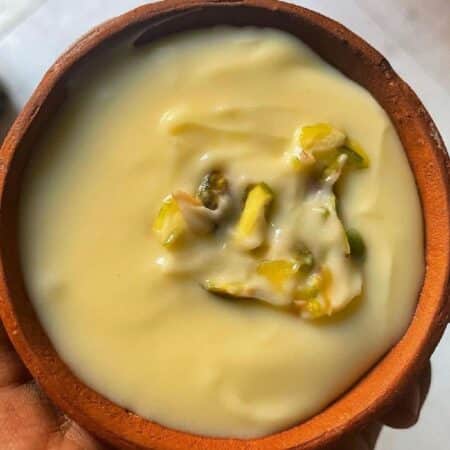 Have you ever said "Mummy, aje jamvama shrikhand-puri thai jai?" If yes, then we're sure that you have a sweet tooth. And of-course, why not when it is this delicious? Cause Shrikhand would be one of the best and the most flavorful treat to your taste buds. This thick, luscious, and creamy dish happens to be a perfect after meal dessert among the sweet fans! Serve Shrikhand with – Roti, Masala Puri, Paratha Where To Get Shrikhand In Ahmedabad – Madhavrao Treat your taste buds with these amazing and best Gujarati comfort foods and let us know which dish has your heart!!