All of us have that one friend who keeps on clicking pictures whenever we visit a new place in town. Who are we kidding, all of us are busy snapping pictures, isn't it? In this Instagram era, almost everything is worth posting on a story. We click pictures of both food and ambiance. Now, if the ambiance is pretty aesthetic, your Instagram game level ups to a whole new bar. Your aesthetic stories are much appreciated and that fills your heart with pride. Now, are you exploring new places every now and then? We got you covered! Here are the 10 best instagrammable food places in Ahmedabad. Hog on scrumptious food and snap aesthetic pictures!
Best Instagrammable Food Places In Ahmedabad
1.
Soul Square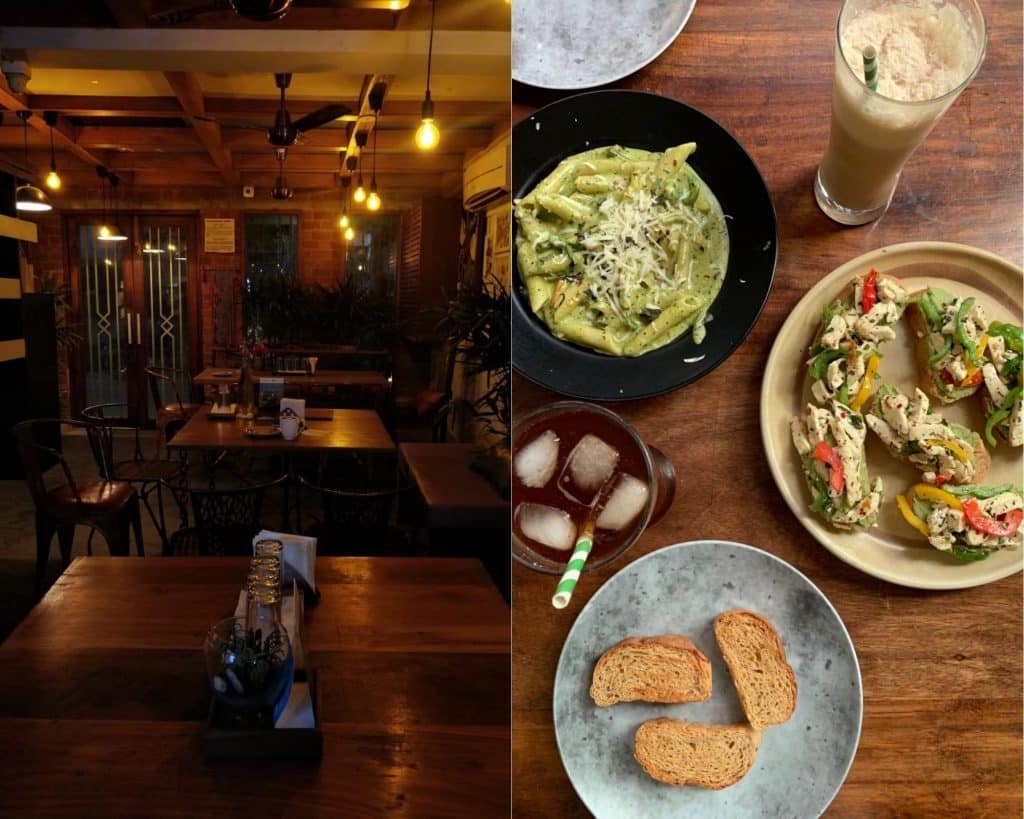 Soul Square is literally the place where our soul resides. The interiors of this cafe are vintage and cozy. It is lined up with wooden benches and old school chairs. Even the food here is served on vibrant ceramic plates. Also, many times few sellers hold their exhibition in the cafe for the customers to grab the latest collection. Click some vintage pictures here at Soul Square while devouring their delicious food.
Avg Cost: ₹850 for two
Location: Bodakdev, Ahmedabad
Must-try Dishes: Farm Fresh Pizza, Green Goddess, Turkish Pizza
2.
Unlocked Cafe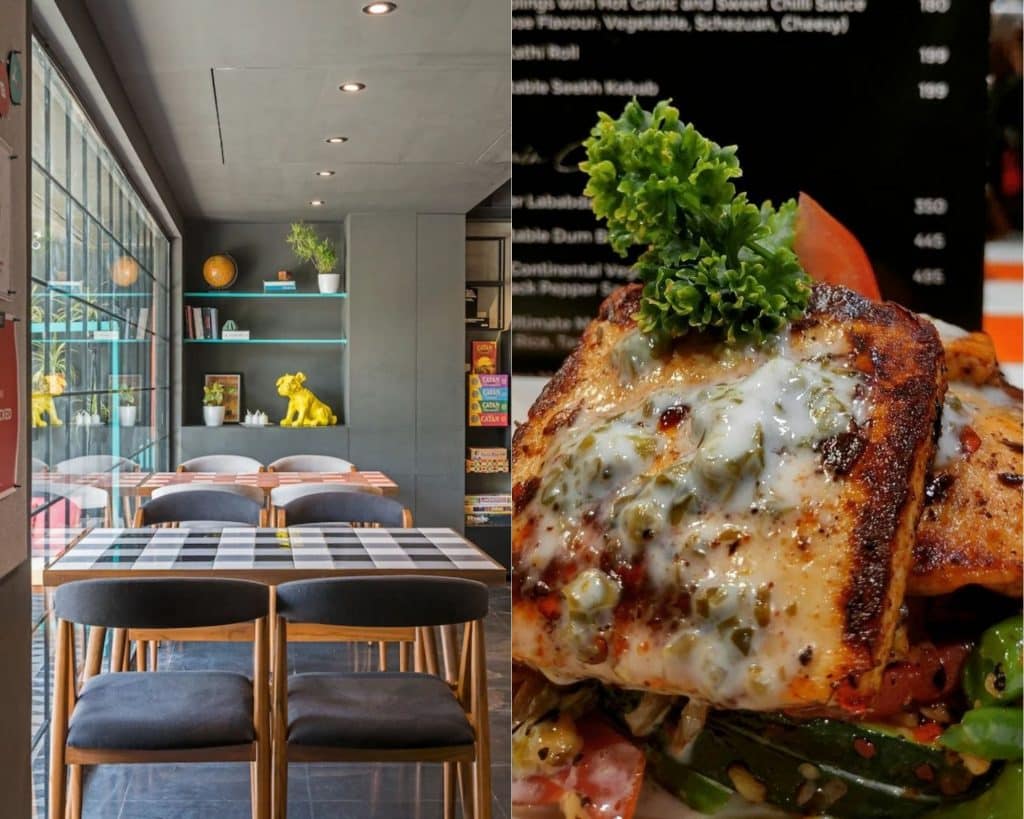 Are you looking out for a quirky food place? Unlocked Cafe must top the list. With its quirky and vibrant ambiance, this cafe not only serves good food but also offers a variety of games to play. The sitting is comfortable and spacious enough. The colorful interiors will make you click a thousand pictures. And your phone will remain 'unlocked' at Unlocked Cafe.
Avg Cost: ₹1000 for two
Location: Navrangpura, Ahmedabad
Must-try Dishes: Bruschetta, Duet BBQ Paneer Tikka
3.
Eleven 11 Restro Cafe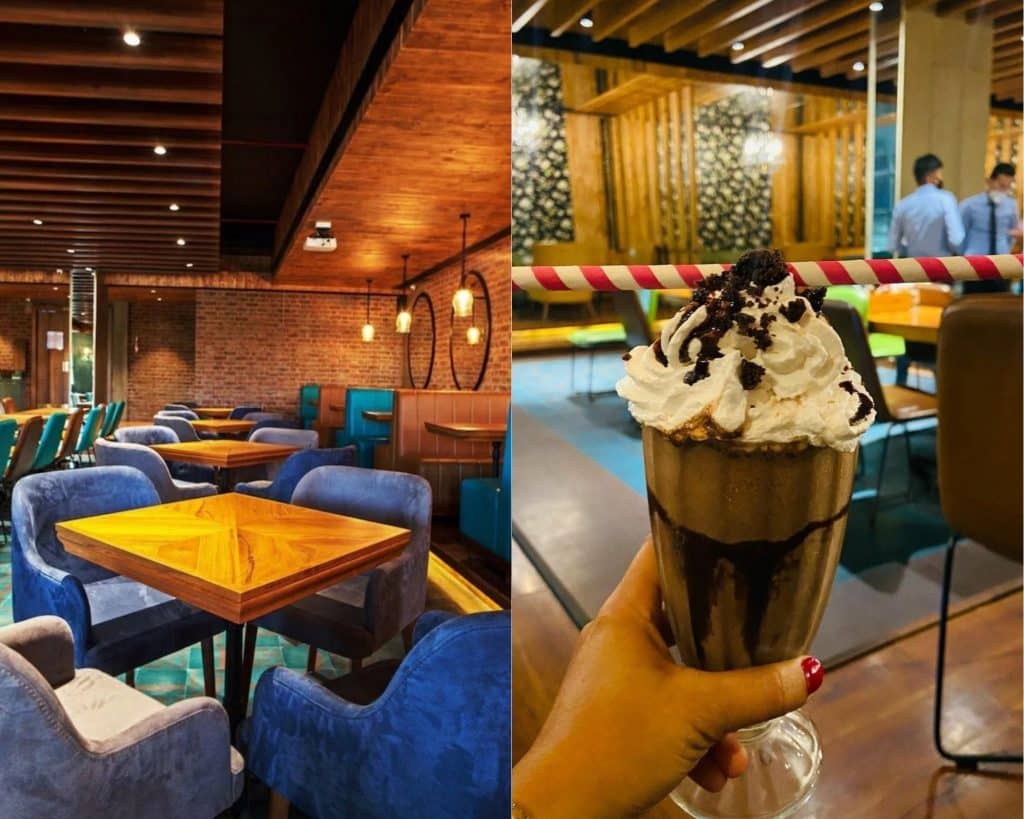 Everything royal is here at Eleven 11 Restro Cafe. It is the go-to place if you like a regal vibe. The cafe is adorned with massive chandeliers and high chairs. Snap perfect pictures of you relaxing in those royal chairs and sofa and show off on Instagram. Along with such amazing interiors, the cafe serves delectable cuisine too. Oh and don't forget to take a picture near the turquoise wall near the entrance!
Avg Cost: ₹1000 for two
Location: Bodakdev, Ahmedabad
Must-try Dishes: 11:11 Signature Shake, Alfresco Pasta, BBQ Paneer Pizza
4.
Poetry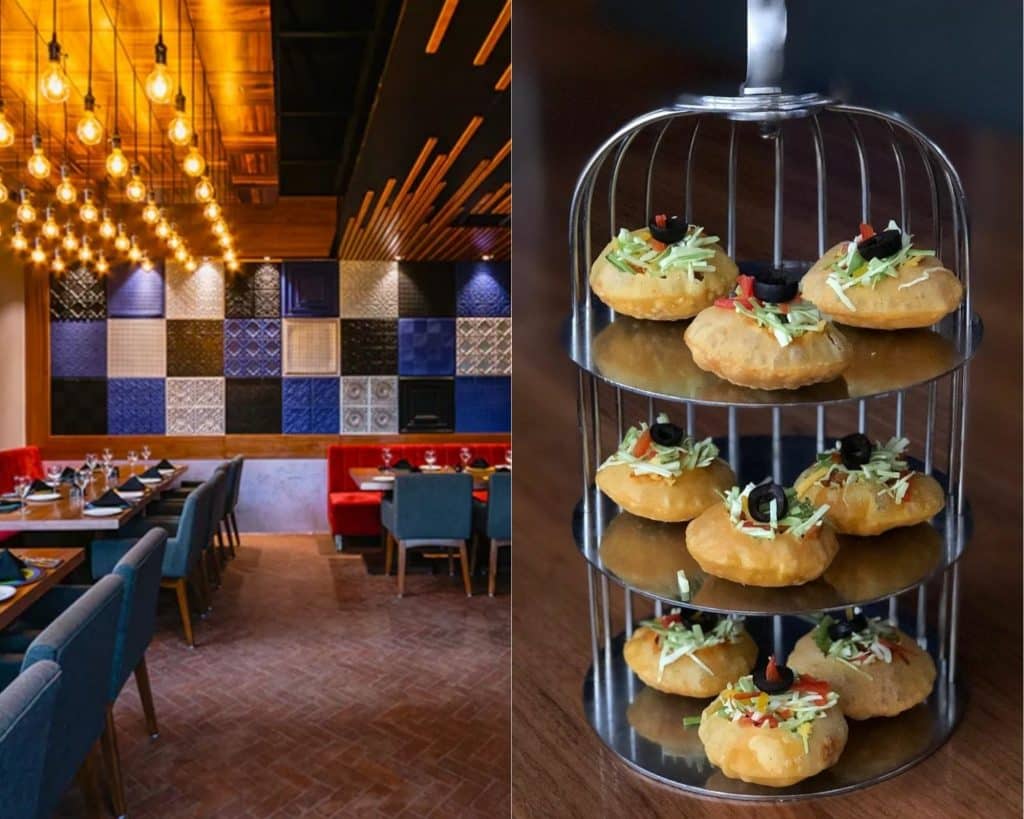 Poetry is visual poetry to its visitors. It is utterly beautiful and the best in town. Lined with yellow dramatic lights, the ceiling grabs the attention in an instant. And, the sitting area of the cafe is well organized and makes for the perfect Instagram post content. Moreover, the food here is served in innovative ways such as in a caravan or a cage. You are missing major content for Instagram if you haven't visited poetry yet.
Avg Cost: ₹1200 for two
Location: Bodakdev, Ahmedabad
Must-try Dishes: Puffy Nachos, Cottage Cheese Roundels
5.
The House Of Makeba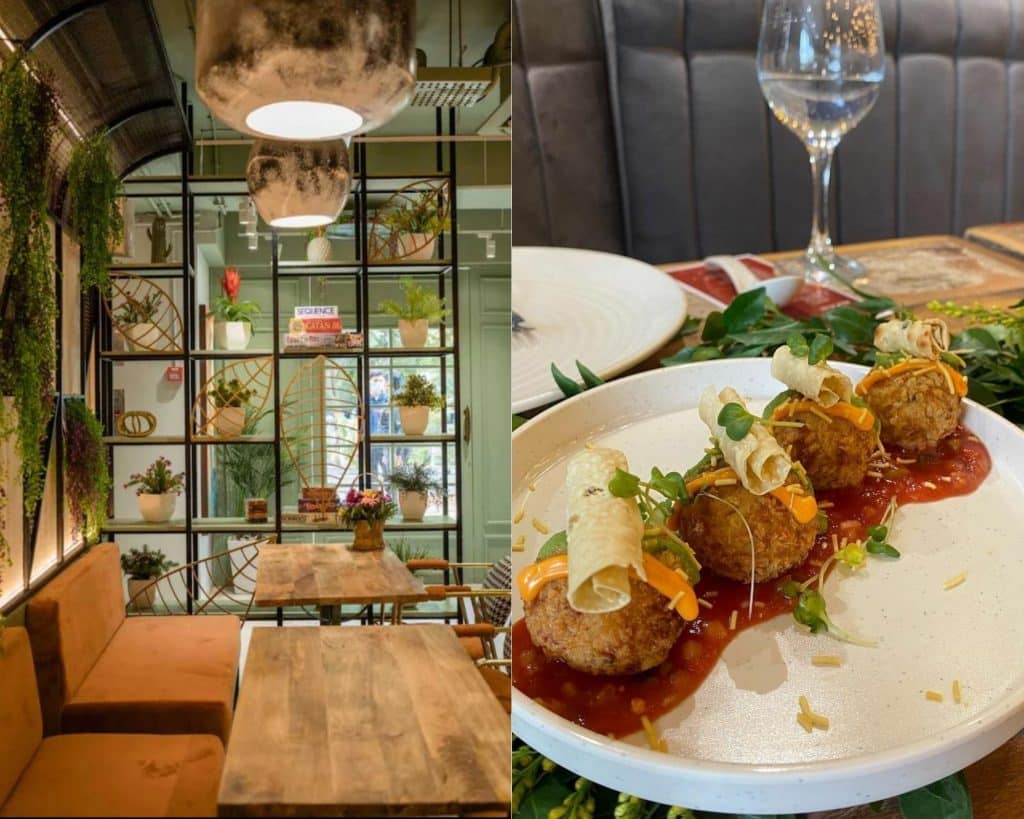 The House of Makeba is the OG when it comes to Instagrammable places in the town. The interiors are classy and elegant. With its wooden tables and cozy couches, this cafe is here to serve your hunger pangs and Instagram needs. Also, their indoor, as well as rooftop sitting, is a visual treat. The pastel color palette is used to enhance its beauty. Pose in front of any wall and you are bound to get gorgeous pictures.
Avg Cost: ₹1000 for two
Location: Sindhu Bhavan, Ahmedabad
Must-try Dishes: Pahadi Tandoori Soya Chaap, Tex Mex Hot Pot, Chinese Sizzler
6.
Muse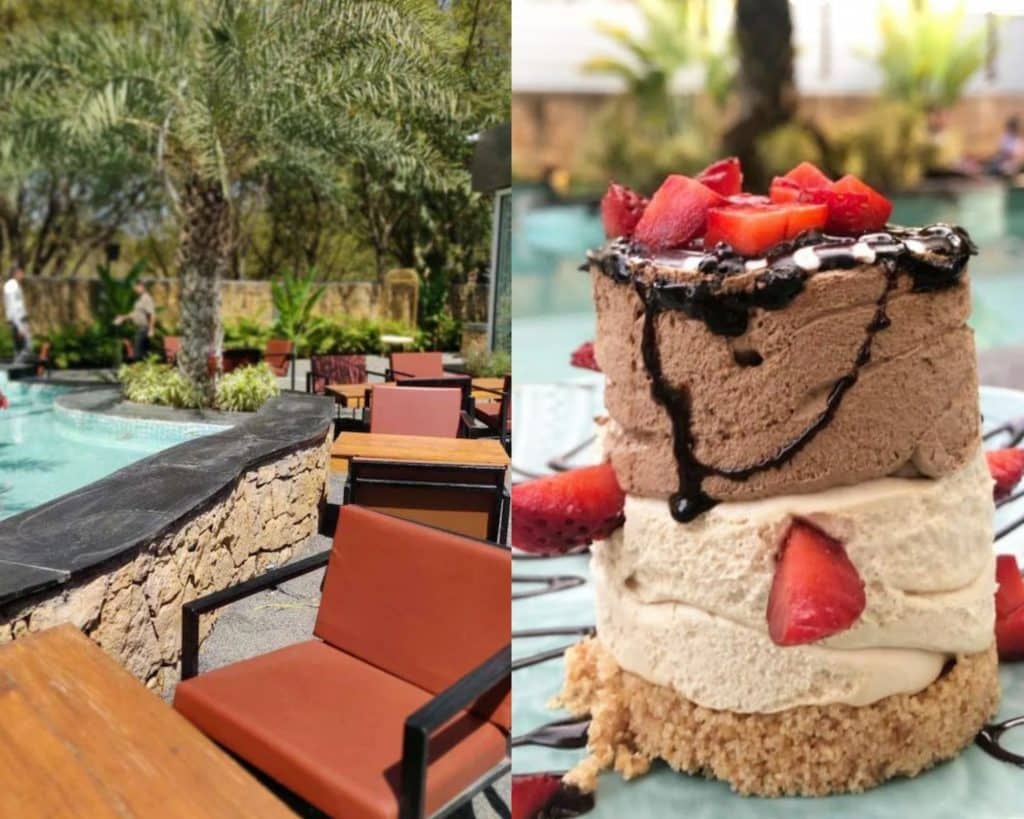 If you want to spend an evening open in the air, Muse is your place. Their indoor, as well as outdoor seating, is worth checking out. Moreover, the cafe is designed in nude shades which makes it altogether more alluring. The interiors are in blue tones and the outdoor in red. There is a pink wall and a small pond dedicated to clicking pictures.
Avg Cost: ₹800 for two
Location: Bodakdev, Ahmedabad
Must-try Dishes: Lasagna Rolls, Strawberry Chocolate Mousse, Cheesy Burst
7.
Little French House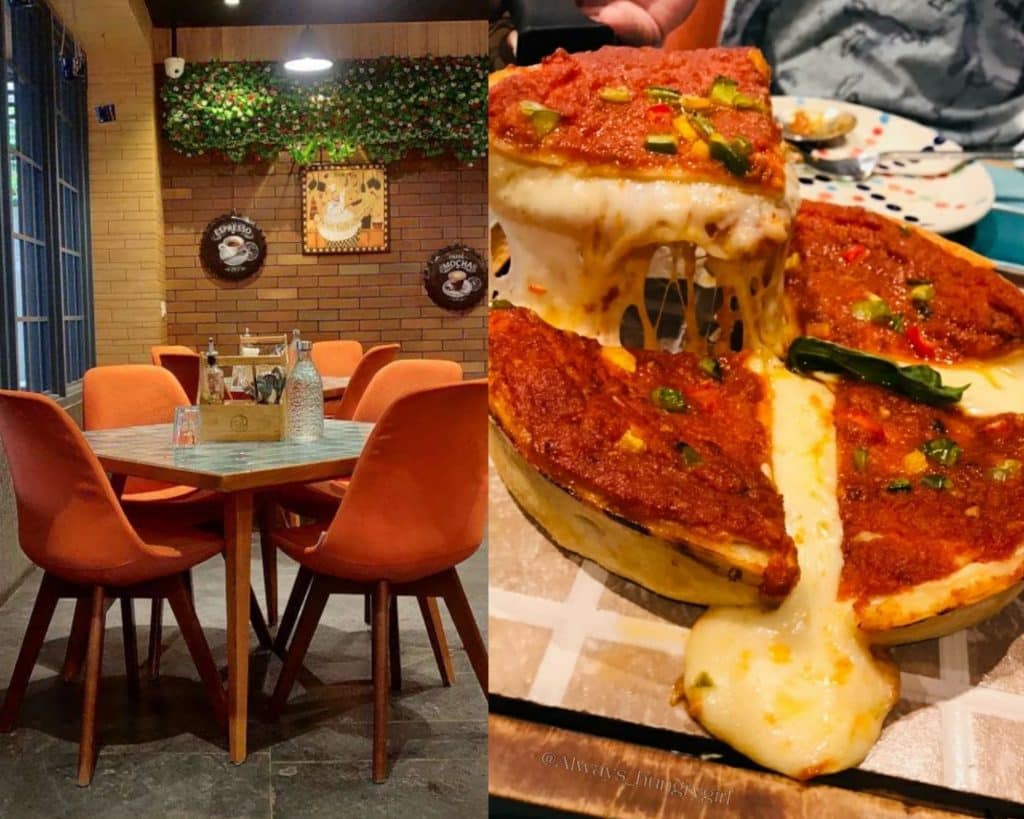 Little French House is a beautiful cafe. It feels as if the cafe was created to be Instagram friendly. With their cozy chairs, comfort is offered at best here. Even the plates serving food are so aesthetic that you post them immediately. And the presentation of the food is amazing too.
Avg Cost: ₹1000 for two
Location: Navranpura, Ahmedabad
Must-try Dishes: Deep Dish Pizza, Farmer's Tear And Share Bread
8.
The Blue Oven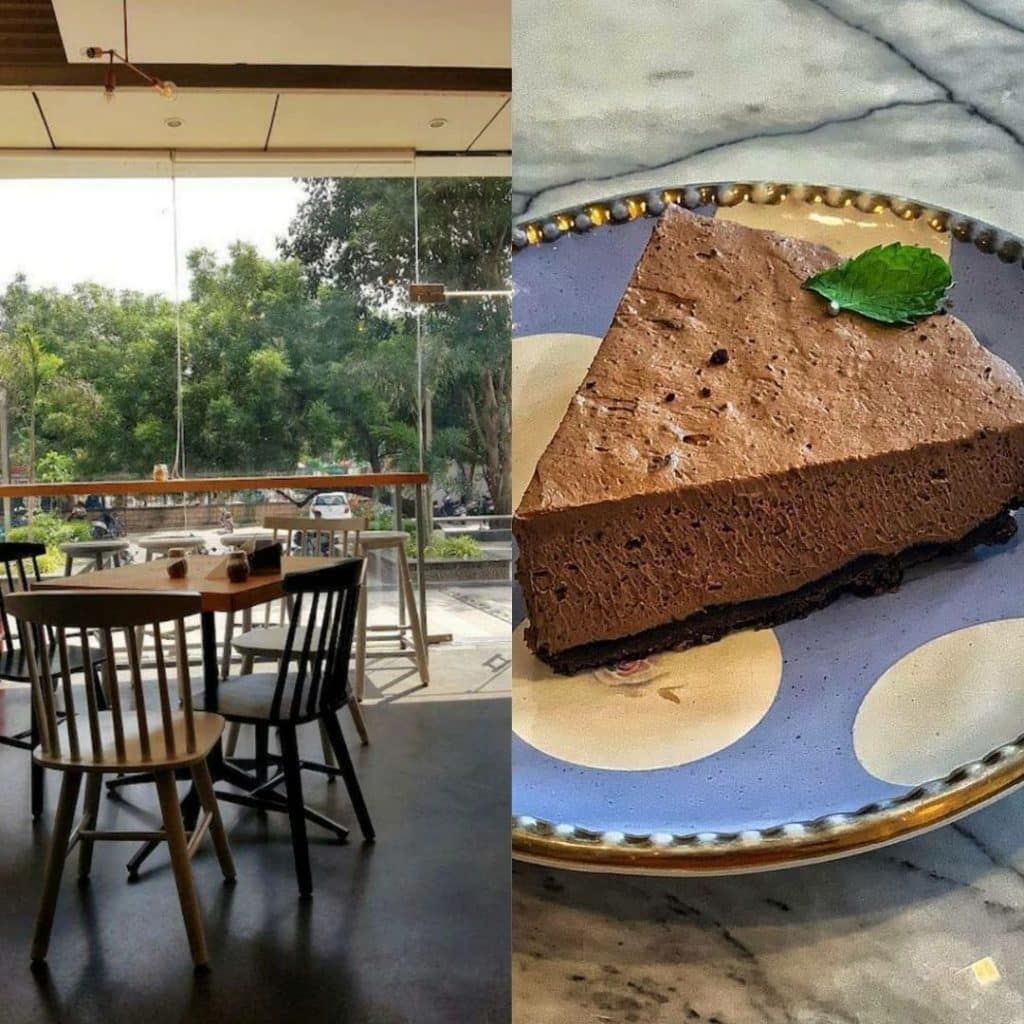 The Blue Oven is a synonym for cuteness. This cafe is super cute and the perfect spot for your Instagram stories. Known for its lip-smacking cheesecakes, the Blue Oven is a great hangout spot. Along with delectable food, the modest interiors are a cherry on top. Their walls are lined up with aesthetic frames and plants. And if you are a mirror selfie fanatic, they have a huge mirror for great selfies too.
Avg Cost: ₹700 for two
Location: Vastrapur, Ahmedabad
Must-try Dishes: Nutella Cheesecake, Mexican Pizza
9.
Mexicano By The Bay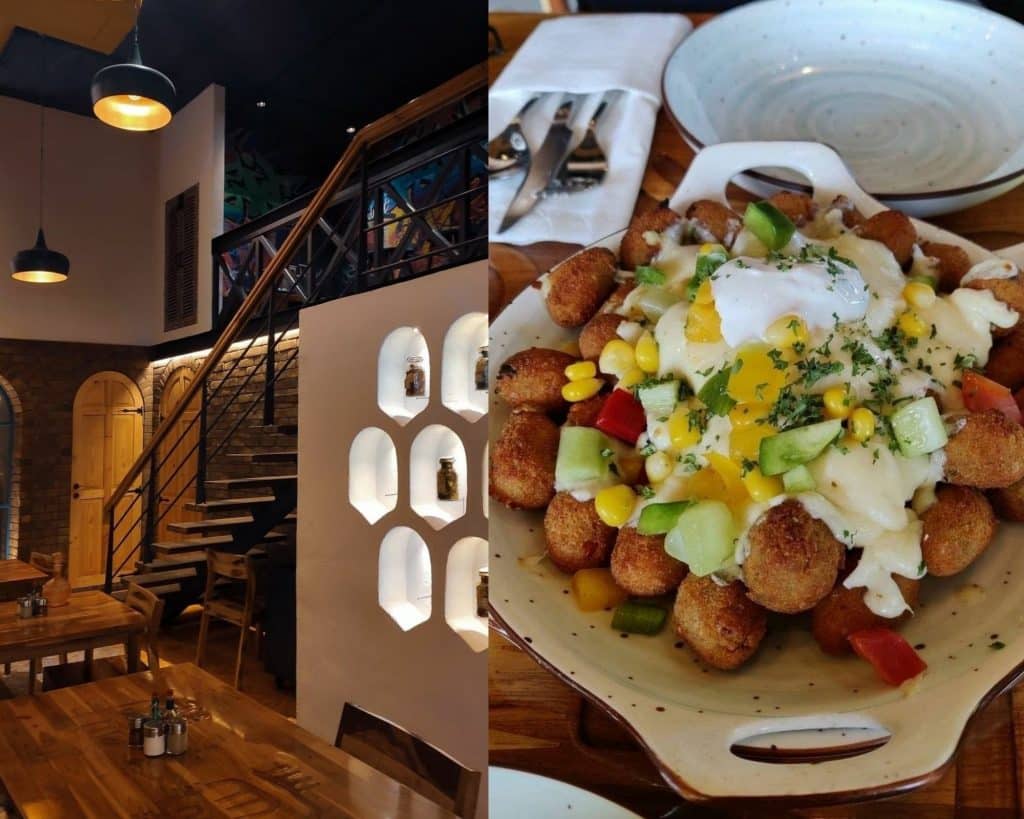 Mexicano By The Bay is loved both for its aesthetic interiors and scrumptious food. The interiors are designed in warm tones such as brown, orange, and yellow. Along with this, walls have glass windows that offer a beautiful view of the city. It is the perfect spot to take hundreds of pictures; of yourself, interiors, and the food.
Avg Cost: ₹800 for two
Location: Ashram Road, Ahmedabad
Must-try Dishes: Cheddar Grilled Cheese Quesadilla, Burrito Bowl, Loaded Tarter Tots
10. The Project Cafe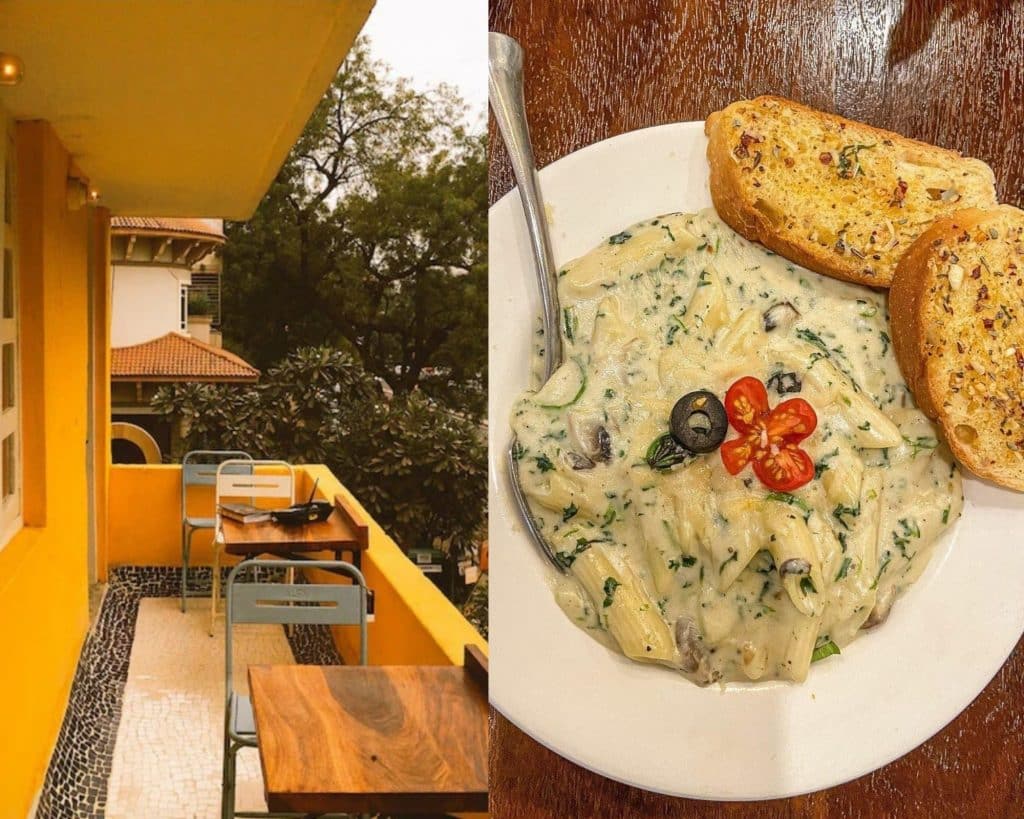 Do you prefer a simple yet lovely ambiance? This is your place to be. With its blue-toned walls, Project Cafe prompts you to put an Instagram story right away. The interiors are quirky and eye candy. You would surely get the aesthetic vibe you are looking for here. Every corner is picturesque and worth capturing in your camera. Enjoy good food with an amazing ambiance.
Avg Cost: ₹800 for two
Location: Ambavadi, Ahmedabad
Must-try Dishes: Sundried Tomatoes Pesto Foccacia, Four Cheese Mushroom Spinach Pasta
These were the 10 best Instagrammable food places in Ahmedabad. Now we know where to go if we do not have post-worthy pictures anymore. Do you have your camera and fork ready? Let's dig in appetizing food and capture memories in our devices.