Are you even true Gujarati if you haven't savored the scrumptious and wide range of Gujarati nasta?
Gujarati cuisine has many culinary treasures that are mouth-watering. The super-delicious food items of the breakfast are a must if you are a true fan of Gujarati farsan.
Dishes like Fafda, Jalebi, Khaman, Dhokla, Khandvi, Methi Gota, and so much more are some of the famous food items of Gujarat. We bet that these culinary treasures will definitely become your favorite, once you try them.
Here we have curated the best restaurants and eateries where you can savour these dishes. Check out our list of the best places in Ahmedabad for Gujarati nashta.
1. Das Khaman – The House of Khaman
There are 12 outlets of Das Khaman in the town. It is one of the most powerful snacking establishment in Ahmedabad. The place serves a variety of khaman and other Gujarati farsan which is also best for its real taste of kathiyawadi snacks and the quality of food.
Must-Try Food Items– Black Pepper Khaman, Sandwich Dhokla, Sev Khamani, Idada(White Dhokla), Navtad Samosa.
2. Iscon Gathiya
Iscon Gathiya has a chain of outlets across the city. It is one of the decades-old shops which serves some drool-worthy Gujarati snacks.
Every Gujarati is a fan of the thick and crisp cylindrical-shaped gathiyas of this place. It offers kadhi which has a sweetish tinge that can be relished with dhoklas and gathiyas.
Must-Try Food Items– Papdi Gathiya, Vanela Gathiya, Nylon Khaman, Vateli-Dal Khaman, Methi Gota.
3. The Green House Café
The Green House Café is near Lal Darwaja in The House of MG. The café offers all kinds of traditional Gujarati food. It is praised for its hygienic food at a reasonable cost.
The café has a soothing ambiance and is surrounded by beautiful plants and veils. It is popular for its relaxed atmosphere and courteous staff. The operational hours of the café are from 7:00 AM to 11:00 PM.
Must-Try Food Items– Dalwada, Dudhi Muthiya, Haandvo, Patra.
4. Oswal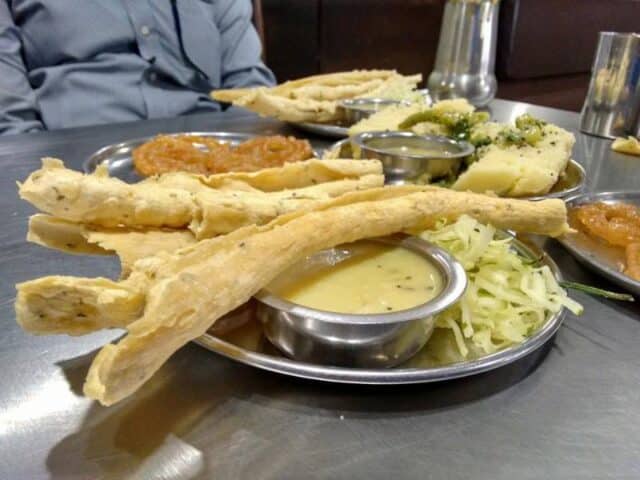 Oswal is located on Ashram Road. It offers a variety of tasty Gujarati snacks. You will simply be tempted to reorder the jalebis as they are so soft and mouth-watering. The place is well-known for its quick service, quality of food, and is economical.
Must-Try Food Items– Khaman Dhokla, Kadhi, Jalebi, Fafda Gathiya.
5. Lijjat Khaman
Lijjat Khaman lies in Mani Nagar opposite Kankaria Lake. The place is best known for its quality and taste of food which is also pocket-friendly. It is a renowned place for Gujarati nasta in the Mani Nagar area. The crunchy and tasty fulwadis are the star of this eatery.
Must-Try Food Items– Sev Khamni, Samosa, Sandwich Dhokla, Fulwadi, Khandvi, Jalebi.
6. Jalaram Khaman House
Jalaram Khaman House is in Shastrinagar, Naranura. It is a one-stop destination serving a wide range of Gujarat farsan. The place is popular for providing comfort food in good proportions. The spongy, rich-in-texture, and flavourful nylon khaman is the star of this place.
Must-Try Food Items– Vati-Dal khaman, Khandvi, Patra, Sev-Khamni.
7. Laxmi Gathiya Rath
Laxmi gathiya Rath is one of the best places in Ahmedabad which serves scrumptious Gujarati nasta. There are several branches of this eatery across the city. The place also offers family binge combos and is best in its quick service.
Must-Try Food Items– Fafda, Jalebi, Khandvi, Sandwich Dhokla.

If you are in Ahmedabad or are going for a tour in the city and you have not savored khaman dhokla or the amazing Gujarati nasta, then your tour is not complete.
Let us know which food Gujarati food item you like the most from this list of best places in Ahmedabad for Gujarati nashta.