There exists a different sort of people, who fall in love with anything and everything that starts with chicken. Are you looking up for a variety of chicken dishes and the places to go to? Chicken Mughlai, Chicken dum biryani, Chicken pasta, Chicken wings, Chicken burger, Chicken momos. Are you one of that non-veg eating person, who loves chicken more than all the non-veg combined food together? I could say, you love those dishes which has chicken in it? Here are some amazing places with a variety of chicken dishes and the best one you must not leave behind whilst you visit these places.
With a cosy setting and a touch of lovely blue to it, this place will give you a perfect for a sophisticated dinner seating. Order a sweet corn soup for a start and end your meal with this amazing combination of penne, white sauce and chicken. To, make it yummier please ask the waiter to add a bit extra olive oil to the dish.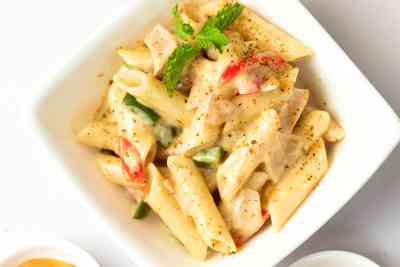 Must-try dish: Chicken pasta with Alfredo White Sauce
This one restaurant has a quirky Bollywood setting with typical Punjabi crockery for you. Yes, they have brass plates and glasses. Mirch masala has a lot of Non-veg varieties with chicken, mutton and Veg food dishes as well.

Must-try Dish: Chicken Amritsari with Lachaa paratha
This one is a famous Indo-Chines restaurant you might have already heard of. But, you'll always get confused about what to order. Well, for you health freaks, get a plate of momos from this place and you won't ever think of giving up chicken while on diet.

Must-try Dish: Pan-fried chicken cheese momos
The only limitation to this wonderful place is that they offer only takeaways. Go, grab your bike or call an uber to get to this place, because let me tell you, this place right here has the best tandoori chicken. And, this coming out of me is like a huge compliment. Because I love chicken and that too when it comes to tandoori, I adored it!

Must-try dish: Tandoori chicken leg
And the only question, you'd want to ask me, is why to order chicken wings, and not pizzas while I am at Pizza hut. Well, you would only say that, if you haven't already tried this spicy and juicy chicken wings from pizza hut! Not, fried but baked, pizza hut offers six pieces of utter deliciousness.

Must-try dish: Chicken wings
As the name suggests, the place is famous for its biryani. Go, get a late full of spicy dum biryani from this pace and relish all your biryani moments. Are you a biryani monster like Kavya Kulkarni from Little things? Here, is your one shot rescue in the city.

Must-try dish: Chicken biryani
A high-end cafe for you with a fusion dish. Take yourself out on a date, or go on a double date, this place will give the best fusion dishes with chicken in it. Moreover, the ambience is a plus point to your food experience.

Must-try dish: Chicken Birmies spaghetti