While Kumbalgarh is famous for its royal cultural heritage and folk tales, it is also best-known for offering the authentic delights. A trip to this alluring place would be incomplete without experiencing it's culinary specialties. The restaurant of Kumbalgarh offers a compelling mix of local food preparations, continental, Indian, Chinese, and Punjabi cuisine. The wide-ranging menu will absolutely leave you drooling and their delicious preparation of dishes will flatter your taste buds!
So, what are you waiting for? Now that you are already in the middle of planning your trip, we are here with a list of best restaurants to visit in Kumbalgarh for you.
Best Restaurants In Kumbalgarh
1. Chowka – The Aodhi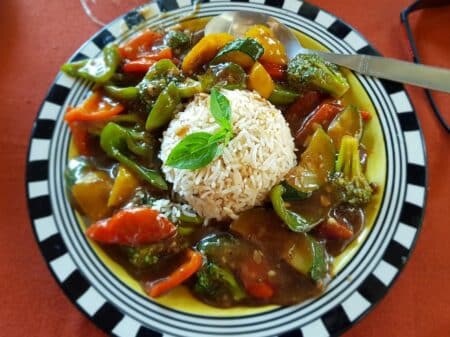 Chowka is an open restaurant in Kumbalgarh offering delicious varieties of food dishes. Their courteous staff members would ensure that their customers are servers the best and quality meals. Along with tasty food dishes the food joint also provides impressive ambience and decor.
Loaction – The Aodhi
Available Cuisines – Asian, Indian
Must-Try Food Dishes – Rajasthani Dish, Veg Paneer Platter
2. Maharani Bagh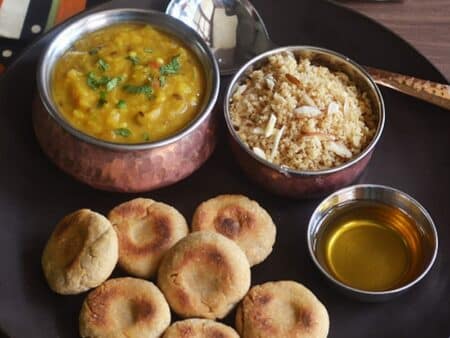 People say that Maharani Bagh is one of the hidden gems of this city. it is an excellent property offering wide range of food dishes from multiple cuisines. With amazing quality of food dishes, they also provide tasteful food options to their customers. It is a fascinating place with a serene ambience, intimate gardens, and pleasant dining area.
Loaction – Orchard Retreat
Available Cuisines – Indian, International, Asian
Must-Try Food Dishes – Dal Bati Churma, Coffee, Pastries
3. Rajgarh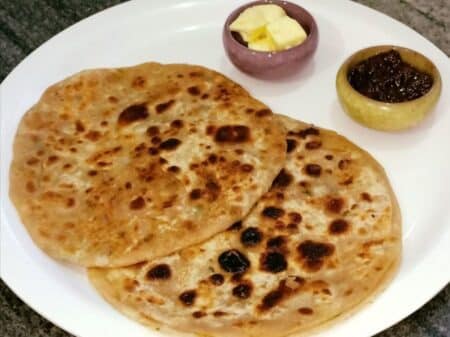 Rajgarh restaurant in Kumbalgarh is beautiful and charming due to its location. It lies next to the peaceful lake and makes the ambience of the eatery even more beautiful. The food quality of the place is wonderful and their delicacies tastes wonders. They also believe in offering efficient services and mainly emphasis on providing best hospitality to their customers that is affordable.
Loaction – Saira Road
Available Cuisines – Indian
Must-Try Food Dishes – Parathas, Rajasthani Dish
4. Vari Restaurant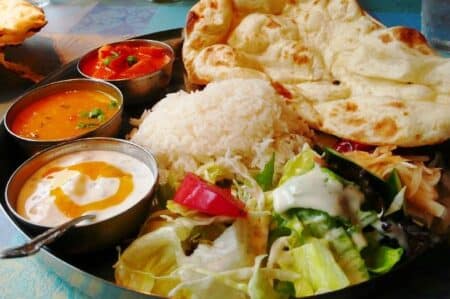 If you are in a great mood to indulge into some of the best international and Indian dishes, then you must visit this restaurant. Vari is a beautiful restaurant that offers right from local food preparations to selected world class cuisines. The eatery comprises of live counters, elaborate buffets, well-mannered staff members, and elaborate menu where you can choose your absolute favorite dish!
Loaction – Ranakpur Road
Available Cuisines – Indian, International
Must-Try Food Dishes – Daal Bati, Any Breakfast Dishes
5. Pangat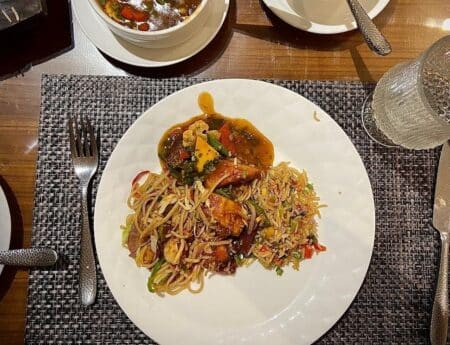 Pangat restaurant is one of the finest places where you can have your food with a great view! They provide amazing services and excellent hospitality. Pangat is also known to serve best and tasteful culinary delights that includes deliciously lavish and elaborate pure veg. buffet. The warm and friendly staff members of the spread makes you feel like home.
Loaction – Maharana Pratap Marg
Available Cuisines – Indian, Italian, Chinese, Fast food, Asian, Soups
Must-Try Food Dishes – Creamy Soup, Dal Makhni, Coffee, Jalebi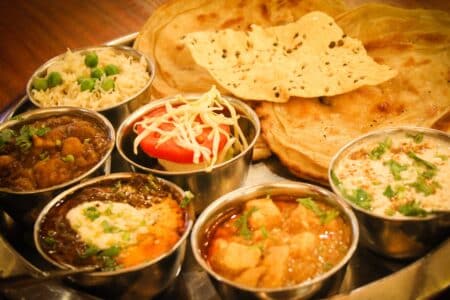 Wanna have an enriching experience of the great Indian cuisine while on a trip? The you must visit this wonderful spread offering good authentic veg. food dishes. Swagat restaurant lies in the middle of the city with peaceful ambience and friendly staff members who will makes sure to present their best food creations to you!
Loaction – Fort Road
Available Cuisines – Indian, Asian, Diner, Soups
Must-Try Food Dishes – Fried Rice, Sev Tamatar, Veg. Jaipuri, Jeera Rice, Daal Baati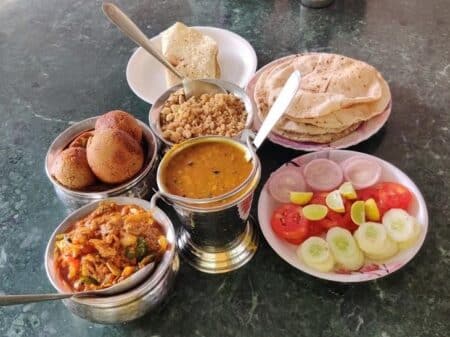 Wanting to satisfy your taste buds who are craving for some scrumptious thalis after sightseeing in Kumbalgarh? The, this is the place for you – restaurant in Karni palace hotel. They serve plenty of dishes that has larger portion sizes and are simply delightful. It consists of beautiful outdoor and indoor seating area with a pretty and well-maintained ambience.
Location – Teh. Kumbalgarh
Available Cuisines – North Indian, Fast Food, Continental
Must-Try Food Dishes – Buttermilk, Daal baati Churma, Tea, Mewari Thali, Rajasthani Thali
8. Radhe Radhe Restaurant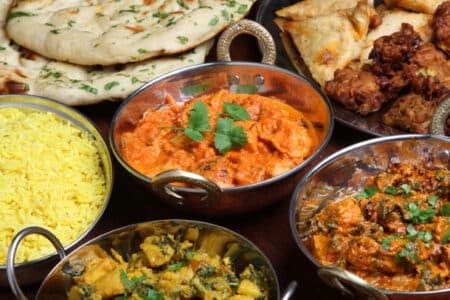 If you're someone who loves gorging on the authentic Rajasthani delicacies and the lip-smacking Punjabi cuisine, then take a visit to this place. Radhe Radhe restaurant has an elaborate menu with a reasonable price. They dish out tasty food preparations from different cuisines from their kitchen where the focus is also on the quality and quantity of dishes.
Loaction – Club Mahindra Circle Road
Available Cuisines – Indian, Asian
Must-Try Food Dishes – Yellow Dal Tadka, Fried Rice, Parathas
So, tell us which of these food places are you going to visit from this list of best restaurants in Kumbalgarh? We hope this list will come to the rescue while you are on your trip to kumbalgarh 🙂
Here's the list of what all you can do while having a fun trip in Kumbalgarh with your loved ones!