How about a Romantic dinner with your loved one? Sitting on the rooftop, gazing at the stars, light soothing music, a candlelight dinner, are just perfect to make your date night romantic. It makes your partner feel special when you take them on a date or for a candlelight dinner. Whether you are looking for birthday celebration places in Ahmedabad for couples or just a casual dinner date, there are some amazing cafes and restaurants there. So we have brought to you the best candle light dinner places in Ahmedabad which are a must-visit with your loved one and make them feel special. Here are 14 Candlelight Dinner in Ahmedabad for a perfect date.
1. Soulmate Cafe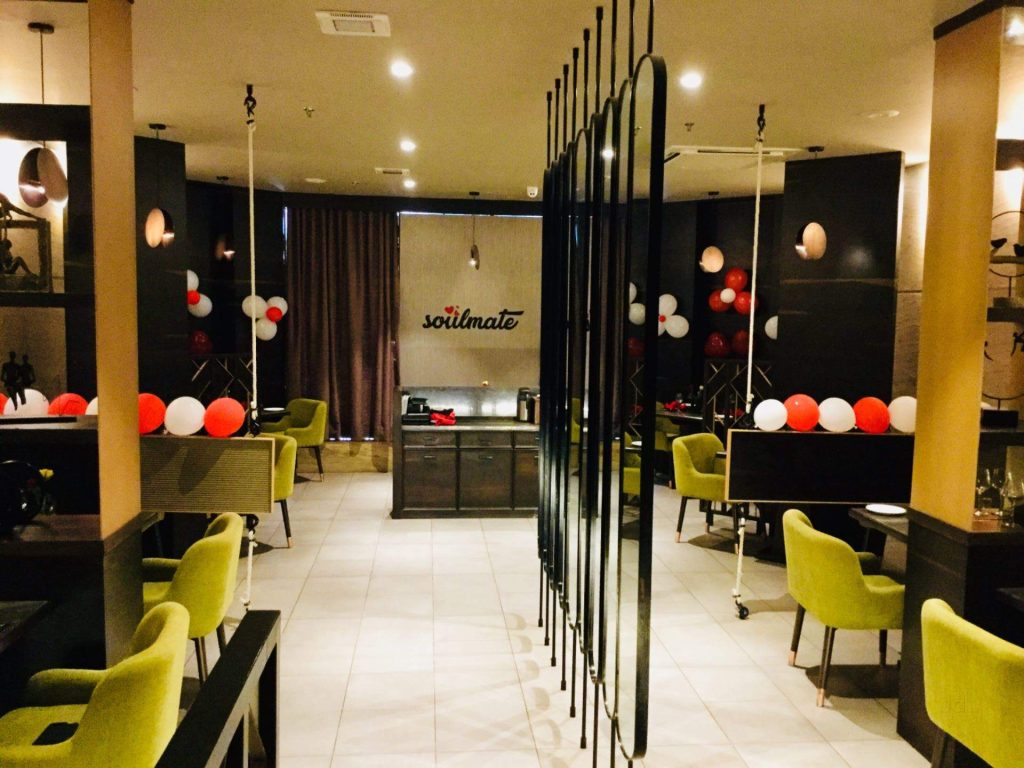 Perfectly named, Soulmate cafe is the perfect place for a romantic candle light dinner in Ahmedabad! It is a cafe where you can take your soulmate on the most memorable candlelight date. It is popular for its unique romantic atmosphere and quiet peaceful ambiance. Additionally, it has special packages that they offer in Valentines' month.Must-Have: Chocolate Bouquet, Blueberry Cheesecake, Almond Soup Cost: 1,500 for two Location – Panjrapol
2. Seven By Poetry

A place full of yummy fusion dishes, Poetry is a must-visit place for candle light date with mate in Ahmedabad. Whether you are going with a loved partner or celebrating your friendship with your best buddy, this place will treat you right. The decor here is very sober yet classic, giving you all the fancy vibes. The tasty food with the soothing music will leave you spellbound. Here, the ceiling is filled with lights that will make your evening colorful. Must-Have: Mojito, Clear Soup, Pasta, Pizza, Mocktails, Ravioli, Mushroom Soup Cost: 1,200 for two people Location: Bodakdev
3. Fresh Roast

This place is the hotspot for all heritage lovers. If your loved one is crazy about clicking pictures, then you should definitely try out Fresh Roast. The decor here is a stunning mix of culture, beauty, and class. For those who love the traditional, rustic ambiance with fancy food, this place is perfect. So if you are looking for a candle night in Ahmedabad under 1000 Rs., head on to Fresh Roast! Must-Have: Enchiladas, Cappuccino, Mocktails, Fettuce Salad, Pizza, Coffee, Lasagna Cost: 800 for two people Location: Paldi
4. @Mango

@Mango has a pleasant ambiance. You are welcomed with a live orchestra, the moment you enter. They have the best options for couples who want to spend some quality time. Some places cannot be described, they just need to be felt. And Mango is just that place! Must-Have: Mocktails, Pinacolada, Pizza, Hot Pot, Mojito, Pasta, Clear Soup Cost: 1,300 for two Location:Sindhu Bhavan Road
5. SKYZ Restaurants & Banquets


If we are talking about rooftop restaurants, we cannot leave this one behind. SKYZ is one of the most well-known rooftop restaurants, with their super good hospitality, amazing ambiance, and equally good food. In addition, the place is well maintained and has a very nice outdoor section and Live Music that provides a nice setup for a candlelight dinner date. Must-Have: Indian Dishes, Biryani Cost: 1,000 for two Location: Prahladnagar
6. M.A.D By Tomato's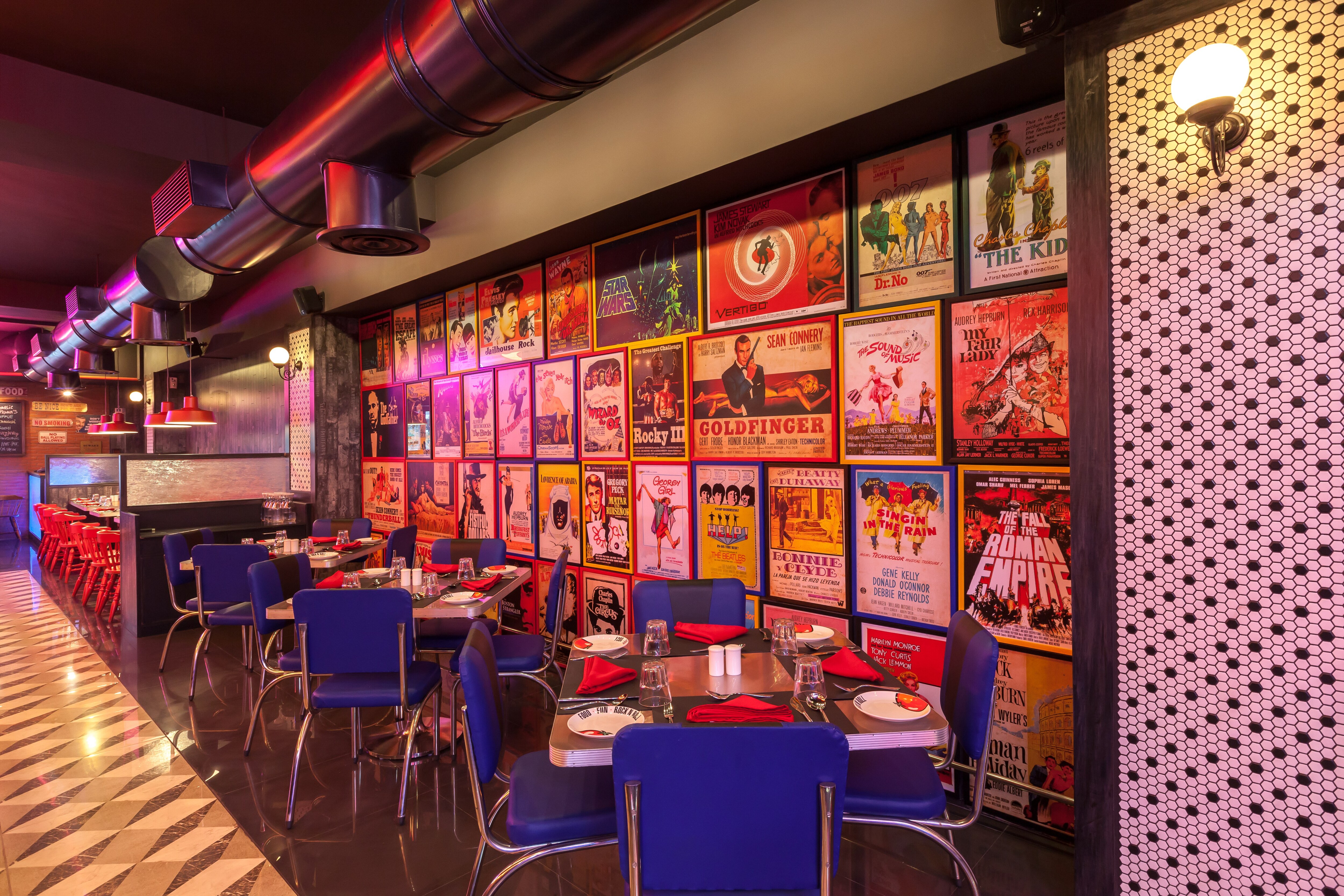 A funky decor gives it a Diner look and equally good service. One of the most famous places to go out on a casual date with a great dining experience and most importantly the lip-smacking food served by them. Also, a wide variety of menus ranging from Indian to Italian. Must-Have: Mexican Hot Pot, Lasagna, Mocktails Cost: 1,300 for two Location: S.G. Highway
7. VariTea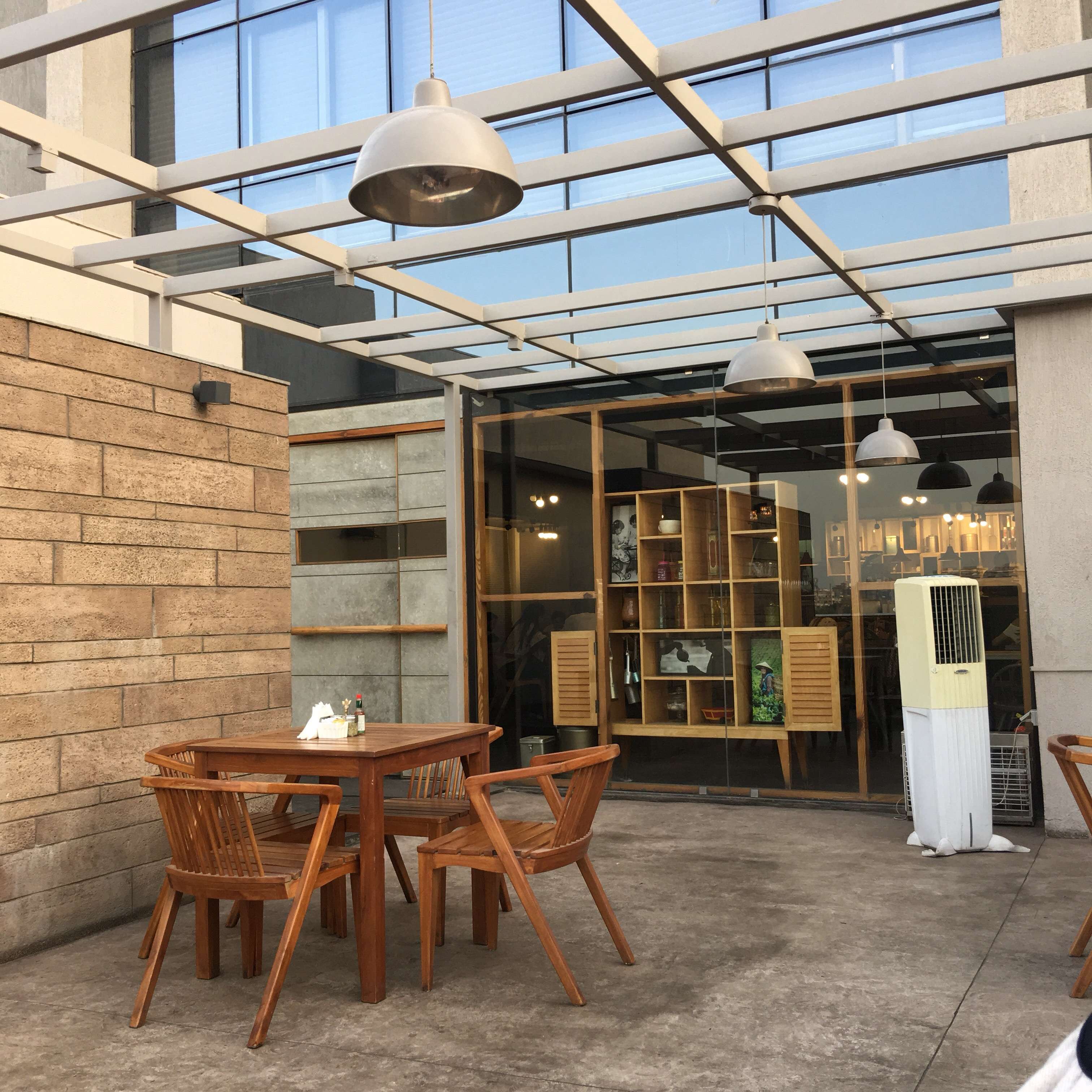 With indoor seating as well as outdoor seating available, Varitea has one of the best rooftop areas with a view of The Sindhu Bhavan Road and the S.G. Highway. In other words, a nice ambiance, prompt service, and friendly staff combined with the tastiest food can be the best experience to have a cozy evening with your better half. Must-Have: Pasta, Pizza, Butter Garlic Fries Cost: 600 for two Location: Prahladnagar
8. Ristretto – Behind The Rods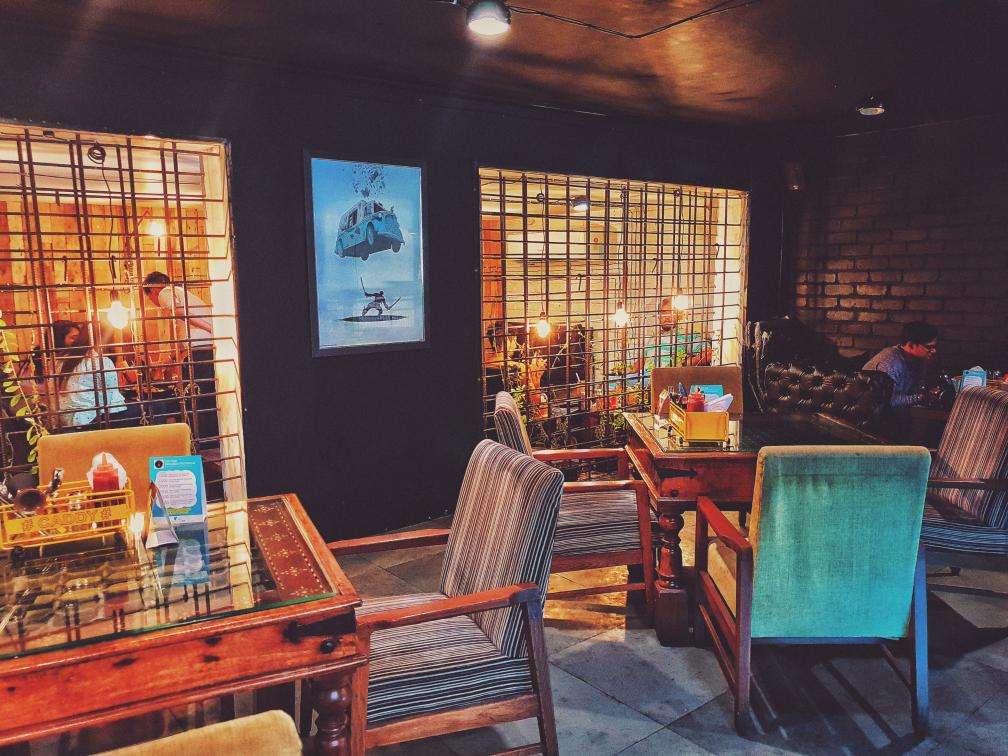 With a very different interior, it is one of a kind place, having a unique and funky way of taking your loved one or asking her out with some drinks, food, live sports screening, and live music. Above all, it is a very good place to take someone on a date. Must-Have: Mocktails, Pizza, Pasta Cost: 1,000 for two Location: Navrangpura
9. Piperade at The Waterside

It has one of the best atmospheres for a romantic date with your loved one. It is a place where you can unwind from your busy life and relax with your partner. They have candlelight tables every night just to add to their beautiful ambiance. Must-Have: Sizzlers, Mocktails, Pasta Cost: 1,200 for two Location: S.G. Highway
10. Wind and Water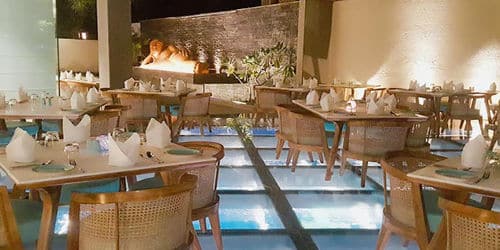 This is one of the unique and best European restaurant in Ahmedabad. It has you dining on the glass and underneath it is a brightly lit pool with colorful fishes swimming. This place all in all is a beauty with the most amazing food as well. If you have been looking for a poolside candle light dinner in the city, then this is the best place for your preference. Must-Have: Vegetable Dim Sum, Briyani, Risotto Cost: 2,200 for two Location: Ashram Road
11. Bluez Terrace Cafe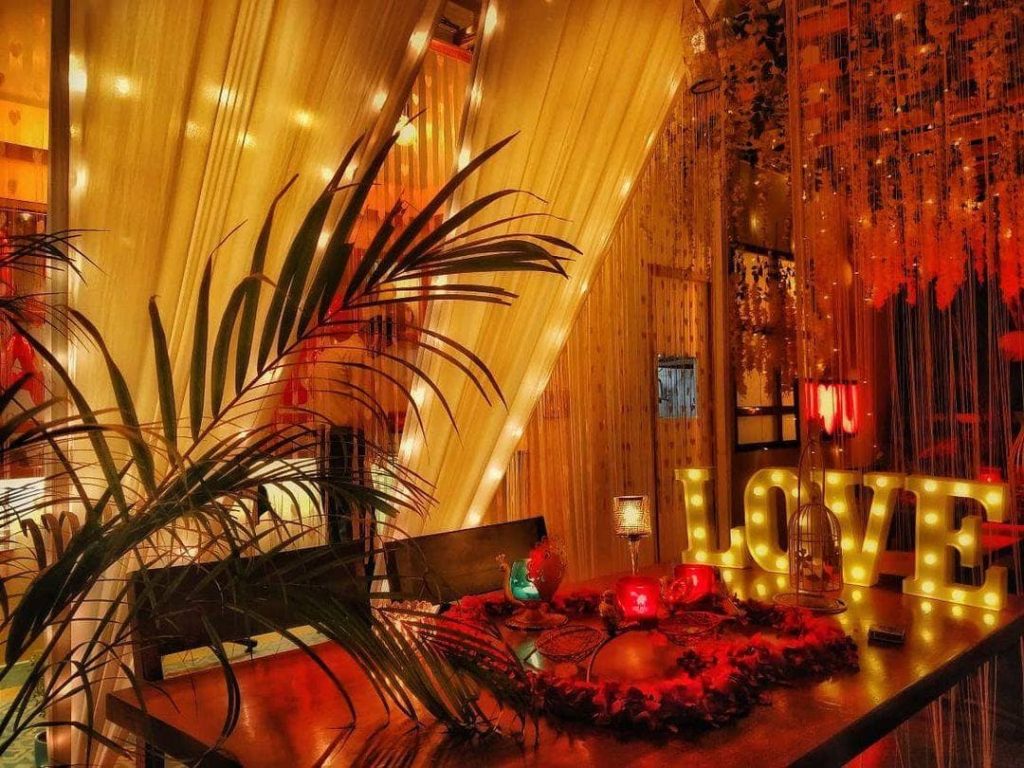 Bluez Terrace Cafe is a cafe with indoor and outdoor settings serving Indian and Chinese food. If you are looking for private candle light dinner in Ahmedabad, Bluez offers secluded seating arrangements. Be it Valentines' week, birthdays, or anniversary celebration in Ahmedabad, Bluez is the place to be! With amazing food and great ambiance, you are sure to enjoy a date night here. Must-Have: Pizza, Hakka Noodles, Dal Makhni Cost: 600 for two Location: C.G. Road
12. Arbre Cafe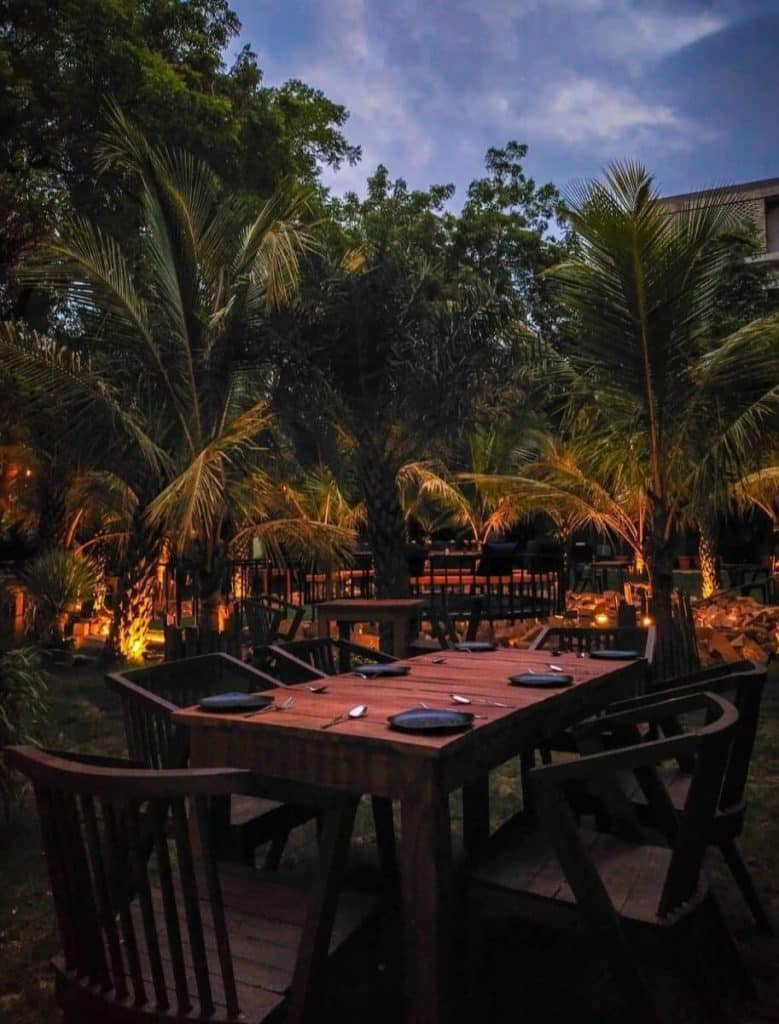 Arbre Cafe is a cafe that is situated between lush green trees. It is sure to satisfy your cravings for a variety of cuisines and your love for nature. The ambiance and live music makes Cafe Arbre the best place for candle light dinner in Ahmedabad. Must-Have: Mama's enchilada, Sundried pesto pasta, Jalapeno lollipops Cost: 800 for 2 Location:Ambli Road
13. Dreams & Mocktails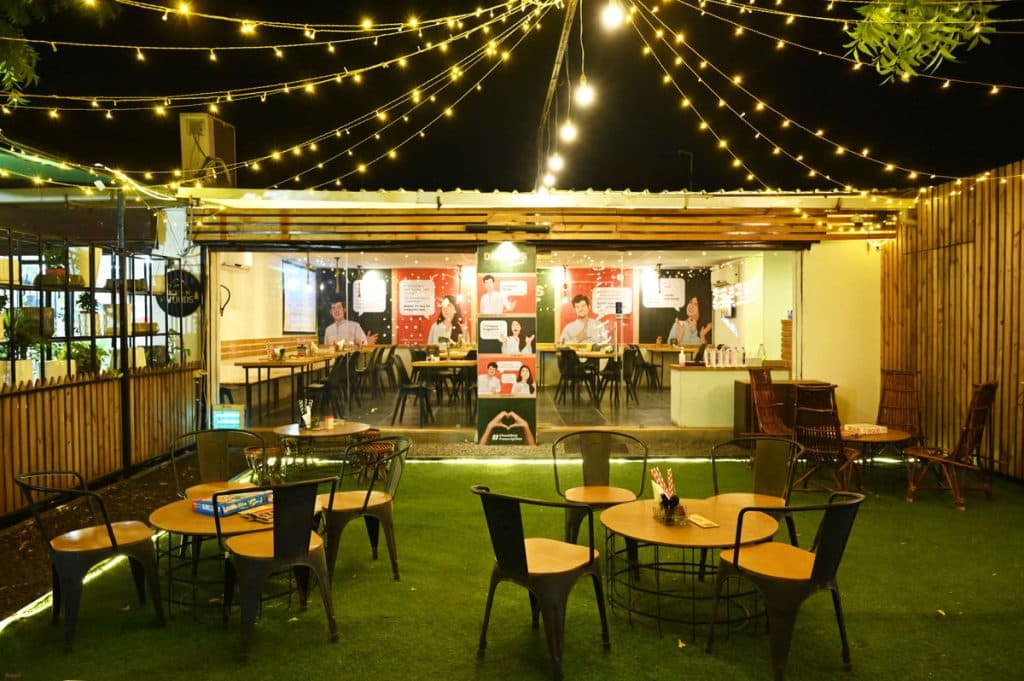 This cafe owned by a doctor couple makes sure you don't suffer. With lovely food and live music, board games, and a chic indoor-outdoor sitting, Dreams and Mocktails Cafe will surely leave you with side effects such as extreme satisfaction, mood upliftment, and unending happiness. Must Have: 7 cheese hugewich, ghost pepper pocket, homemade hot coffee Cost: 800 for 2 Location: Karnavati Road If you are also looking for a couple of birthday celebration places in Ahmedabad, then the above-listed places are the best ones for you. However, these candle light dinner places in Ahmedabad are really worth visiting with your loved one and these will surely make your date night a memorable one.