How about a Romantic dinner with your loved one? Sitting on the rooftop, gazing at the stars, light soothing music, candlelight dinner, and a glass of wine are just perfect to make your evening romantic. It makes your partner feel special when you take them on a date or for a candlelight dinner. Whether you are looking for a first impression or rekindle your old flame, we have brought to you the best candle light dinner places in Ahmedabad which are a must-visit with your loved one and make them feel special. Here are 14 Candle Light Dinner Places in Ahmedabad for a Perfect Date.
It is a cafe where you can take your soulmate on the most memorable candlelight dinner date. It is popular for its unique romantic atmosphere and quiet peaceful ambiance. Additionally, it has special packages that they offer in Valentines' month.
Must-Have: Chocolate Bouquet, Blueberry Cheesecake, Almond Soup
Cost: 1,500 for two
@Nine is really a magical place and you should visit once with your better half to make your date a special one. This place is beyond expectations. The ambiance here along with the view will leave you speechless. And the feel of the light music is awesome.
Must-Have: Crostini, Char-Grilled Chicken, Chilled Water Melon Soup
Costs: 1,600 for two people
This place is just like a poem as the name suggests. A place full of fusions and high-life feels. The decor here is very sober yet classic. Also, the soothing music will leave you spellbound. Here, the ceiling is filled with lights that will make your evening colorful.
Must-Have: Mojito, Clear Soup, Pasta, Pizza, Mocktails, Ravioli, Mushroom Soup
Costs: 1,200 for two people
This place is love for all heritage lovers. Those who love the traditional, rustic ambiance, this place is perfect. If your loved one is crazy about clicking pictures, then you are at the right place. You'll be stunned by seeing it's decor and you definitely will enjoy here.
Must-Have: Enchiladas, Cappuccino, Mocktails, Fettuce Salad, Pizza, Coffee, Lasagna
Costs: 800 for two people
@Mango has pleasant ambiance. You are welcomed with a live orchestra, the moment you enter. They have the best options for couples who want to spend some quality time. Some places cannot be described, they just need to be felt.
Must-Have: Mocktails, Pinacolada, Pizza, Hot Pot, Mojito, Pasta, Clear Soup
Costs: 1,300 for two
This place is awesome to hang out with friends, family and also with your loved one. This is also one of the rooftop cafes in Ahmedabad. You'll truly love this place once you visit it and as the name says, The Cafe Date, so ask your crush out for a date!
Must-Have: Pasta, Pizza, red vine sangria and mojito.
Costs: 500 for two
If we are talking about rooftop restaurants, we cannot leave this one behind. SKYZ is one of the most well-known rooftop restaurants, with their super good hospitality, the amazing ambiance, and equally good food. In addition, the place is well maintained and has a very nice outdoor section and Live Music that provides a nice setup for a candle light dinner date.
Must-Have: Indian Dishes, Biryani
Costs: 1,000 for two
A funky decor giving it Diner look and equally good service. One of the most famous places to go out on a casual date with a great dining experience and most importantly the lip-smacking food served by them. Also, a wide variety of menu ranging from Indian to Italian.
Must-Have: Mexican Hot Pot, Lasagna, Mocktails
Costs: 1,300 for two
With an indoor seating as well as an outdoor seating available, Varitea has one of the best rooftop areas with the view of The Sindhu Bhavan Road and the S.G. Highway. In other words, a nice ambiance, prompt service, and the friendly staff combined with the tastiest food can be the best experience to have a cozy evening with your better half.
Must-Have: Pasta, Pizza, Butter Garlic Fries
Costs: 600 for two
With a very different interior, it is one of a kind place, having a unique and funky way of taking your loved one or asking her out for with some drinks, food, live sports screening, and live music. Above all, it is a very good place to take someone on a date.
Must-Have: Mocktails, Pizza, Pasta
Costs: 1,000 for two
It has one of the best atmospheres for a romantic date with your loved one. It is a place where you can unwind from your busy life and relax with your partner. They have candlelight tables every night just to add to their beautiful ambiance.
Must-Have: Sizzlers, Mocktails, Pasta
Cost: 1,200 for two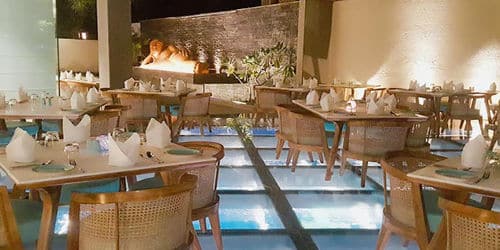 This is one of the unique and the best European restaurant in Ahmedabad. It has you dining on the glass and underneath it is a brightly lit pool with colorful fishes swimming. This place all in all is a beauty with the most amazing food as well. If you have been looking for poolside candle light dinner in the city, then this is the best place for your preference.
Must-Have: Vegetable Dim Sum, Briyani, Risotto
Cost: 2,200 for two
Bluez Terrace Cafe is a cafe with indoor and outdoor settings serving Indian and Chinese food. You can book special candlelight dinner dates for Valentines' week, birthdays, and Anniversaries.
Must-Have: Pizza, Hakka Noodles, Dal Makhni
Cost: 600 for two
It is known for its outdoor seating atmosphere and romantic ambiance. What makes it greater is that it is a little secluded from the main traffic of the city and provides an environment that makes you feel closer to nature as well as your loved one.
Must-Have: Mexican, Italian, Continental
Cost: 1,100 for two
If you are also looking for couple birthday celebration place in Ahmedabad, then the above listed places are the best ones for you.
However, these candle light dinner places in Ahmedabad are really worth visiting with your loved one and these will surely make your date night a memorable one.