Dear food fans, Ghare j cho ne? Bahar nai jata! Toh pachi ghare su karo cho maja karva mate? Eating a lot of food? We hope you are doing that cause that's what foodies do! :p Isn't it always a good idea to binge eat your favorite desi snacks? As snacks are for every occasion. i.e you can snack while you are binge watching your favorite show or just talking and having a good time with your family or while making some art at home! Also, cooking food is also an art, so why not be more creative with it and make some amazing desi snacks at home? Sounds interesting no? For now, rush to your kitchen and grab a pack of snack and eat it while reading this blog. We have pulled out a list of some desi snack options that will savor your taste buds anytime and will keep you full for a while! Because you never know when hunger strikes.
1. Chevdo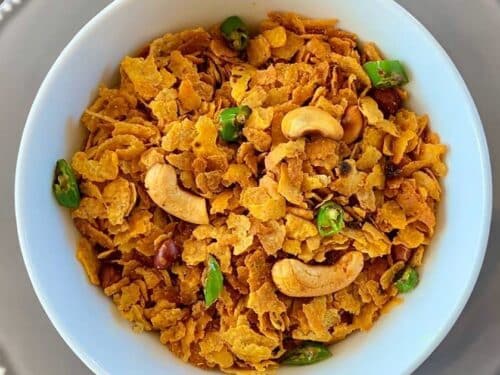 Aree bhukh lagi che? Chevda khaso? Do you think there is anything that chevdo doesn't go with? A glass of sharbat and chevdo – Yes! A cup of chai and chevda – Yes! Chevdo as an evening snack or a morning snack – Yes, and the list goes on! Few versions of chivda/chevdo – Oats Chivda, Sabudana Chivda, Cornflakes Chivda, Mix Chivda.
2. Chakri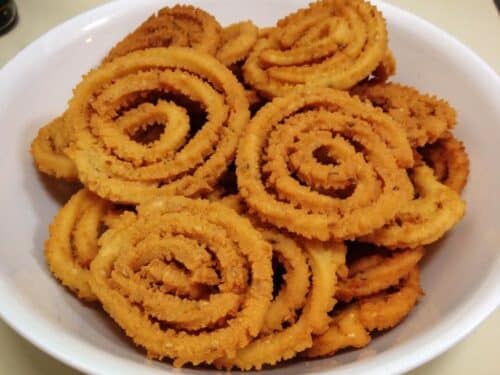 Round and round, round and round……. Ah! Not the song but the chakri! Chakri also popular as chakli is a perfect flavorsome snack for your hunger pangs. The snack comes in handy when you want to have a light snack with a cup of hot masala chai in the evening with your family. It is a classic snack treat that you will love munching every time. Sit back, have fun with these spiral shaped snacks with your siblings and remember those times when you used to fight for the chaklis.
3. Banana Chips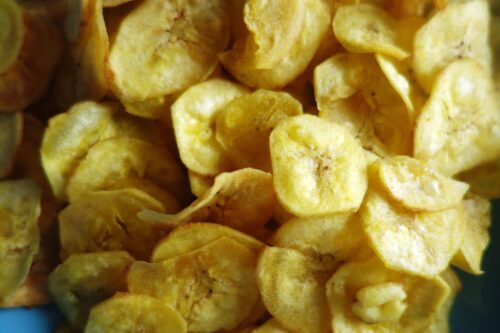 Isn't this our beloved snack choice when we are hungry? Tell us you've always been crazy for it as a kid too! We bet that you will not just stop eating the delightful Banana chips once you pick that bowl! Also, how about relishing these banana wafers while sipping a cup of tea or while reading your choice of book or just enjoy it while the monsoon rains drizzle outside your window? Sounds awesome, right? This is one of the best food item for the vrat or fast.
4. Khakhra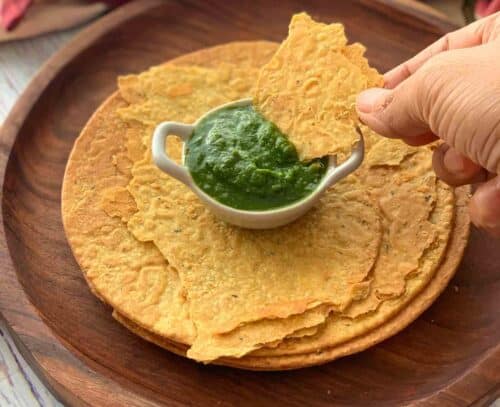 Imagine that you are having a cup of aadrak wali chai sitting beside the window while the clouds are pouring outside but there is something missing here. The crackling sound and the aroma of something flavorful is missing, isn't it? If yes, then have some crispy, flaky, spicy, and delicious masala khakhra! We know that you are hungry again. :p Wait not and get your hands on this healthy snack and binge on. Also, tell us how many khakhras can you eat at once!
5. Namkeen Shakarpara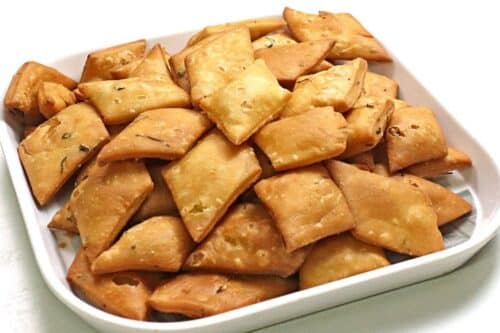 Tell us that the name itself makes you want to have the namkeen shakarparas right now! This crunchy bites is a famous snack that will be found in jars mainly in the house of a Gujarati. You simply cannot stop eating this delicious farsan once you start eating it! Enjoy these popular namak pare with a cup of pudina aadrak wali chai or a cup of hot coffee. Did you know that this savory snack also tastes delicious with ketchup, coriander chutney, or the spicy red chutney! Sink your teeth into these tasty and desi snacks and tell us which is your go-to food item for binge eating! Don't forget to store all these snacks in an air tight container so that you can relish it later too!