'Tame Surat jav to Ghari leta avjo ne ek box' and 'Rajkot jav cho to tya ni chutney ane penda jaroor thi try karjo.' These are just two of the examples of the advice that you must have heard or given at some point in your life to someone when you heard they were going to visit Surat or Rajkot. Similarly, different parts of Gujarat are known for their famous food items. One of the most amazing thing about traveling or living in Gujarat is that all of your cravings from spicy to sweet all of it is satisfied with the most mouth-watering food made with utmost love. But here are the must-haves that you should not miss out on while visiting these cities of Gujarat.
Famous Food Items From Different Parts Of Gujarat
1. Ghari from Surat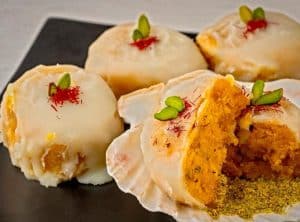 This is a typical Surati sweet dish prepared from mawa, ghee, and sugar having a sweet filling. In today's modern times there are a lot of different flavors available we recommend trying the Kesar ghari. Additionally, the city of Surat is a food hub for foodies. It also had other famous dishes like Surati locho. Where to try:Shah Jamnadas C. Ghariwala
2. Dalwada from Ahmedabad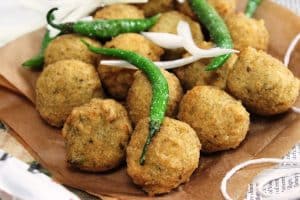 The heritage city has enormous food hubs to munch on with the most lip-smacking food items in every corner of the city. Dalwada is deep-fried balls of dal commonly had with spicy fried salted chilies and sliced onions. This can also be enjoyed during the monsoons with a cup of chai. Where to try:Ambika Dalwada Center.
3. Khajali from Porbandar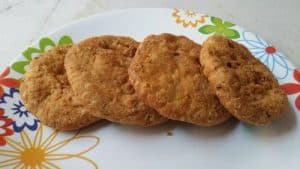 Khajali is a Gujarati snack made from simple ingredients like flour, water, and ghee. Its flakey texture just melts into your mouth. Porbandar is famous for this traditional Gujarati snack which can be enjoyed with a cup of hot beverage. It also pairs perfectly with a cup of evening tea. Where to try:Harish Sweet Mart, Aarti Sweets.
4. Chutney (Lili) from Rajkot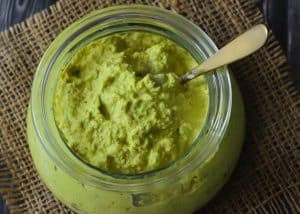 Well known by its name itself as 'Rajkot ni Chutney' it has an amazingly refreshing flavor. It goes with almost everything it is served with. This chutney is spicy, refreshing, and sour at the right places which will make your taste bud crave for more after every bite. People commonly have this chutney as a dip with wafers. Where to try:Rasikbhai Chevdawala
5. Dry Fruit Kachori from Jamnagar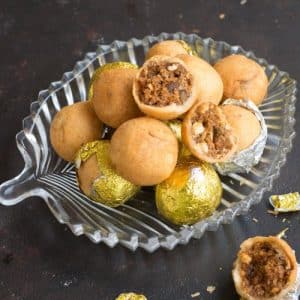 Dry fruit kachori is a golden crispy deep-fried ball stuffed with dry fruit and some coconut. It is perfect as an evening snack and is loved by almost everyone. Additionally, you can try Heera-Moti ice cream from Ram Dairy for the sweet journey of Jamnagar. Where to Try:Jai Vijay Farsan.
6. Dabeli from Mandvi (Kutch)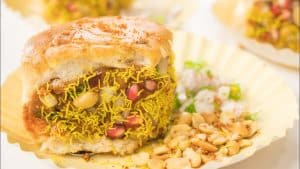 Dabeli is the Kutchi version of the Gujarati burger. It has a mouthwatering special stuffing inside with the crunchiness of peanuts and sev, the sweetness of pomegranate, and the tanginess of chutney. The dabeli masala made in Kutch is commonly available across India and can also be prepared at home instantly. Where to Try:Manubhai ni Dabeli. Gujarati food is all about blending simple ingredients and turning them into the most lip-smacking delicious food items you will ever have. Also, we believe that if we look closely you will find at least one famous dish in every state of Gujarat that you will want to go back for!