For a foodie, the change of seasons brings the overwhelming joy of seasonal delights. Though Summer may be full of unbearable heat, it has its fair share of delicious delicacies. Among all the tasty items, there is one that retains the top spot unanimously: Mango.
Whether it be a well-thought dish created from Mango or raw mango, just the mention of it is enough to make you drool. Besides, mangoes are "The king of fruits". Gujarat also produces many Mango varieties. Furthermore, each of them are defined by their unique aroma, appealing texture, original shape and savory flavours etc. 
The most famous types of mangoes available in Gujarat are Alphonso, Kesar, Rajapuri, Totapuri, Dasehri, Langra, Neelum, Badam, Jamadar, Vanraj.
5 Most Popular Types Of Mangoes In Gujarat
Kesar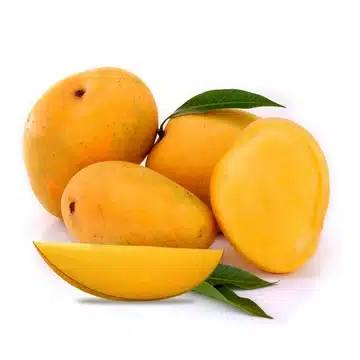 Kesar is one of the most popular and beloved mangoes in Gujarat. It is famous for its vibrant colours and sweetness, especially used for Aam-Ras (Mango juice). In fact, This medium-sized mango's colour of the pulp resembles saffron, the spice it is named after. Sweet, fragrant flavour among creamy texture and the saffron like smell are make it easy to distinguish it.
Grown In : Junagadh and Amreli in the Saurashtra region.
Hapus (Alphonso)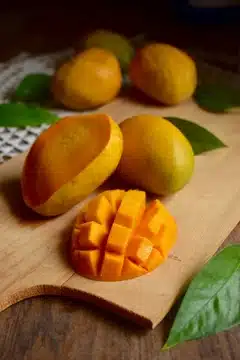 Hapus, also known as Alphonso is one of the most famous mangoes of Gujarat, known for its rich, creamy texture and sweet, aromatic flavour. Moreover, the pulp is creamy and fiber-free. Named after Afonso de Albuquerque, this particular variety is a result of the Portuguese method of grafting mango trees. This orange yellow medium-sized fruit is used to prepare candies and crushes. Moreover, it has a reputation for getting widely exported. 
Grown In : Valsad and Navsari.
Rajapuri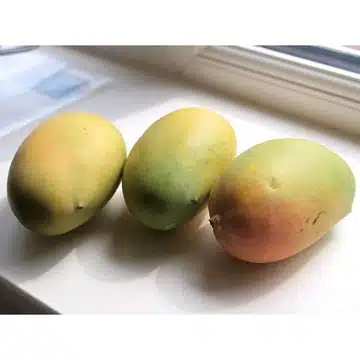 Rajapuri is a large-sized variety of mangoes in Gujarat. It has a juicy and fibrous pulp with a sweet and sour taste. Also, the oblong-shaped Rajapuri's pulp is firm and juicy, with a sweet and slightly tangy flavor. As a result, Rajapuri mangoes are mainly used for making pickles and chutney for those who love that zesty and tangy feel on their tongue.
Grown In : Valsad and Navsari.
Totapuri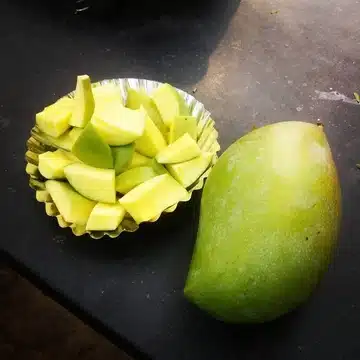 Totapuri is among the more prominent types of mangoes in Gujarat. Grown in the eastern part of Gujarat. Distinguished by its elongated shape and a thick skin. Instead of the prominent sweet taste it features a tangy and sour taste keeping it freshly unique. Totapuri mangoes are mainly used to make finger-licking pickles and chutneys.
Grown In : Valsad.
Langra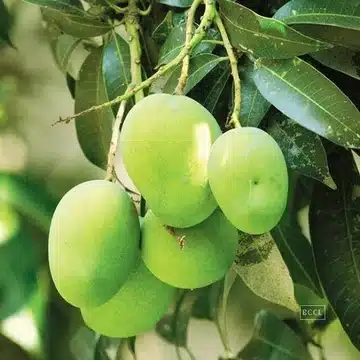 Langra is among the small-sized delectable mangoes in Gujarat. The original owner of the farmlands or tree that cultivated the "Langra" mangoes is believed to be a person without legs. Giving it, its unique name. Moreover, the lettuce green mango features a very sweet taste and very thin skin. It also has a sweet and juicy pulp. Langra mangoes are mainly used to make tasty mango juice and desserts.
Grown In : Northeastern Part of Gujarat.
These are some of the most wonderful types of mangoes grown in Gujarat. The list of the varieties is long and our love for mangoes is endless. So do let us know about your favourite types of mangoes and your bookmarked mango memories.