We all have a special relationship with noodles. It's no secret many Asian people love eating noodles more than anything else, especially when you are in India, Maggi Noodles is love (and the national noodles of the country). Instant Noodles are basically pre-cooked and dried noodles processed using flavoring powder and seasoning oil. The noodles come in sealed packets and you can eat it straight by reheating it. You can also soak the dried instant noodles in boiling water and eat it. Cup noodles have all the spices mix and need only to pour boiling water for 3-5 mins.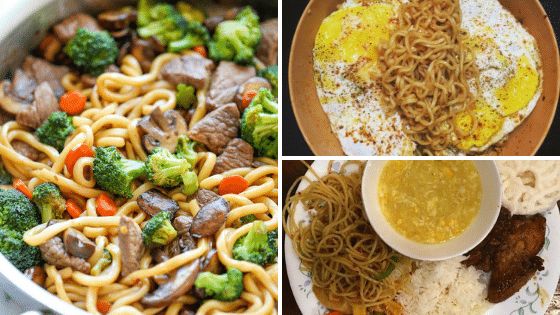 Instant Noodles:
Living in Indonesia as a kid, noodles was my staple food along with chicken and seafood. I don't even remember I had anything else in breakfast except noodles. Also, I grew up eating 60+ varieties of noodles (I ain't joking!) – Indomie, Mama, Maitri, Sarimi, Ramen, Supermi, Koka and Sedaap till the age of 11. I licked every bowl clean (still the same!). Even after coming to India when I was 12 (till date), my taste for instant noodles hasn't waned one bit – I still eat noodles almost every evening with green tea.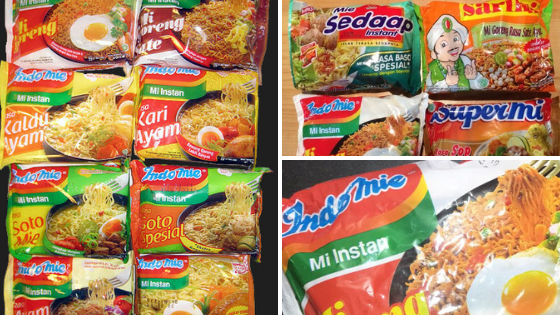 We're fond of instant noodles because they're convenient, quick and easy meals. Not much cooking expertise required except boiling water and pouring it over noodles. Unlike in India, if you are traveling to other Asian countries, there are so many flavors to choose from. They have the option of customizing the instant noodle meals with anything they like – egg, chicken, prawns, tofu, veggies, etc. In India, noodles are restricted to Maggi, ramen, and chowmein. Now we have a little more variety in wheat and oat noodles. No doubt it's addictive too, but for a person who has had crazy noodles stuff, won't settle for mini meals.
Instant Noodles History:
Instant noodles were born in Japan in 1958, 10-odd years after Japan's defeat in World War II. It was the time when the advent of television as new media was about to drastically change people's consumption patterns. The world's first instant noodles, "Chicken Ramen", invented by Momofuku Ando was an epoch-making product. He has enabled mass-production of instant noodles by establishing the entire process of the industrial method of manufacturing: noodle-making, steaming, seasoning, and dehydrating in oil heat. The product that becomes ready to eat just in two minutes by adding boiling water was dubbed "a magic ramen," and became an instant popular sensation.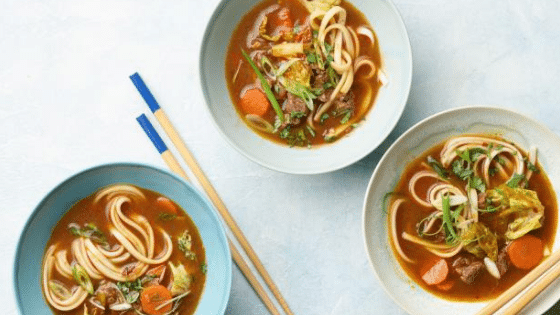 "CUP NOODLES" launched in 1971 that boosted the then saturated instant noodle market. Flavored noodles were placed in an upright Styrofoam container together with freeze-dried condiments such as shrimps, pork, egg, and vegetables. "CUP NOODLES" was more than instant noodles contained in a Styrofoam package; the product revolutionized the entire processed-food industry. The innovative cup combined three different functions: a packaging material while on store shelves, cooker when boiling water is poured in, and a bowl when eating noodles. It was the processed food, in which a totally new concept was embodied.
Fun Facts: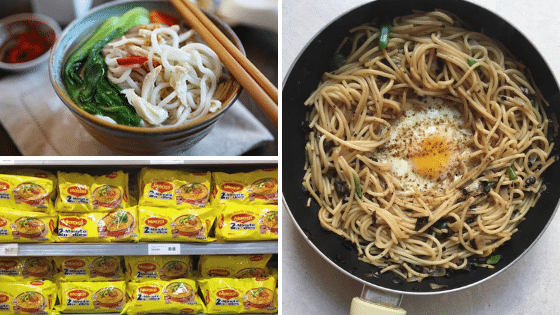 Indonesian famous noodles Indomie has 38 flavors and accounted for around 70 percent of instant noodles market share in Indonesia.
Maggi is not an Indian Brand, it's an international brand of seasonings, instant soups, and noodles that originated in Switzerland in the late 19th century. Nestle acquired the Maggi company in 1947.
South Korean company Samyang Food released an instant ramen called Buldak Bokkeum Myun, which translates to "fire chicken stir-fried noodles." They're reputed to be insanely spicy.
Prima Taste Singapore Wholegrain Laksa La Mian sits atop the list for the third year in a row (2016-18). Its chewy wholegrain noodles are hearty and artisanal – never gritty and just a pleasure to chew with a cosmic mouthfeel.
Do You Know There Are A Purple Noodles As Well?
The luscious purple color actually comes from the presence of Anthocyanins naturally found in purple grains. Anthocyanins are the same antioxidants like those found in bilberries and blueberries.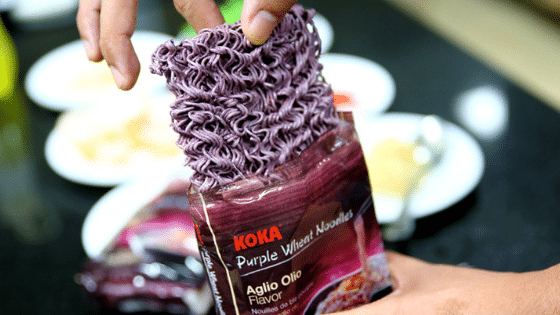 KOKA, a noodles brand in Singapore, did first introduced Purple Noodles. Made with whole purple grains and 100% steam-baked, Koka Purple Wheat Noodles are naturally rich in anthocyanins and lower in fat. These award-winning noodles come in a range of refreshing flavors – Aglio Olio, Chilli & Lime, and Soy & Vinegar; hence, guaranteed to please even the most discerning and health-conscious of noodle lovers!
Noodles And Pasta Ain't Same!
Noodles and
pasta
differ primarily because of their ingredients and the type of processing involved. Pasta is processed from durum semolina, which is coarser than typical flour. Noodles are usually made with flour milled from common wheat. Spaghetti which looks like noodles is essentially a long, thin, cylindrical, solid pasta.
Noodles made from rice are Rice Noodles. The principal ingredients are rice flour and water. To improve the transparency or increase the gelatinous and chewy texture of the noodles, ingredients such as tapioca or corn starch are added.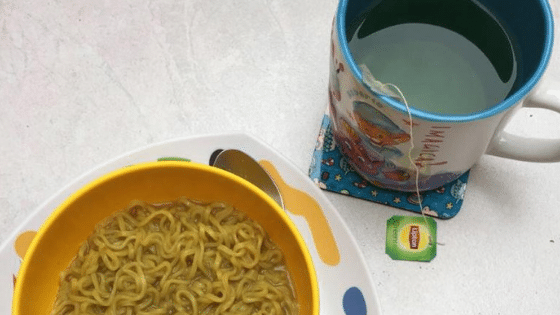 Who doesn't love to experiment with noodles? Some desi style — Noodles over the Pizza or Noodles Rice with Oat or Noodles Paratha or Noodles Veggie tadka or Noodles Egg Pulav Curry or Noodles Pav and much much much more. Above all, sometimes we only love plain noodles with little soup and chai or coffee for a lazy day 🙂 What's your favorite curvy way to spice up your noodles life?
Shweta Lakhwani is a Travel Planner, Travel Blogger, Social Blogger, Artisan and now Foodstagrammer and a Food Blogger, you can follow her food discoveries here:
@voyager_epicure