A Small Parisian Corner In Ahmedabad: Le Artisan Boulangerie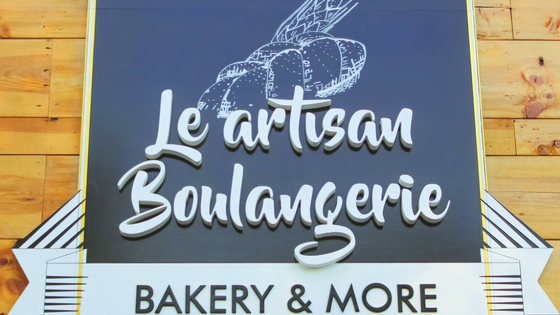 So here I'm with another blog up for newly opened bakery and also the talk of the town, Le Artisan Boulangerie. It is really a small, simple and delectable place. This place has the best and widest collection of bread ranging from simple pumpkin bread, sourdough to cheese garlic and herbs baguette as their aim is to provide bread with different textures from all around the world. They, not only offer bread but also a lot more stuff such as muffins, pastries, croissants, macaroons and so on. They make bread using olive oil only as they count on quality and health as their priority. If you are a bread lover, then you should really visit this tiny bakery and I bet you'll love this place. I had also fallen in love with this place and I wish to visit this small Parisian corner of Ahmedabad often. So here I have some of the best dishes of this Le Artisan Boulangerie bakery and do try these dishes without fail. Here you go...
1. Bread Basket
The bread basket was full of different varieties of bread as in pesto bread, beetroot bread, pumpkin bread, ragi bread. It also had multigrain and quinoa sourdoughs in it. The long bread in this basket is known as Baguette. This baguette was also of cheese and herbs. And yes, they bake their own bread!
2. Blueberry Muffin
This blueberry muffin is just love! It was freshly baked and had the perfect amount of sweetness along with blueberry chunks in it. My personal favorite!
3. Peach Danish Pastry
Peach Danish Pastry it is, topped with almond cream and based with the puff. So it was a combination of sweet and savory flavor. It is for all those who don't have a huge sweet tooth. They can have this pastry and you'll surely love it.
4. Carrot Hummous With Spinach Lavash
Carrot hummous with spinach lavash is something unique which you should have at the bakery. If you are tired of having the same snacks like chips, jam bread, samosa, then you should surely go for this dish as it is healthy and it will give your taste buds a great change.
5. Oregano Cheese Melt With Roasted Red Pepper Dip
For all the cheese lovers, this dish is just the right one. The bread loaded with cheese and oregano, topped with onions, tomatoes, olives...dipped in the roasted red pepper dip... My mouth started watering! The combination of red pepper dip and cheese may sound weird but it is really delicious.
6. Everything Bagel With Cream Cheese
The everything bagel is something which is a mixture of poppy seeds, rosemary, onions, nigella seeds and how can I forget cheese... They served us the bagel after roasting it, cutting it in half and then a layer of cream cheese in between. It was really scrumptious and creamy!
7. Chocolate Croissant
Chocolate croissant is again for someone who doesn't have a sweet tooth but chocolate is favored. So this dish resembles a puff but it is actually a crescent-shaped roll made out of sweet dough. And the filling inside this croissant is a tint of dark chocolate sauce in it. Sooo yummy, isn't it? So don't forget to tell us about your experience after visiting this small, simple and significant bakery, Le Artisan Boulangerie. To know more about this awesome city and the life of Hungrito in the city follow us on Facebook, Instagram.