Picking a
Gujarati thali
restaurant has never been an easy task, at least in Ahmedabad — the largest city of a state known for its love for food. Prasad Dining, unlike any other Gujarati dining hall, offers a unique and amazing dining experience to all. Last weekend while strolling on Zomato for unique dining, I found "Prasad Dining." First I felt they might be crazy putting a Gujarati Thali dining hall on unique dining list, but oh boy! it wasn't. This is a Unique Theme
Gujarati
Dining Hall. Named 'Prasad Dining' because Dr. Vasant (the owner of the restaurant) said the meal is a Prasad (the material substance of food that is a religious offering in both Hinduism and Sikhism) from the Almighty.
The interior of this place is definitely unique. It is divided into 3 parts:
1) A Cave Theme With Flamingo And Waterfall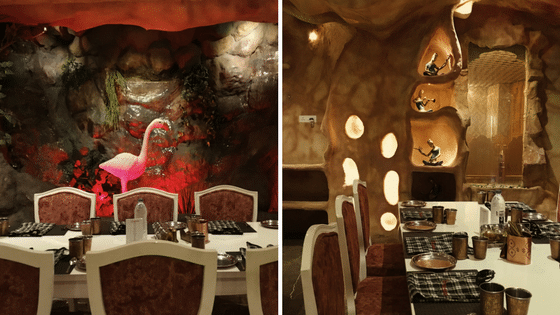 2) Mythology Theme
Mythology theme with Mahabharatha carved on the walls and Lord Shri Krishna statue in the middle adding the charm of the dining hall.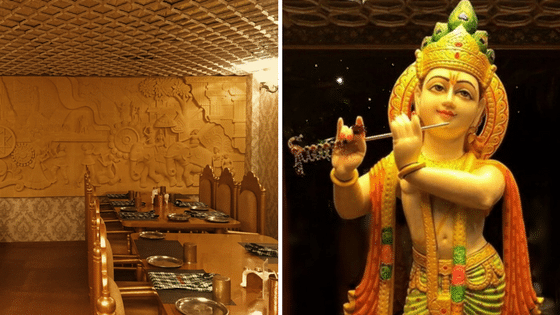 3) Forest Theme
Lastly, a forest theme with lots of greens and birds carved on the wall with dim lights. Making sure you have a classic jungle dining experience.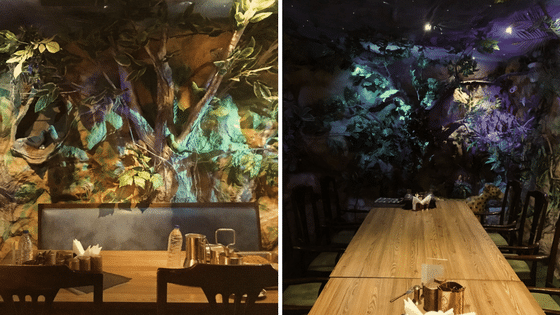 Coming to food, I am a mini thali person and when it comes to big thali, I have to skip my next meal for good 12 hrs. This place serves the amazing meal, right from the starters to dessert. A classic copper dinner set makes you feel to dine at the 16th-century era. You will find a Gujju Twist here, the soup will be Non-Gujarati.
They serve Prasadam before starting the meal. Quite unique and must have you will love it! They keep changing the menu, so you will get a chance to taste different varieties of Gujarati Food.
Menu For Lunch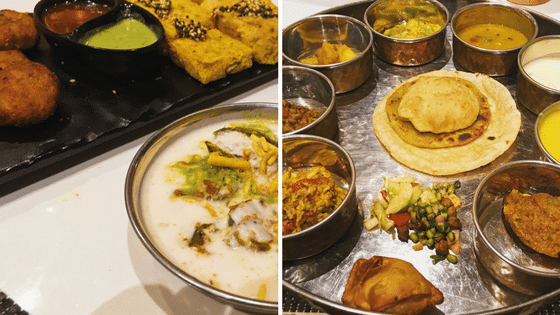 – Welcome Drink: Lemon Mint
– Soup: Tom Yum
– Starter: Corn Tikki and Damini Dhokla
– Chat: Patra (mix in a dahi and taste delicious).
– Main Course: Flower mutter tomato veggie, bhindi dahiwalli, alloo raswala, kadhi and urad dal (this was spicy! Couldn't handle the hotness).
– Accompanied by: Roti, gobi paratha, puri/stream rice and pulav.
– Farsan: Kathiyawadi Samosa
– Sweet: Aam Ras, Majum Halwo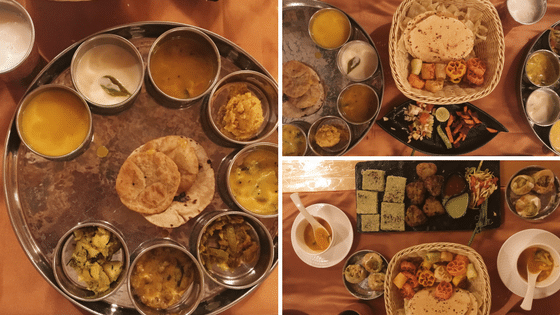 – Welcome Drink: Kachi Keri
– Soup: Lemon Grace
– Starter: Cutlets and Mug Dal Patoli Dhokla
– Chat: Sev Puri Bija
– Main course: Gawarlasaniya, capsicum dahiwala, alloo suki bhaji, kadhi and tuwer.
– Accompanied by: Roti, bakhari, puri/stream rice and vegetable khichdi.
– Farsan: Khandvi
– Sweet: Aam Ras, chutta magaj
To wash all this down, one had to settle for buttermilk! and do not miss their rich, silky and smooth summer hit Mango Ice Cream.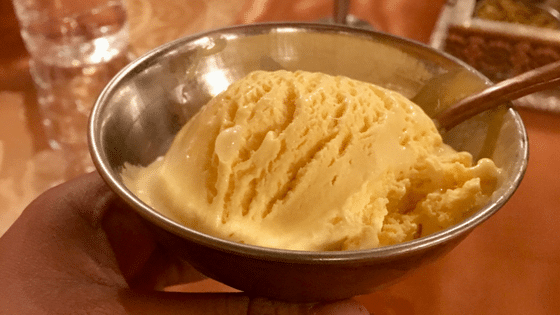 (P.S.: They serve masala tea complimentary. Save some space for this if you a chai lover!)
Pricing
Lunch and Dinner costing INR 380 + GST which is absolutely worth each penny!! I bet you will keep coming back to Prasad Dining like how I did.
Shweta Lakhwani is a Travel Planner, Travel Blogger, Social Blogger, Amateur Poetry Writer and now Foodstagrammer and a Food Blogger, you can follow her food discoveries here:
@voyager_epicure