There was a time when milkshakes were only flavoured milk with minimal toppings, but now they are a dessert palette in themselves. These fancy looking milkshakes also termed as Freak Shakes, are taking over Ahmedabad with quiet a storm. Freak Shakes are the most delicious tummy fillers one could ever imagine. These over-zealous jars are loaded with calories but are worth each ounce. Creators of these mammoth milkshakes take it as a challenge to balance ludicrous amounts of toppings like cream, cake, sprinkles, cookies, and almost any sweet treats they could get their hands on, upon those delectable shake jars. We bring to you some of the best freak shakes in Ahmedabad, to sugar-coat your milkshake jars with extra happiness.
Café De Italino is a freakshake paradise. An epitome of greatness, the shakes served here are the most suitable cure to your sweet tooth and will also soothe the eyes. Their best, the chocolate indulge freak shake, has all sorts of chocolate bursting in the mouth. The shake is topped with brownie, whipped cream and chocolate wafer rolls. A quarter of chocolate waffle topped with chocolate sauce on the side is the perfect accomplice. Price : INR 370
Mocha is an Eden to savour some iconic pizzas and pastas. Apart from the Italian preferences, the cafe is also well known for its gratifying freakshakes. The Nutella and Pretzel shake is the real bomb. A jar full of nutella shake garnished with whipped cream, salted pretzels and sprinkles, also having nutella mousse dripping from the edges is the most delectable shake you'll ever have. Price : INR 225
Ombre is way ahead of the game when it comes to confectionary creativity. As a result, their beautiful cake designs have been the talk of the city. And now they have also made a name for themselves in the freakshake industry. The massive chocolate brownie shake is undoubtedly the most liked. With layers of cream, brownie, chocolate chips, wafer stick, and the biggest highlight – the chocolate ball on the top, this shake is a dream come true of all the chocolate lovers. Price : INR 240
This is a café with a huge shakes and freak shakes menu to choose from. The classical shake just got a twisted touch of nutella and has been turned into a freak shake. This chocolaty shake will give you some real sinister pleasures. Price : INR 225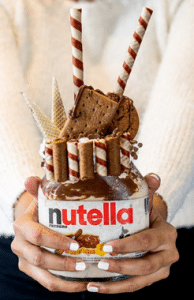 This place is fmous for its variety of freakshakes, shakes, and fries. Xero Degrees has gained popularity in a very short period of time. It is also one of the newly opened places in Ahmedabad. Additionally, if you love the combination of popcorn and caramel then you have don't have to search anywhere else than this. Price: INR 299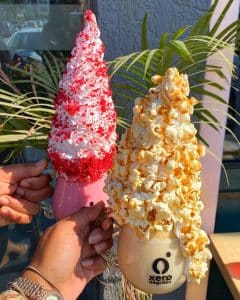 All the milkshake lovers make sure to devour these messy goliath delights and decorate your Instagram feed with their picturesque presentations. Do not forget to let us know your favourite freakshake. Beware : Your waistline may not thank you for this, but your taste buds surely will. Happy Gorging!