We understand the mundane lore of the week, to work or study tirelessly through and through and the only thing that really helps is the sweet bliss of the weekend. But what can you do on weekends in Ahmedabad? New to the city or exhausted of the old options?
Well, fear not for we bring to you 6 must try food parks in Ahmedabad. From quality to quirky food, photo junction, and entertainment from our local artists, these food parks cover all that you can desire.
Must Try Thrilling Food parks in Ahmedabad
1. Boxpark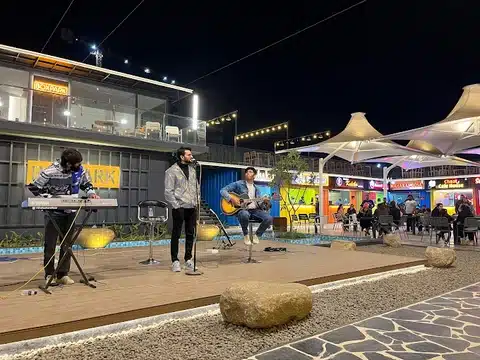 Boxpark is a beautifully crafted place with top brands from Ahmedabad with 30+ food stalls providing quality food for different delicious cuisines. They understand the beauty of the blend of food with music and feature talented growing artists in their spotlight.
Location: OXPARK, Sarkhej – Gandhinagar Hwy, opp. Jaguar Car Showroom, Gota, Ahmedabad, Gujarat 382481. (Get directions)
2. Carnival Food Park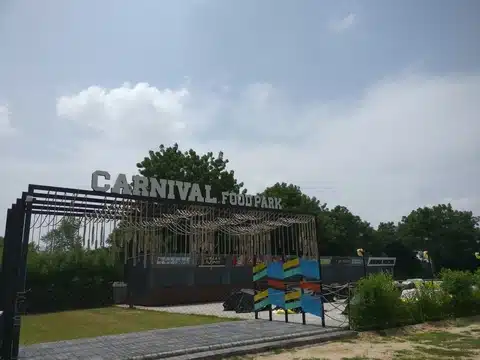 Carnival food park as the name suggests is designed to be the top recreational place for all the foodies. With their amazing food stalls, a nice stage placed in the center to elevate the spirits of the lovely artist, and even a neatly maintained grass field to dance to your heart's content, they strive to live up to their name to stay among the top food parks in Ahmedabad.
Location: Carnival Food Park, Sardar Patel Ring Rd, beside Avneesh Heights, Shilaj, Gujarat 380059. (Get directions)
3. Food Orbit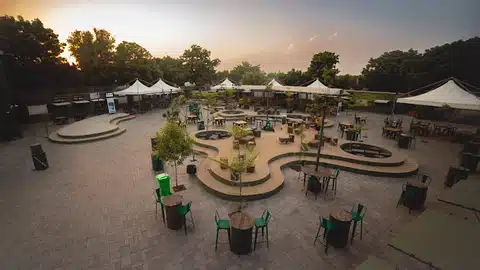 Food Orbit, the humongous food park is a haven for all the foodies. They have a delightfully large variety of food stalls and of course wonderful feature artists. They even hold events optimizing the use of their large area. Side note: This place is also dog-friendly.
Location : Karnavati Club Rd, Opp. Truffle Cafe, Mumatpura, Ahmedabad, Gujarat 380058. (Get directions)
4. Frizbee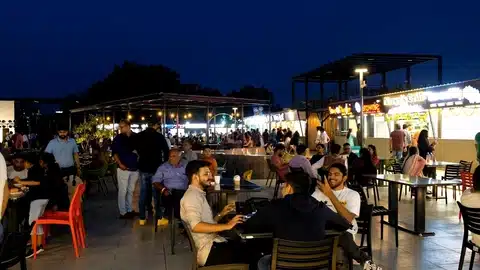 The rather fresh breed of food park in Ahmedabad brought us Frizbee, another largely spread food park with many different decorative parts, a top seating area, and a discotheque. They feature some of the most delectable food among with a shopping and flea market, game zone, and a performance stage. Side note: This place is also dog-friendly
Location: Frizbee, opp. Tea Post, near Hotel Taj Skyline, Bodakdev, Ahmedabad, Gujarat 380059. (Get directions)
5. Muchhad Bapu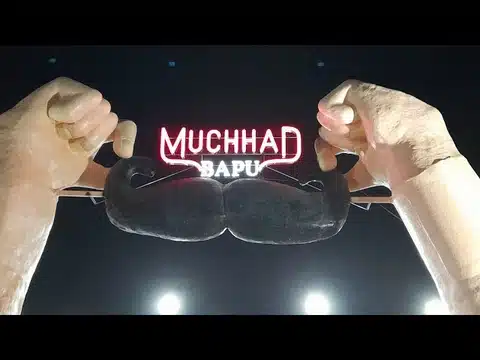 Muchhad Bapu is a prominent name in the list of food parks in Ahmedabad. With over 25+ excellent food stalls, 40+ stylish shopping stalls, kid's play area, game zone, and discotheque, they've managed to maintain their popularity. Apart from all these, there are their promises to keep the prominent food park pure veg with quality everyday live music to align fun with values you respect.
Location: Muchhad Bapu, Nr Cbd mall, zundal, to, vaishnadevi ring road, Ahmedabad, Gujarat 382470. (Get directions)
6. Urban Chowk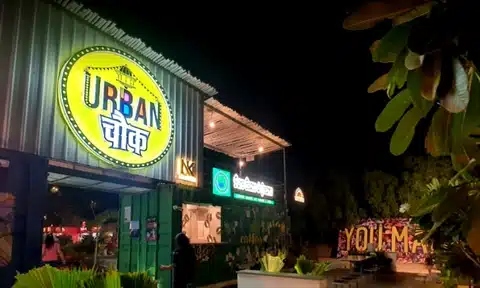 A chic experience with trendy shopping stalls, qualitative unique food stalls and a neat performance stage with ample space for the audience to both enjoy the experience and to vibe and dance along has made the Urban Chowk a popular place for youth. They continue to maintain their chic experience with talented feature artists making them a must-visit food park in Ahmedabad. Side note: This place is also dog-friendly
Location: Opp Kali Bari Temple, Rajpath, Bopal Rd, Ahmedabad, Gujarat 380058. (Get directions)
7. Bogie Chefs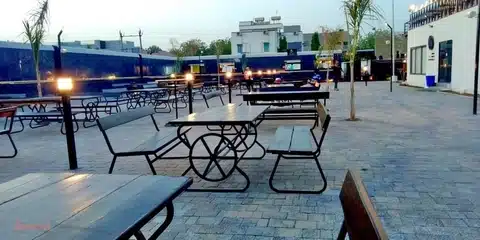 A special mention in this list has to be the uniquely designed Bogie Chefs. Bogie Chefs – Meals On Wheels like the name suggests is a bogie-themed food park. It is one of the only themed food parks and its experience will surely take your mind to the weekend bay. Apart from that. the food at Bogie Chefs is something to crave. An Insta-worthy delectable haven, it is everything you could ask for.
Location: Sindhu Bhavan Marg, opp. Tea post, PRL Colony, Bodakdev, Ahmedabad, Gujarat 380054 (Get directions)
What can be more beautiful than a weekend with your loved ones at these handpicked food parks in Ahmedabad. Grab them and escape this weekend for some of the most memorable moments and do share your favourite places and memories with us.