Trying out new food dishes rich in culture, heritage and flavor is a lifetime experience. Luckily, in India, you can find so many unique and amazing delicacies to indulge into. Today we will be talking about the beautiful place of Gulmarg. The food dishes to try and where to try them from so that you don't miss out on them while visiting the heavenly destination. When in Gulmarg you will find the dishes rich from the most legendary Kashmiri cuisine. Here we bring to you 6 Must-Try Food Dishes in Gulmarg!
6 Must Try Food Dishes in Gulmarg
Dam Aloo
Kashmiri Dum Olav or commonly known as Dum Aloo is one of the delicious vegetarian dishes in Gulmarg. Potatoes are cooked in yogurt and Kashmiri spices which gives a unique touch to the dish and makes it popular. Places:Bakshi Restaurant.

Modur Pulav
Modur Pulav is the sweetened Kashmiri rice. It is made in ghee, green cardamom, milk, and dry fruits. The saffron in the dish gives this rice its rich color and an amazing flavor. Places: Bakshi Restaurant, Ahdoos Hotel.

Nadru Monje
These are french fries made from the lotus stems. The lotus stems are dipped in besan and deep-fried in oil. This is popular street food and is known to be a favorite snack in Gulmarg. You can explore the street food vendors to try it out.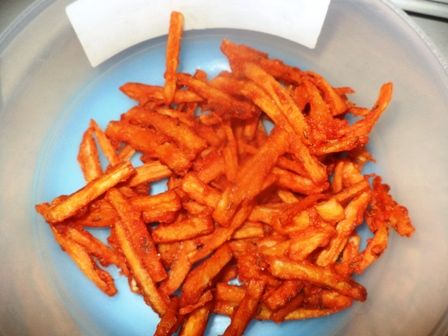 Noon Chai
While being a Chai lover you might not have tried this unique flavored Kashmiri Chai. It is also known as Kashmiri tea, shir chai, and pink tea. Noon chai is a chai that is salty and pink in color with a distinct flavor. It is made of baking soda, milk, and green tea. Places: Cafe Samovar.

Sheermal
It can be found to be made in the bakeries that make types of bread. This is a saffron-flavored traditional flatbread that originated from Iran. It was introduced in Northern India by the Mughal emperors. Places:Cafe Samovar.

Kahwa
It is a type of green tea with a lot of spices. It is used to provide warmth against the cold harsh weather. Kahwa is a part of Kashmiri cuisine that helps improve the health of your heart. It reduces cholesterol and regulates blood pressure. Places:Igloo Cafe.

Which of these dishes do you think that you would love to try while visiting Gulmarg?