People worldwide celebrate World Heritage Day as a special day to appreciate the invaluable cultural and historical landmarks around the globe. Ahmedabad is one of the historic cities of India with a unique blend of Hindu , Muslim and Jain influences. As part of Ahmedabad being a historic city, let's take a visit to some restaurants and traditional areas that are existing for a very long time. And enjoy the various delicious food items provided by such heritage places and celebrate this World Heritage Day.
5 heritage places to have food in Ahmedabad
These are the heritage places that you can visit on World Heritage Day.
1. Agashiya-The House of MG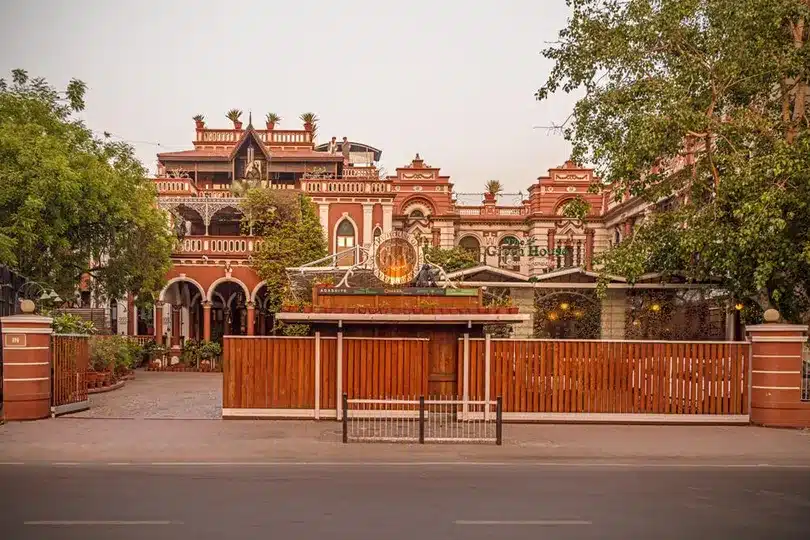 Agashiye-The House of MG is located in the old city of Ahmedabad. They opened this hotel in 1999 and named it after the Gujarati word 'Agashiye,' which means 'on the terrace.' The hotel provides a luxurious dining experience amidst lush greenery, creating a serene and charming ambiance atop the amazing heritage hotel. They serve food in two different kinds known as Heritage Grand and Heritage Classic, where they serve food in Silver and Kansa thalis, respectively.
You can get takeaway from here as well as have a sit-down supper here In the same way a Gujarati family does.
Location: The House of MG , Laal Darwaja, Ahmedabad (Get Directions)
Must have: Handvo, Patra, Gujarati Thali
Cost for two: ₹2500
2. Chandravilas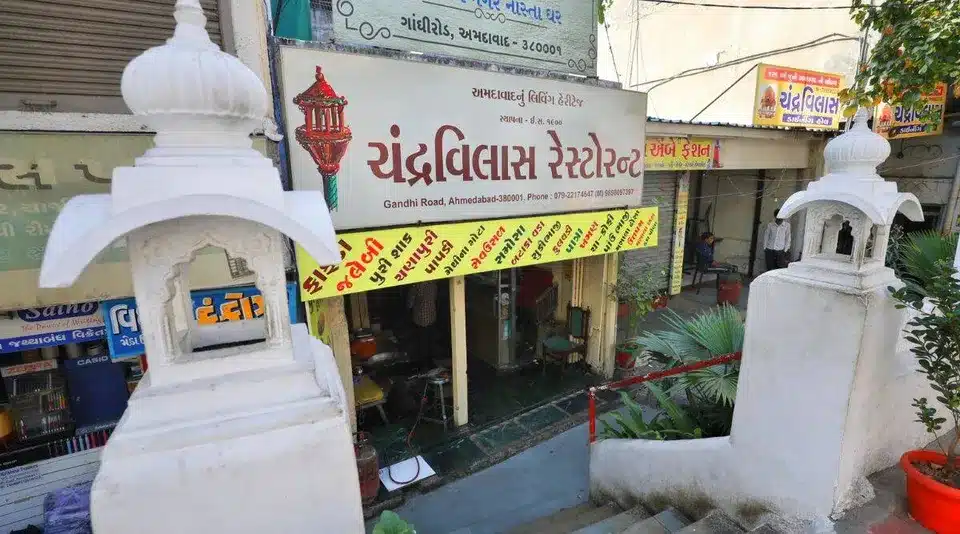 Chandravilas has a legacy of serving Jalebi and Fafda for 120 years. Moreover, It is one of the historical landmarks of Ahmedabad that are still in existence. Sardar Vallabhai used to visit this restaurant often back in the time. Many famous celebrities like Amitabh Bachan, Raj Kapoor, and the legendary Kishor Kumar too have visited this place. It is famous for its delicious jalebis and Sevusal. It's the heart of the old city of Ahmedabad. The ambiance of this heritage places takes you back in time.
The prices here are very affordable and pocket friendly. You can have a whole Gujarati thali here approx just 150 /-*.
Location: Chandravilas, Near Ratan Pole, Ahmedabad (Get Directions)
Must have: Jalebi, Sevusal, Khaman
Cost for two: ₹200
3. Mani Mansion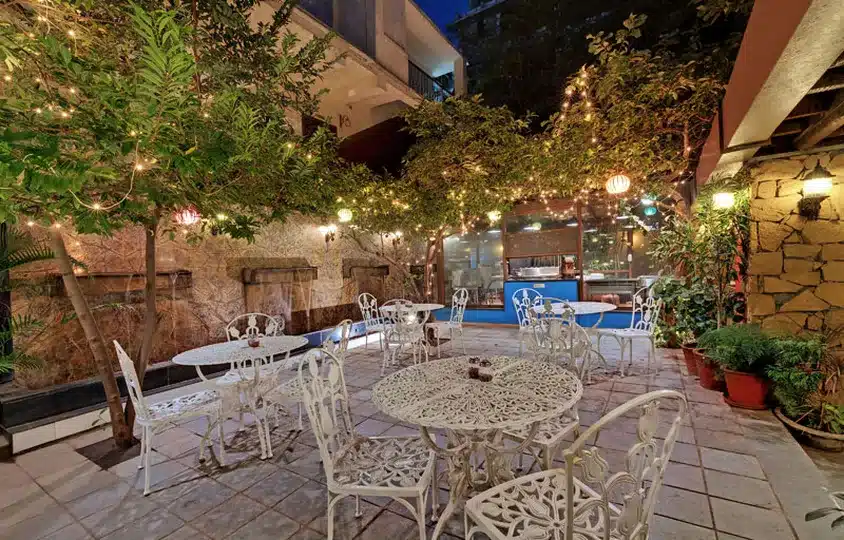 The 100-year-old Mani Mansion, an ancestral land that was once home to the entire Dalal family built in 1923 with marvelous architecture, derived from "Manibhai" who was a prominent social worker and businessman. Mani Mansion houses Fresh Roast-a multi-cuisine café located in the Chowk of the Haveli, Rudu Bhojan- a traditional Gujarati cuisine restaurant that serves in 'Kansya' utensils. It is one of the wonderful Heritage places of Ahmedabad.
Location: Mani Mansion, Ellisbridge (Get Directions)
Must have: Mohanthal, Stuffed Spinach Ravioli
Cost for two: ₹1200
4. Lucky tea stall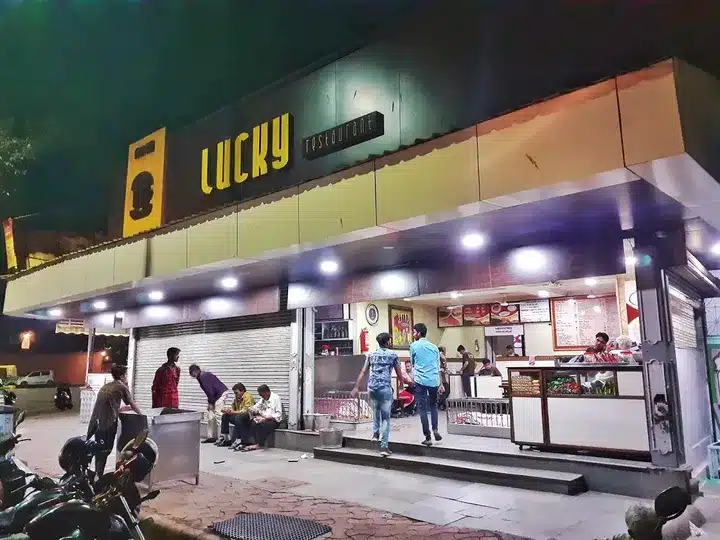 The famous tea stall built in a graveyard started 62 years ago as a handcart next to the graveyard. They built an all-vegetarian tea stall in the Muslim graveyard, where they will look after 26 graves. All communities have a passionate love for this tea stall, which is well-known for its Muskabun filled with delicious white butter. Additionally, the owner received an MF Husain painting as a gift.
Location: Lucky tea Stall, Lal Darwaja , Ahmedabad (Get Directions)
Must have: Muska bun ,Tea
Cost for two: ₹200
5. Iqbal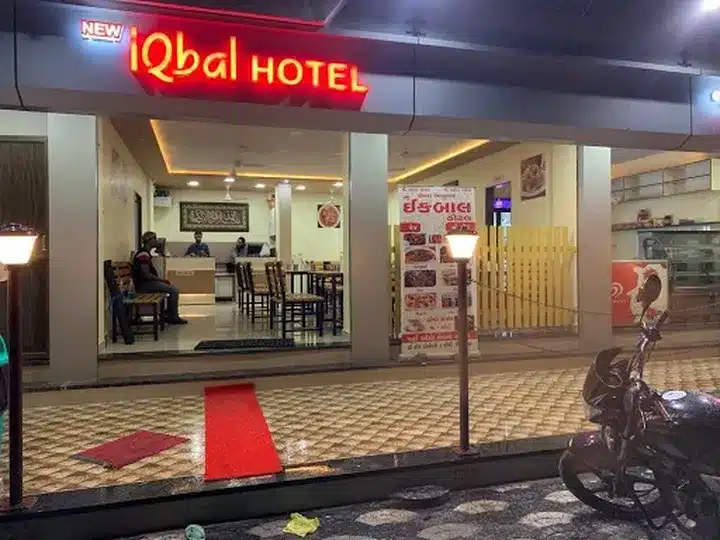 Iqbal, a historic restaurant situated in the old city of Ahmedabad. In 1947, they established the restaurant. Since then, it has become renowned for serving its delicious Malai Khaja, along with tea and various other bakery items. These items include delicious cheese paneer balls, paneer tikka, and many more such dishes.
Location: Iqbal, Astodia, Ahmedabad (Get Directions)
Must have: Malai Khaja ,Butter Paratha
Cost for two: ₹600
6. Moti Mahal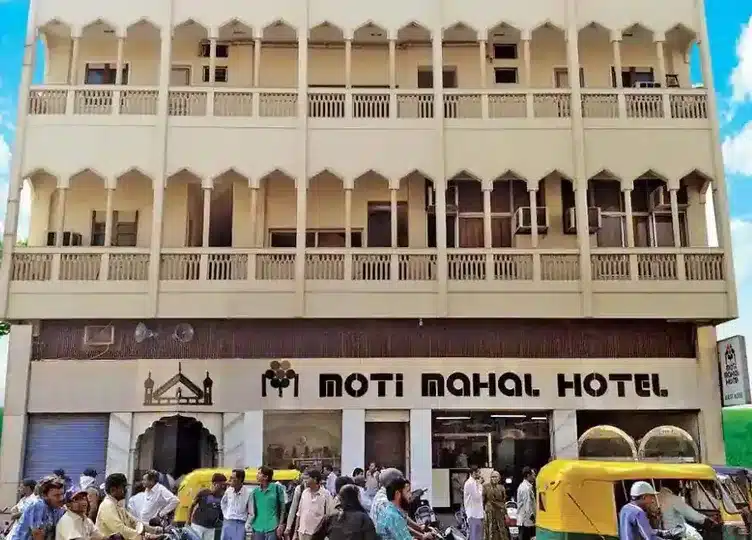 Moti Mahal is an old restaurant in Ahmedabad, operating for over 100 years. It was previously named Johar-e-ilahi and was later renamed in 1967. The restaurant offers a unique seating arrangement and a variety of Biryanis, making it popular among food lovers. Its charming ambiance takes you back in time, providing an unforgettable dining experience.
Location: Moti Mahal,Near Railway Station ,Kalupur,Ahmedabad (Get Directions)
Must have: Caramel Custard, Paneer Tikka
Cost for two: ₹700