"Why does everyone invite ice-cream to the party? Cause it's coooool! Haha"
Desserts after a meal, during a celebration, or anytime of the day would be perfect, isn't it? An ice-cream makes everything better and is appropriate for every mood. To gorge on different flavors apart from the regular vanilla, strawberry, or a mix-fruit ice-cream is something we wish for. Something more fancy, fantastic, and flavorful!!!
Now, are you looking for best places for gourmet ice-creams in Ahmedabad? Then, "Cone-gratulations" you've come to the right place! We've made a list for you.
Take a ride to any of these wonderful ice-cream joints offering dozens of fun ice-cream flavors.
Gourmet Ice-creams In Ahmedabad
1. Ice Berg Ice Creams
This happy place will make you go gaga over their interesting flavors.
Ice – Berg Ice-Cream is in Navrangpura. People say that this place is an awesome point to hang out with your loved ones. Their quality desserts along with the exciting flavors is something you'll fall in love with. And we can't deny, after tasting their mouth-watering desserts! It is a dessert bar with a cozy ambience, excellent service, and polite staff members.
Give your taste buds a treat with the following ice-cream flavors. I.e Smiling Sitaphal, Lychee Laundry, Hazzel Dazel, Snicker bash, Coconut Candy, Gourmet Coffee, and many moreeee. Believe us, your stomach and heart will be full of joy after relishing it's refreshing flavors.
Location – Navrangpura
Price – Rs. 250/- for two approx.
2. Melt In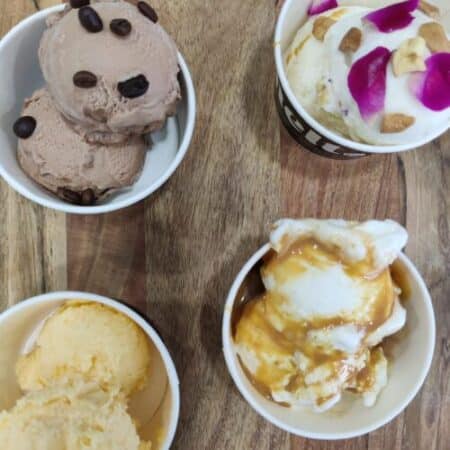 When in Melt-in, the artist in you will be impressed by their unique gelato flavors! The food place brings tasteful fresh pulp ice-creams and gelatos for dessert lovers. It's soothing interiors and casual seating area is highly popular among youngsters. Melt-in also consists of a separate dessert section with fun wall art. You can treat your taste buds from their wild range of scoops, popsicles, shakes, cakes, and candies. Besides, you can also take a quick bite of scrumptious pizza, puff pasty, panini, bruschetta, and wraps here. Don't forget to sip their yummy beverages too.
We highly recommend you to try the Vanilla Madagascar and Choco Caramel Gelato!
Also, did you know that Melt-In is a baby brand of Vadilal?
Location – Bodakdev
Price – Rs. 500/- for two approx.
3. Happinezz Ice-creams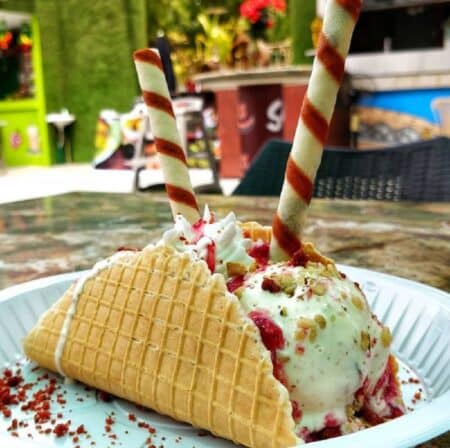 "Our happiness lies in our own hands!" So, why not visit Happinezz ice-cream store and be elated about it? Sounds perfect no?
Happinezz, got some fabulous dessert flavors that will fill you with joy! They have multiple branches of the store spread across the city. The ice-cream joint is well-known for it's excellent service, special dessert flavors, and ice-cream cakes! Yes, you heard it right! A joyful combination for you if you are fond of cakes + ice-creams. Happinezz serves a whole lot of flavorful desserts that are worth trying.
Tingle your taste buds with these must-try items from the store. Rasmalai Ice-cream Scoop, Golden Fantasy Ice-cream Cake, and Snickers Salted Caramel Scoop.
Location – Thaltej
Price – Rs. 200/- for two approx.
4. Shankar's Ice-cream Library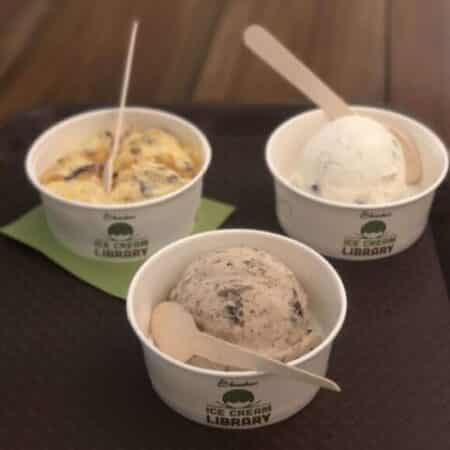 Shankar's Ice-Cream Library is the world of natural ice-cream flavors. It is one of the best places for gourmet desserts in the city. You can get your fresh cold stone ice-cream customized while choosing your own toppings for the same. The beautiful ambience and the live stations are the top attraction here. Youngsters love spending time with their friends due to it's trendy interiors and pocket friendly price.
Savor a refreshing scoop of any of these and experience the heaven. Plum Cheese Cake, Caramalised Chocolate, Jasmine Peach Berries, Black Coffee, Orange Tender Coconut, and Pistachio Crunchy Caramel!
Location – Bodakdev
Price – Rs. 200/- for two approx.
5. Brooklyn Creamery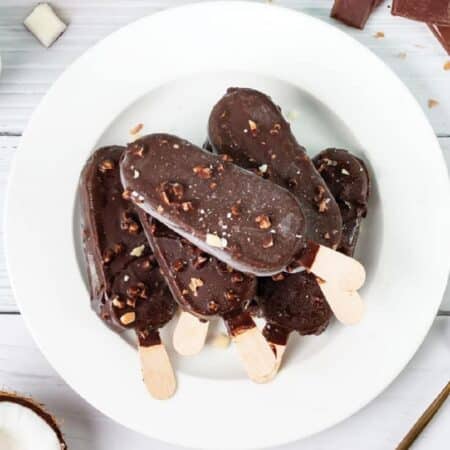 If you are looking for some new varieties for your sweet tooth, then Brooklyn Creamery is the right place for you. Brooklyn Creamery is situated amidst the busy area of the city, Prahladnagar. There is never a good reason to avoid an ice-cream when it's from Brooklyn Creamery! As they've got some low calorie desserts which are fabulous. You can indulge into their range of Keto-Friendly, Vegan, and High-Protein desserts. Isn't it crazzyyyy?
These high quality and super delicious ice-creams are nothing less than magic.
Pamper yourself with their Sea Salt Caramel, Salted Peanut Butter, Soho Berry, Sweet Cream Vanilla, and Brooklyn's Cookie Brownie!
Location – Prahladnagar
Price – Rs. 400/- for two approx.
6. Keventers – Milkshakes and Ice Creams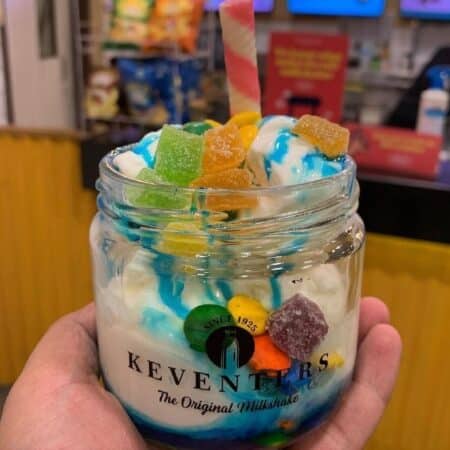 Your taste palate will surely go in a party mood after relishing the cool desserts from Keventers! This renowned food joint is bringing smiles by serving awesome ice-creams! It is highly noted for it's quality and quantity of desserts. Along with tasty sweets, it also offers Milk Shakes, Sundaes, Fries, and incredible combos. You can never go wrong with Keventers if you're a tremendous Sundae lover! As it is a paradise offering varied Sundae flavors.
Try it's lip-smacking Dark Conspiracy Sundae, Unicorn Candy Sundae, Guilty Please Sundae, Bullseye Caramel and Nutella. We're drooling already!! What about you?
Location – Memnagar
Price – Rs. 500/- for two approx.
We would love to hear your sweet ice-cream stories. And tell us which of these best places for gourmet ice-creams in Ahmedabad best suits your taste palate!