Heya dear health freaks, Looking for something fun and interesting to eat? Slurping the juices and gorging into some gorgeous salad meals is something you have always dreamt of! Hein na? Eating right and healthy is becoming a new trend now. But it is not necessarily important to compromise on taste. It is often believed that healthy food dishes are not that tasty. Guess what, it's not true at all with these places of Ahmedabad. They are breaking this myth by serving yummyyyy plus healthy food! We have compiled a list of some of the best places for healthy juices and salads in Ahmedabad for you.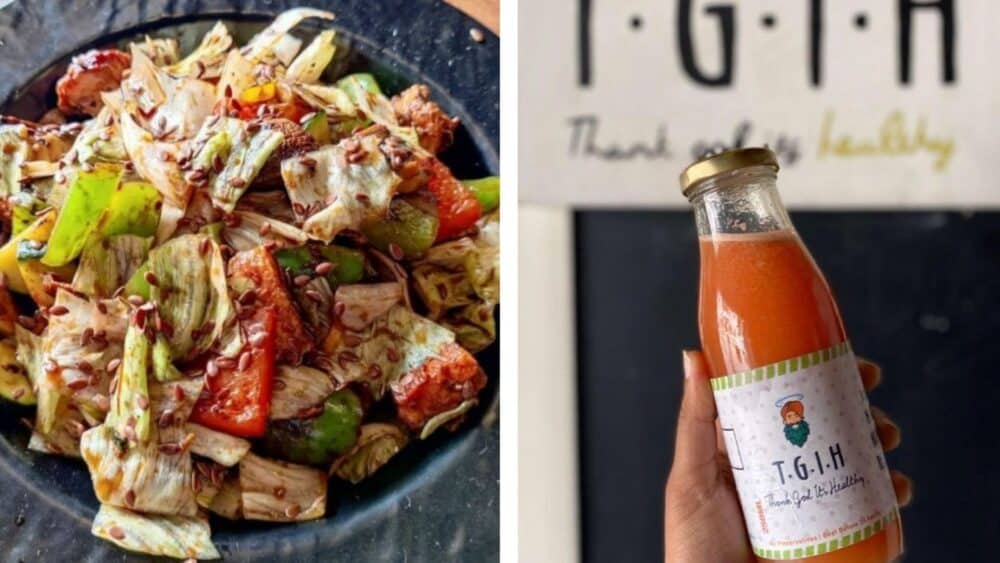 Phew, Thank God It's Healthy! TGIH is a peaceful space with a spacious seating area. The eye-catching simple yet elegant ambience with modern decor is all amazing. It exclusively works on vegan Continental dishes. Along with this, it also provides keto options for all the protein lovers. You can begin your healthy journey by trying out their appetizing savory dishes as well as appealing desserts. You must not forget to taste their cold pressed juices or smoothies, coz they are just delicious! Did you know that you can also customize your meal plan according to your preferences here? it's just out of the box! Location – VastrapurPrice – Rs. 700/- for two approx. Must-Try Salads – Veg. fresh Green Salad, Veg. Barbeque Salad, Pan Asian Cottage Cheese Salad, Veg. Iron Man Salad Must-Try Juices – Sweet Lime Juice with Chia Seeds, Boosting Green, The Booster, vampire Juice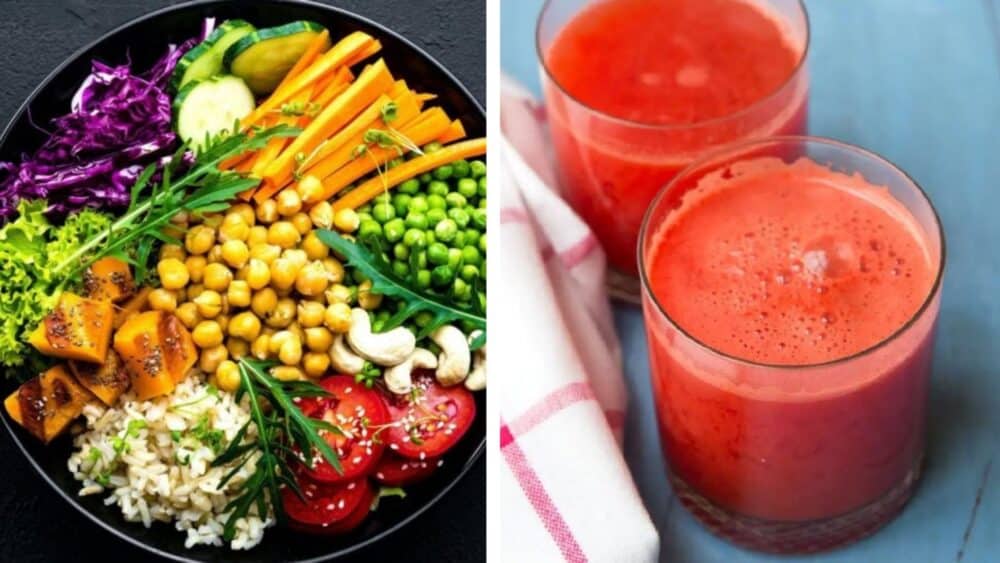 The Healthy Stove is one of the popular places that offers mouth-watering and fresh meals. You will have a wonderful experience here with their healthy food options. It specializes in a great combination of taste and health. Along with this, the spread also serves Italian, Continental, and Chinese cuisines. While reading their wide-ranging menu, you won't be able to control your hunger! 😛 They also customize their food dishes according to the preference of their customers. Exotic salads and beverages from this outlet is something you should not miss! Woah, and you will get the most delicious and nicely cooked sandwiches here! The dishes are easy on the pocket too. Location – VastrapurPrice – Rs. 400 for two approx. Must-Try Salads – Healthy Sprout Salad, Healthy Detox Salad, Healthy Mexican Salad, Evergreen Salad Must-Try Juices – Carrot Tomato Juice, Mint Lemonade, Lemon Iced Tea
3. The Fit Box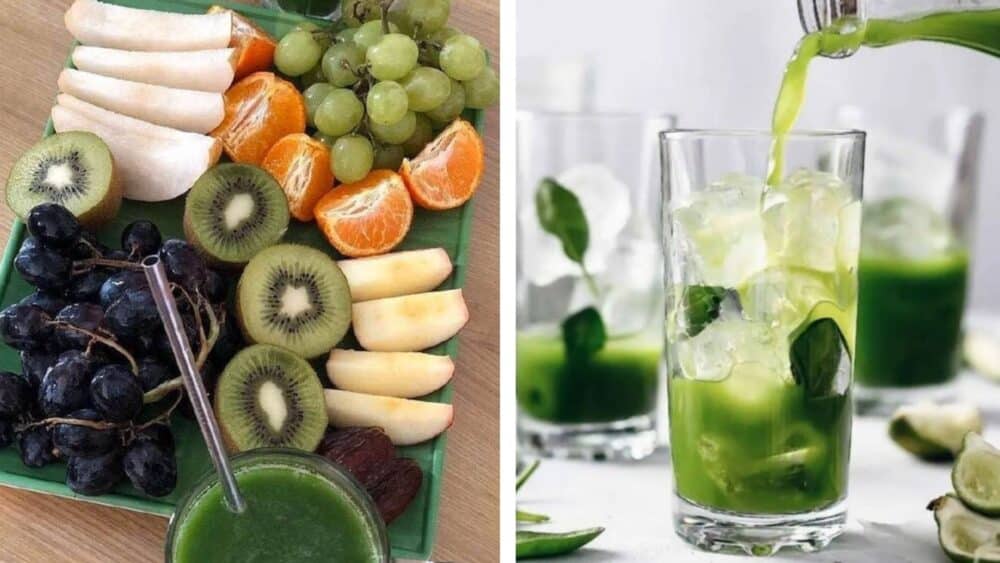 You can surely go to The Fit Box to have amazing out of the box meals! This place believes in offering fresh good quality food in great portions. They particularize in serving tasty fresh juices, protein shakes, and fresh vegetable juices. The amazing rice bowls and yummy plus healthy salad options are just great here. Hygienic, healthy, and good food is all the spread provides. The feeling of relishing the home-cooked amazing food is great. It's absolutely filling and tasty! People also say that their keto dishes are totally awesome. Location – VastrapurPrice – Rs. 400 for two approx. Must-Try Salads – Protein Salad, Corn Salad, Chana Tofu Salad, Dry paneer Tikka Salad Must-Try Juices – Black Grapes, Green Apple, Pomegranate, Kiwi Juice 4. ELXIR – The Health Cafe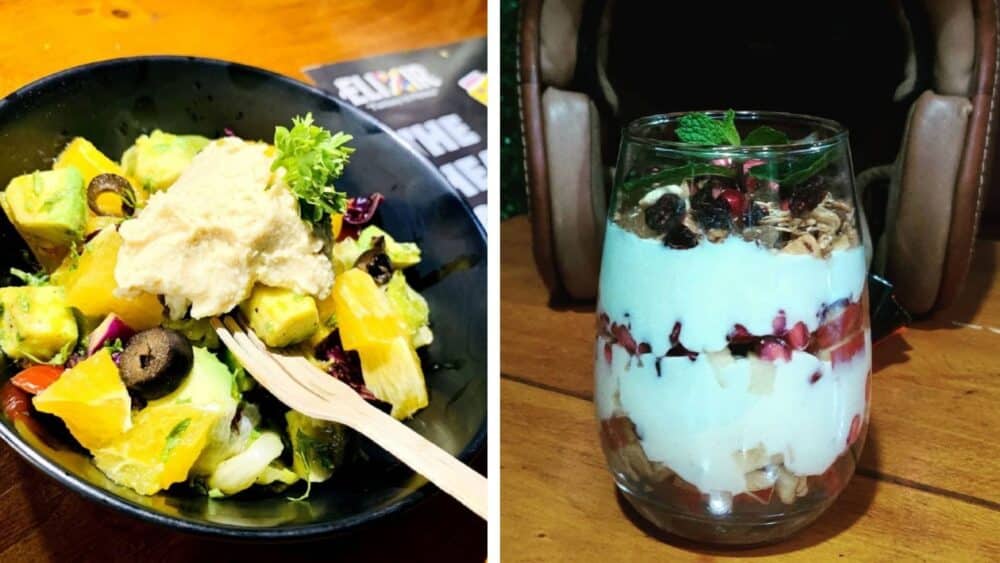 The name says it all! Elixir – The Health Cafe is totally into providing magical meal portions to their lovely customers. They have got some great options in healthy and yummy salads, and fresh juices. Elixir also concentrates on serving healthy frankies and have few tasty khichdi options too. Located in one of the busy areas of the city, this place is alluring with it's fantastic decoration. The food place is also well-known for serving good quality food and into great portions. Whenever you visit Elixir – the health cafe, you should try out the oh-so-delicious parfait and momos. It's absolutely incredible! Location – Ambawadi Price – Rs. 500 for two approx. Must-Try Salads – Elixir Signature Fruit Salad, Italian Salad, Avocado Orange Salad Must-Try Juices – Elixir Signature Elix 5. Falashin – Juices and Dishes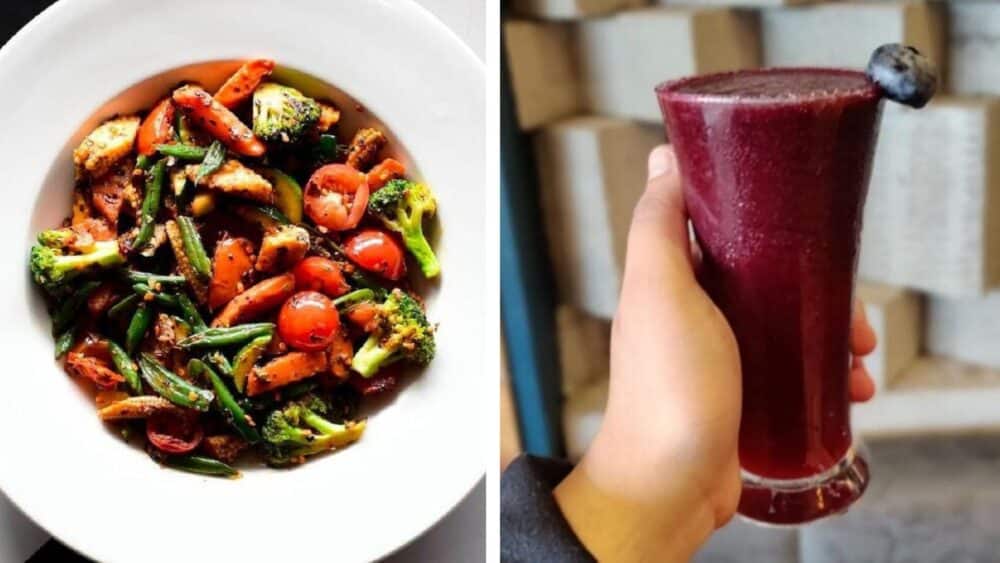 Falashin – A satisfying place for juices and tasty dishes! The innovative and elaborate menu of Falashin will make you drool just while reading it. It offers a cool mix of fresh fruit juices, protein shakes, cold pressed juices, and tasty fresh mixture. Along with these exotic beverages, the spread also offers interesting options in shakes and smoothies. They believe in offering excellent culinary delights. Relish a fresh fruit bowl and treat your taste buds with the burst of refreshing flavors. Lip-smacking healthy fresh food will top your list once you visit this outlet! Location – MemnagarPrice – Rs. 750 for two approx. Must-Try Salads – Exotic Salad, Green Salad, Falashin's Almighty Salad Must-Try Juices – Black Grapes, Black Plum, Mausambi, Peach, Anti-Anxiety Detox, Carrot Ginger Apple, Beetroot Tonic To conclude, we can also enjoy healthy meals which also proves to be amazingly delicious! Yes, you will agree with us after visiting any of these best places for healthy juices and salads. Tell us, how you like this new culinary journey of yours ya!