Pondicherry is one of the most beautiful tourist locations in India. It has the natural beauty of beaches, architectural beauty of its many villas, historical beauty and influence of the French, Dutch, Portuguese, English colonizers.
The influence of it in the everyday life and culinary world of Puducherry has made this picturesque union territory truly unique. Today, we bring to you the best veg food to try in Pondicherry to explore the exceptional culinary world of Pondicherry.
Best Veg Food In Pondicherry : A Quick Roadmap To Puducherry's Culinary World
Bondas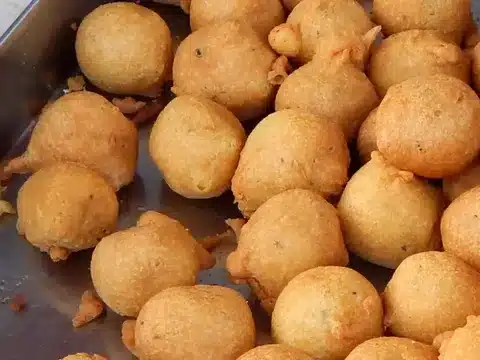 Looking for a morning snack or just someone who keeps munching throughout the day? Bonda is the delicious little snack that'll be your tempting fit for a snack anytime of the day be it for breakfast or for munching. Bondas, the gold shelled balls are actually a widely loved potato snack made with chickpea flour batter and dosa batter.
Morever, the popular street food has many variations. Potato replaced with sweet potato, tapioca, grated pineapple, green peas, paneer, mushroom or other ingredients and is served with sweet and spicy chutneys. Iat is the perfect combination of crispy outside, fluffy inside kind of snacks making it the best food in Pondicherry for street style snacks.
Recommendation : Mission Street.
Khow Suey or Kaukswe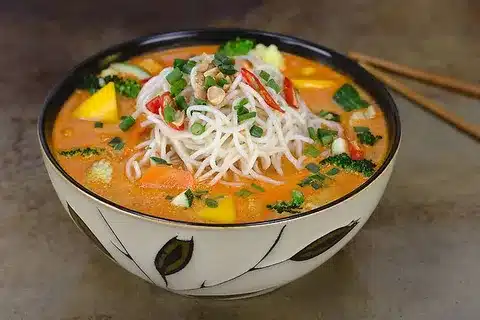 We understand your foodie tongue seeks something that you never would have tried so we bring to you Khow Suey, a scrumptious dish of noodles originating from Myanmar (Burma). Khow Suey, also known as Kaukswe is served with a delicious base of rich and creamy coconut-based milk curry.
Serve it on rice or noodles with a garnishing amulet of crispy noodles. Thanks to its nature, it is a dish that is equally charming and pleasing in its aroma, taste and the aesthetic appeal of the dish. It is one of the best foods in Pondicherry for a hearty meal.
Recommendation : Mission Street.
Baguettes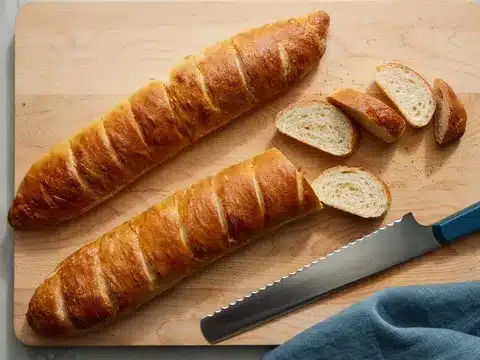 Pondicherry is known for its delectable French cuisines. Baguette, a loaf of bread usually made from flour, salt, yeast etc. Named after its shape, this stand-outish bread translating to 'stick' or ' wand' makes for a great accompaniment for tea and coffee. Open baguette sandwiches are also finger-licking.
Moreover Baguettes are great for dipping into soups, sopping up sauces, or simply enjoyed on their own with a spread of butter or cheese. No matter your preference, this French basic is a must try for anyone seeking the best food in Pondicherry.
Recommendation : Baker Street.
Ratatouille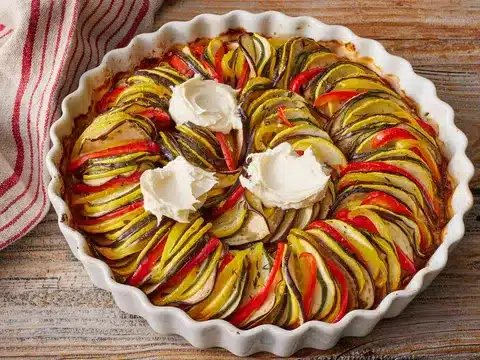 Ratatouille is a dish that celebrates the summer vegetables and highlights the simplicity and beauty of fresh ingredients. The lip-smacking modern recipe for Ratatouille originated in the Nice and Provencal regions of France.
It is a mouth-watering vegetable stew made with a variety of fresh summer vegetables, typically including eggplant, zucchini, bell peppers, onions, and tomatoes. You can have it as a main course or side dish or served over pasta, rice, or crusty bread.
Recommendation : Les Saveurs.
Tomato Rice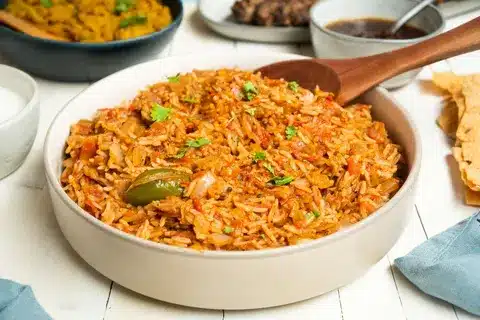 In the mood for some tangy treat? The popular South Indian dish is tangy and tummy filling at the same time. Tomato Rice also known as Thakkali Sadam beautifully represents the Tamilian side of cuisine in Pondicherry made with cooked rice and a tomato-based masala.
Moreover, it helps in treatment of heart problems as it contains the antioxidant lycopene that helps in preventing all risks associated with the heart. The potassium in tomatoes lowers the levels of bad cholesterol and supports maintaining stable heart health. So try this healthy and delicious item in our list of best food in Pondicherry.
Veg Korma (Veg Kurma)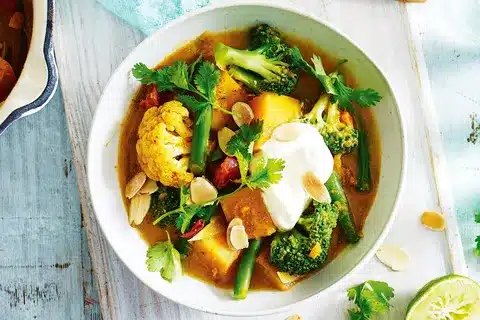 Veg Korma showcases the versatility of vegetarian cuisine in Indian cooking, offering a delicious. An wholesome option for those seeking a flavorful and creamy curry packed with a variety of vegetables. It is a popular South Indian dish that has mild and aromatic flavours, making it a favourite choice for those who prefer milder curries.
Vegetables are cooked in a creamy and aromatic gravy of yogurt, coconut, and cashew nuts-based paste and sautéed onion and tomato along with a few spices in an instant pot pressure cooker or stovetop to make this blissful curry.

Recommendation : Palahaaram.
Macarons, Tarts, and Eclairs
The last on our list for best food in Pondicherry are desserts. Puducherry is a great place for popular French pastries. Macarons are delicate, meringue-based cookies with a smooth, crisp exterior and a soft, chewy interior.
Tarts, baked pastries with a crisp and buttery crust, filled with a sweet or savoury filling. Éclairs, oblong-shaped pastries made from choux pastry, which is light and airy. These French desserts make for the perfect way to end your meal in Pudducherry.
This is our quick guide to the best food in Pondicherry. Use it to roam through the wonderful Pudducherry for best culinary experience.
Do let us know your experience of these French and South Indian cuisine and fusions. Let us know if you think we missed any such amazing food items worthy of being called the best food in Pondicherry.