I love eating, there is no doubt about it. At All! When I find others with the same love for food, it makes me so happy. If it was up to us, I am sure we all would celebrate food day every day! But no worries. Here is a list of all the world days related to food for us foodies to celebrate!
World Nutella Day – February 5th
Nutella is heaven! There is no debate about it. We all have to thank food blogger Sara Rosso for this day! She loved Nutella like us and started World Nutella Day on 5th February 2007. We all love an excuse to eat a jar of tasty delight.
World Pizza Day – February 9th
Eating Pizza all day long, every day? Hell Yeah!! Pizzas, an Italian creation of the 10th century is now a worldwide phenomenon. On World Pizza Day, let's celebrate our favourite!
Pancake Day
Pancakes are extremely good and form a wonderful filling breakfast! Pancake Day is more than just a celebration of pancakes though. It is actually connected to Easter celebration. Thus it has a changeable date.
Cheese Fondue Day – April 11th
One food item that made it into our hearts(and stomach!) is Cheese fondue. Cheese is a wonderful treat that makes any food dish tastier. On this day enjoy hot cheese with vegetables and other sides. Eat What You Want Day – 11 May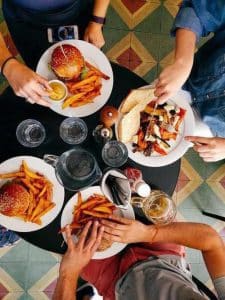 Here is a day I personally love! Because that is what I do every day. Eat What You Want Day is a free pass. Eat whatever your heart wishes and splurge on pizza, cheese, pasta, burger, chocolates, ice cream, anything you love. Forget your gym and diet plans on this day!
International Hummus Day – May 13th

Hummus, possibly the best dip in the world is also healthy! An Egyptian dish, made from Chickpeas and Olive oil, it is just healthy tasty goodness. Mark these days on your calendar, fellow foodies. Be sure to enjoy these world days. Part two is coming up soon! Comment your personal favourite world day related to food. : )