The Esplendido Cafe is a beautiful cafe decorated with various plants, giving a peaceful ambiance. Be it parties or a quiet romantic date, the cafe is perfect for you!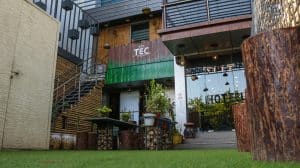 It has various different seating arrangements and the food is finger licking delicious. The chefs are extremely creative giving a unique touch to each of their dishes. Serving Chinese, Mexican, Indian and Thai, the dishes are just too good and the desserts are to die for! Check Out this list of tasty food dishes that you have to try at The Esplendido Cafe!
Esplendido Nachos
A brand new take on Nachos, this Esplendido special is worth a try. Sour cream, pico de gallo, olives, tomatoes, onions, and coriander formed a great base, mixing together and tasting amazing. The charred salsa and the mashed fried beans went great with the crispy nachos.
Kung Pao Potato
Fried potatoes served with fried pepper and onions, this dish is for all the potato lovers. The potatoes were properly cooked, spicy and garnished with cashews, burnt chili, and spring onions.
Crispy Vegetables
Cauliflower, baby corn, capsicum and onions fried to a crisp and coated in schezwan sauce. It was delicious, perfectly cooked topped with spring onions and shredded vegetables.
Smokin' Virgin Sangria
A tangy cool refreshing drink to quench the summer heat. Virgin Smokin' Sangaria made of grape cranberry and apple juice is invigorating to drink. Served with pieces of green apples that provide a crunch as well as add to the good looks of the drink.
Blueberry Baked Cheese Cake
As soon as you take a bite, the cake will crumble in your mouth bursting with flavors of blueberry. With a layer of tasty blueberry compote, the cheesecake is as delicious as it looks. Whipped cream and fresh mint add a good touch.
Silky Chocolate Cake
Three layered creamy chocolate slice is the perfect end to a wonderful meal. The three layers of white, brown and dark chocolate all blend together in a creamy mouth melting bite. The caramel on top just added the perfect touch to the silky chocolate cake.
Nutella Brownie Overdose
Aptly named, Nutella Brownie is an overdose of chocolate. Chocolate shake with fudge brownie topped with whipped cream, hot chocolate, it is a delight for all chocolate lovers. Covered with dark and white chocolate bits, silver and gold balls and lots of sprinkles, not to forget the chocolate sticks, this is literally heaven!
Chilli Garlic Noodles
These delicious looking noodles are just as delightful to eat. It has perfectly balanced flavors, all the tastes blending together wonderfully. Topped with shredded vegetables and the taste of garlic manage to give a fancy touch to the everyday noodles. A must-try dish!