The world is being clawed by global warming, climate change, waste management issues, landfills, unnatural seasonal changes and a lot more. Civilizations have grown and evolved for decades at the cost of nature and now, the dire consequences we face can't be tamed. The need to think for Earth has become more and more conspicuous and has become an absolute necessity. Eco-friendly places in Ahmedabad come to the rescue from the fast lifestyle that we have accustomed to.
While many of our everyday activities that harm the Earth can't be compromised all at once, we can take little steps to move towards a sustainable future and slow life. As die-hard foodies, we can opt for eco-friendly vessels and places. On the occasion of Environment Day, we bring you 7 such wonderful eco-friendly places in Ahmedabad.
7 Sustainable Eco-friendly Places In Ahmedabad
1. Greenobar

What if you could improve your health along with the earth's at the same time? This wonderful place has an uncanny combination of both. At Greenobar, you peddle and blend your own juice to get the delectable healthy no sugar juices. The drinks have the sweet dopamine of reward after hard work. So you can flow with the dopamine of having done good by the earth as well as yourself, not to mention their extremely delectable drinks. Greenobar is the epitome of a sustainable unique place. So this is a must visit if you're looking for eco-friendly places in Ahmedabad.
Location : Greenobar Organic, shyamal cross road, Ahmedabad. (Get Directions)
2. Cafe Aarambh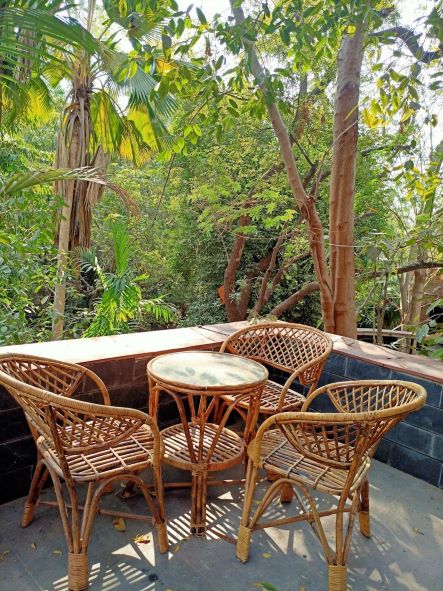 When we talk about sustainable eco-friendly places in Ahmedabad, Cafe Aarambh has to be one of the must try places. Cafe Aarambh brings the unique initiative of slow food from local ingredients in a fast paced city. Cafe Aarambh tackles issues like waste management by taking care of their own consumption and carbon footprint. Using coconut to serve drinks et cetera, avoiding use of plastic and tissues, composting and many more activities like these show how serious they are about a sustainable future. Moreover, they use organically produced ingredients by local farmers and educate consumers about sustainable and conscious consumption.
Location :
3. Kamla Cafe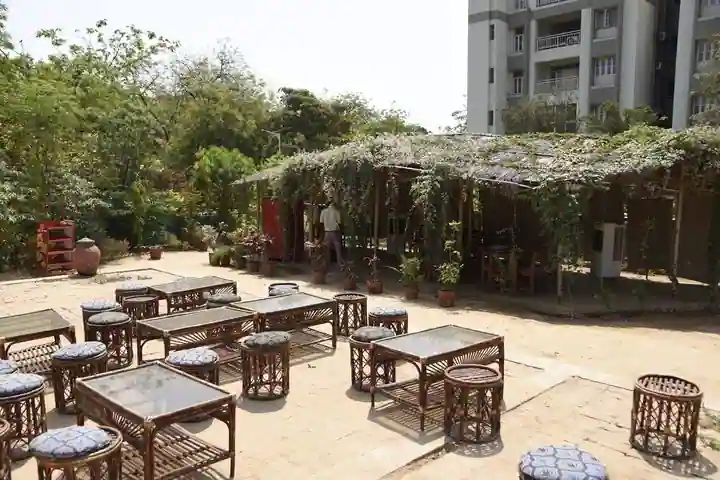 The sustainable green initiative in itself is a big one, Kamla Cafe conflates that with women empowerment and sustainability and self-reliance of such hard working women. Kamla Cafe is an initiative by SEWA – Self Employed Women's Association that serves homemade nutritious snacks by rural women. Kamala Cafe supports hard working rural farmer women and sells organically grown vegetables and food. Their motto, "Nutritious, Fresh, Homemade Food Products " gives further testament for the same making them one of the top eco-friendly places in Ahmedabad.
Location : Kamla Cafe, Bodakdev, Ahmedabad. (Get Directions)
4. Sambar Cafe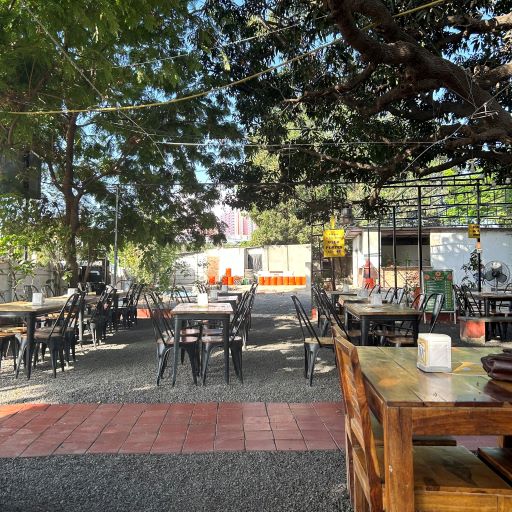 Only a few other places may reflect the quintessential image of South India quite as well as Sambar Cafe. Located in Ghuma, Sambar Cafe serves tummy-filling delicious authentic food. The South Indian cuisine special Cafe is adorned by Mango trees. Moreover, they use water sprinklers instead of air conditioners along with their nature-friendly environment to provide the consumers with fresh cold natural atmosphere on the side of the delicious and warm authentic South Indian food making it an absolute in the list of one of the top eco-friendly places in Ahmedabad.
Location : Ghuma, Manipur road, Ahmedabad. (Get Directions)
5. La Maison Vegan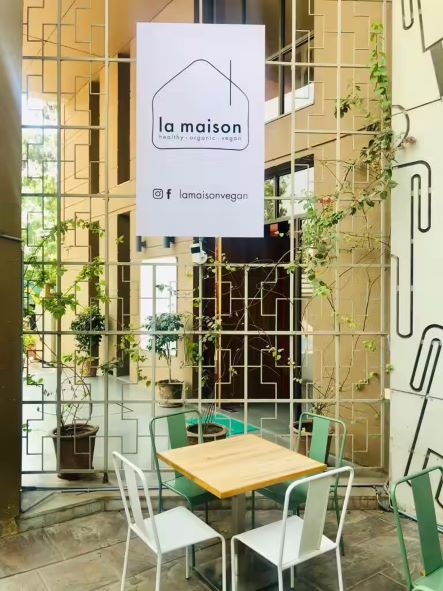 When two French chefs and a local started a vegan cafe in his Fanatika Theatre, it failed due to the pandemic but when another opportunity opened up at AF(Alliance Francaise) Ahmedabad, they grabbed it. Thus came La Maison, an all-vegan all-organic cafe offering delicious fresh food. The international cuisine by the French chefs are eco-friendly, plastic free and locally sourced. Moreover, their menu changes according to the season and food available on the market making them one of the must try sustainable eco-friendly places in Ahmedabad.
Location : Shyamal cross road, Shyamal, Ahmedabad. (Get Directions)
6. Kasturba Ahargruh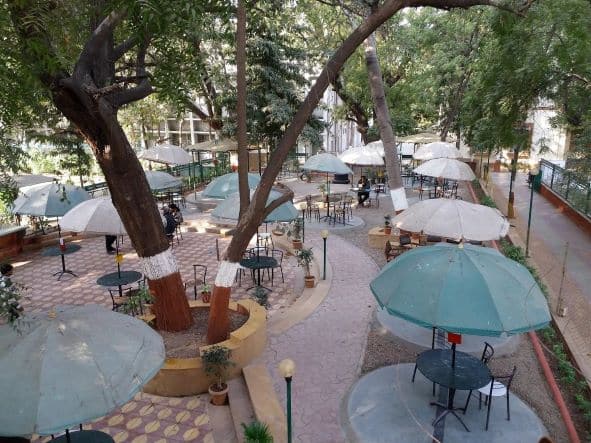 Established by Mahatma Gandhi in 1920, Kasturba Ahargruh is an exceptional one of a kind canteen run by former students of Gujarat Vidyapith. The canteen has the unique motto "Gandhian thoughts, natural environment, healthy food". They live true to it by serving no fast food items, providing an exceptional natural environment and by serving scrumptious healthy food. Moreover, they also sell healthy food items making them one of the wonderful choices for all the students for sustainable eco-friendly places in Ahmedabad.
Location : Gujarat Vidyapith, Kasturba Ahargruh st, Ashram Rd, Usmanpura, Ahmedabad. (Get Directions)
7. The Greenstraw House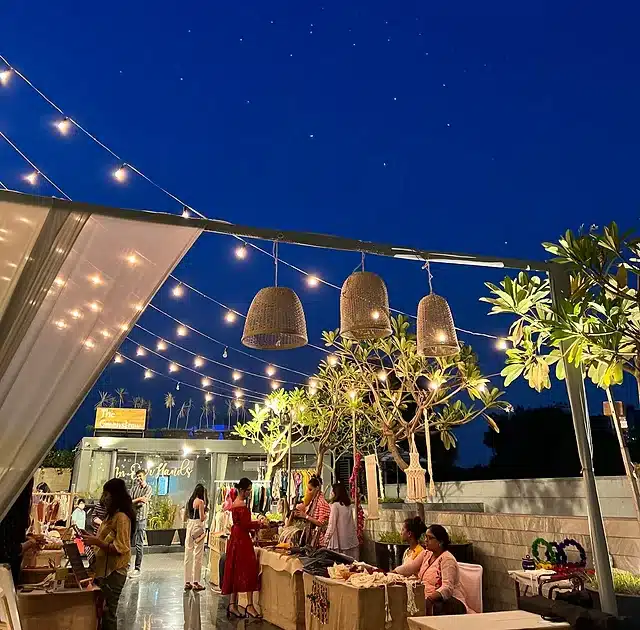 Ahmedabad's top of the line views boast the exceptional riverfront facing restaurants and cafes. For all the fans of the riverfront view, let us introduce The Greenstraw House. The Greenstraw House is the bewitching eco-friendly cafe that is modern yet promotes sustainability for eco-friendly places in Ahmedabad. The ground floor has the prominent eco-friendly store that serves a wide range of items from aesthetic insta-worthy clothing to neat Bamboo toothbrushes. The crafty eco-friendly store covers a wide range of exciting products that help us to live a sustainable life. Above is the beautiful open cafe with delectable food and a picturesque riverfront view.
Location : Usmanpura Village, 32, River Front Rd, Usmanpura, Ahmedabad. (Get Directions)
As we grow more and more advanced as a civilization, it becomes more and more important to think for the planet that is our home. Slowly but surely, we can shift towards a more slow and sustainable lifestyle. Food being of our primary need and passion is a great way to bring the chain of change.
These are some of the wonderful sustainable eco-friendly places in Ahmedabad. Do let us know your favourite memories of these eco-friendly places. Let us know if you think we missed any eco-friendly places.