Ahmedabad is known for its rich culture, for its unique festivals and the ever smiling people. But what is special about Ahmedabad is its food. Food is what makes Ahmedabad a paradise for bhukkads. Gujarati's have always been known for their appetite and the numerous delicious dishes they prepare. Ahmedabad has everything you want to eat and all throughout the day and night. It is an absolute paradise for foodies ranging from different types of eateries such as Snacks outlet, Coffee Shops, Dining Hall, Dhaba, Fast Food Restaurant and Banquets.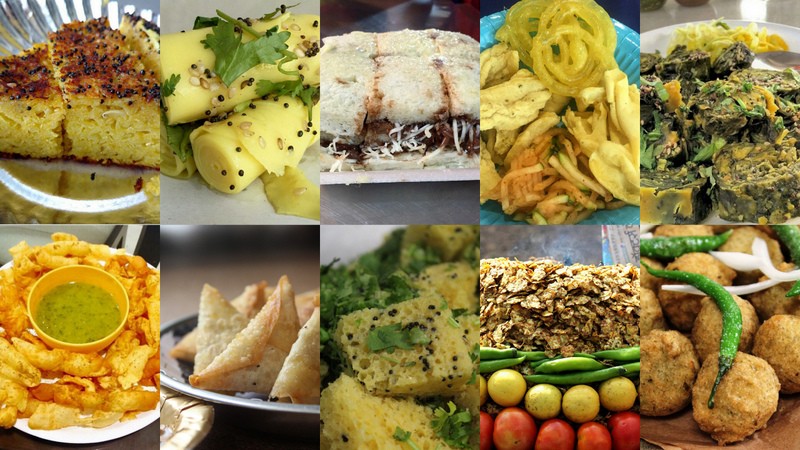 Ahmedabad has witnessed the history changing with time. It has been there since the reign of Ahmed Shah, towards the Sultanate Rule, Mughal Rule, Maratha Rule and then throughout the British Rule. With the changing rulers, the food of Ahmedabad has also evolved consequently.
A Gujju without Sweet and Namkeen such as khakhra and fafda is rarely known of. It is our anytime anywhere snack. Along with khakhra and fafda, dhokla, khaman, handva, khandvi , thepla and gathiya are just few names of the Amdavadi snacks that are famous across the countries. You will find people enjoying InduBen's Khakhra in Dubai and America.  As far as the sweet tooth is concern, our meal can never be complete without a sweet or dessert and as a result the city has best of the Ice Cream and dessert shops serving delicious chocolate dishes cakes and other bakery items. Which makes Asharfi, Havmor and Vadilal famous brands in dessert industry.
And it's not that Ahmedabad is just famous for its snacks but the city has some of the amazing restaurants as well. Some of them are specially known for their , Gujarati thali which includes around 25 items in just one platter. Few of the restaurants that serves the best thali in the city are Chandravilas restaurant, Vishala, Rajwaadu, Govardhan- Thal and Pakwan. Today, the city also witnesses varied theme restaurants and banquet that lets its guests experience diverse cultures of the city.
And the world for the food lovers doesn't stop just here, it begins with all the street food that Ahmedabad provides. Manek Chowk's mouthwatering street food is available all throughout the night. The khau gali of CEPT is another paradise for bhukkads. The IIM road is famous for the Egg bhurgi/ omelet. The University road is known for it's vadapav,  poha and the morning breakfast. The Cold Cocoa opposite HL College is mouthwatering.
The city of Ahmedabad has it own happening life with street cafes that are always packed and known for the food and ambience they provide. Shambhu's Coffee, Dannys Coffee with Toppings, Mewad's Dabeli, Shakti Sandwich, Karnavati Dabeli and Jay Bhawani 's Vadapav are the few names every individual in the city knows. The youngsters of the city are crazy over pizza & burger and that has landed world's renowned Italian outlets to expand its chain in Ahmedabad.
The city of Ahmedabad is as much known for the innumerable food items as it is also known for health sectors. It has healthy centers serving yummy fruits. salads, juice soda and much organic food. The people of Ahmedabad make sure that they are balanced towards both taste buds and healthy life style.
To know more about this awesome city and the life of Hungrito in the city follow us on Facebook, Instagram