"Rang barse bhege chunarwali, rang barse." "Do me a favor, let's play Holi." "Holi ke din dil khil jaate hain Rangon mein rang mil jaate hain." Set your mood right by these energizing songs which will also make you a fantastic Holi playlist! Yes, we're excited because the festival of bright colors and happiness is round the corner! Don't you wonder how is a festival complete without the delightful culinary delights? We believe that food is one of the main part of anything we celebrate in life. It adds an element to the distinctive festivals, events, or even in our regular life. Holi is a colorful festival of art, food, and culture. Don't you agree with us on this? Aren't you also thrilled to gorge on the rich and savory dishes on the carnival of colors? If yes, then dive right into this list of the Holi special foods| Ahmedabad.
1. Thandai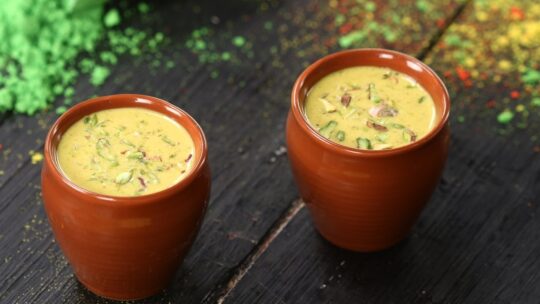 Thandai is a refreshing and delicious drink served especially during the festival of Holi and Mahashivratri in India. This popular beverage is said to have a cooling effect on the body due to the ingredients present it. Drink the yummy Thandai from these best places in the city.
New Girish Cold Drinks.
Kailash Parbat
Hojamalo
You should try the famous Thandai ice-cream from Pabrai's Fresh And Nautralle.
Also, try the tasty Kesaria Thandai from Gwalia Sweets.
2. Puran Poli
Puran poli is a mouth-watering dish which is a sweet and fried flat breads. This tasty flat bread is stuffed with a filling of yellow gram and cane sugar or Jaggery and is loved by all. Relish the delicious Puran Poli from these best places of the city. This also proves to be one of the best holi special foods.
Madhavrao – Prahalad Magar
Maratha Express – Thaltej
Bombaywalla – Prahalad nagar
3. Rasmalai
Make your celebration extra sweet with a plate of appetizing rasmalai. Rasmalai is popular sweet dish made of soft paneer balls immersed in sweet flavored milk. This melt in the mouth delicacy is a perfect dessert after your meals. Enjoy the finger-licking Rasmalai from these best places of the city.
Vipul Dudhiya Sweets
Navrang Chavana And Sweet Mart
Bikanerwala
Also, you must try Thandai Rasmalai from Gwalai Sweets.
4. Gujiya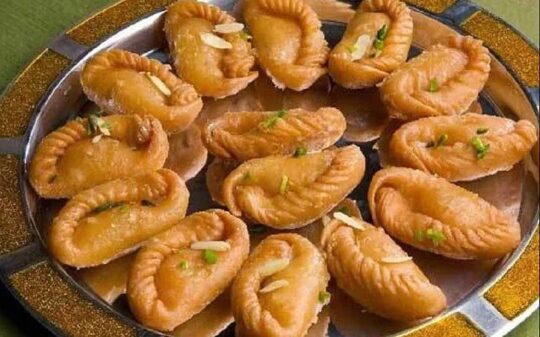 Gujiya is a favored North Indian sweet dish which is a crisp and flaky pastry filled with a sweet khoya and dry fruits stuffing. There are other types of gujiyas too but the particular sweet gujiyas are made especially during the festival of Holi in India. Eat the tasty Gujiyas from-
Bikanerwala
Somani Gruh udhyog
Kailash Parbat
Azad Sweets and Restaurants
Must try Chocolate Gujiya, Mawa Gujiya, and Orange Gujiya from Gwalia Sweets.
5. Barfi
Barfi is a basic fudge made with simple ingredients like full fat milk, ghee, and sugar. This dense milk-based sweet also has varieties such as coconut barfi, chocolate barfi, badam barfi, kaju barfi, mawa barfi, etc. Relish the different flavors of the delightful Barfi from –
Farsanwala
Bansilal Pendawala
Jayhind Sweets
Must try Thandai Barfi from Gwalia Sweets
6. Lassi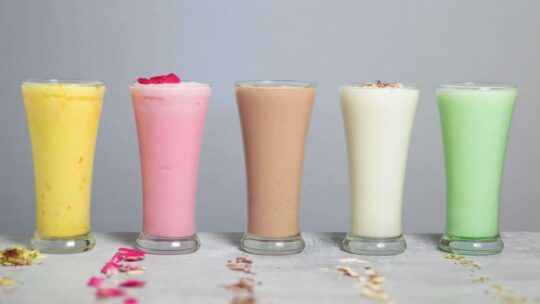 Add a zing to your celebration by drinking a glass or two of the flavorsome lassi. It is a traditional dahi based drink served in the summers. This creamy beverage also comes in variations of flavors such as banana lassi, strawberry lassi, butter-scotch lassi, rose lassi, kesar-pista lassi, etc. Have this yummy, delicious, and cold Lassi in varieties of flavors from –
Chamunda Lassi
Farki
Lassi Shop
Astodia Juice Centre
Chhaswala
Prem Mevad Ice-cream
7. Kesar Malai Peda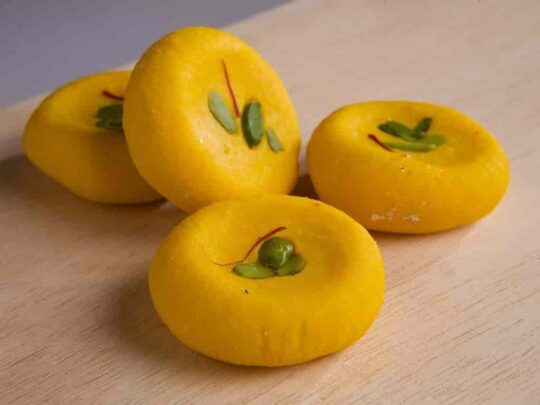 Kesar malai peda is a drool-worthy sweet dish relished during the Indian festivals. The delicate and luscious barfi is enriched with the goodness of saffron. It surely is a toothsome delight due to its grainy and soft texture. Enjoy the tasteful Kesar Malai Peda from the best places in the city.
Bansilal Pendawala
Kandoi Bhogilal Mulchand
Vipul Dudhiya Sweets
Jayhind Sweets
We're sure that your taste buds are definitely going to thank you after savoring these most favored dishes. Enlighten us which of these food items from the list of Holi special foods| Ahmedabad are your favorite.