Indulging into a dinner with our loved ones in a restaurant on the weekends! An ideal meal plan, isn't it? While exploring new food places, we also dream of dining in a fancy restaurant any day. We would like to visit a luxurious outlet that serves a variety of delightful dishes with our loved ones. And let's be honest, it is nothing less than a memorable experience! We also believe that experience with food is one of the most important part of our lives.
Well, if you also feel the sameee, then we are here! Head on to any of these luxury dining restaurants in Ahmedabad to have an incredible luxury dining experience.
Luxury Dining Restaurants In Ahmedabad
1. Fiddleton's Travel Diaries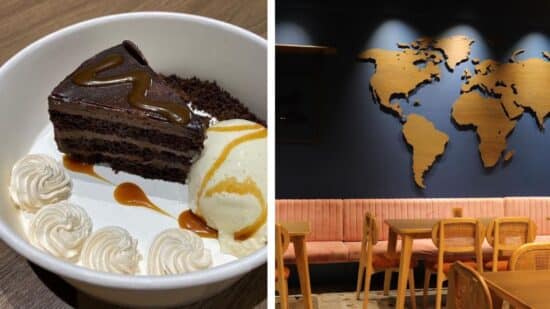 The refreshing vibe of this Victorian style restaurant is nothing but heaven. You'll be obsessed by everything it has to offer. It's modern and chic interiors and the ambience! Trust us, this is an obsession that doesn't hurt anyone! 😛 Fiddleton's Travel Diaries is a decent place that serves authentic food. Where the decor of the food seems like candy to the eyes. Choose your favorite dish from their interesting and wide-ranging menu. The spread is also popular for serving deliciousness in huge bowl size meals. A pleasing place for One Bowl Meals! Dine in at Fiddleton's if you are fond of everything refreshing and appealing.
Price – Rs. 600/- approx. for two.
Location – Bodakdev
Available Cuisines – Indian, Italian, Thai, Indonesian, Mediterranean, Greek, Singaporean, Chinese
Must-Try Food Dishes – Exotic Farmer's Delight Pizza, Thai Rejuvenation Bowl, Desi Burger, Delhiwala Tikka, Tiramisu
2. Neem County, Under The Neem Trees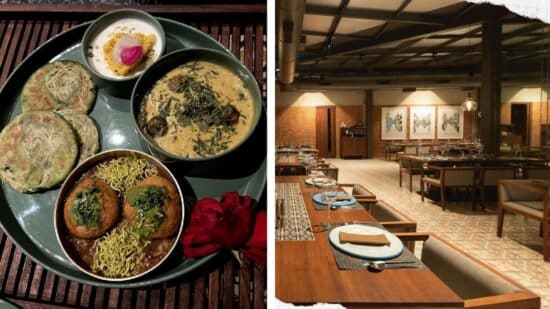 Neem County is one of the food places in 'Under The Neem Trees.' It is a nice conceptual place offering multiple cuisines. They provide food made from rich ingredients that tastes awesomeee. You'll also fall in love with their wide range of traditional delicacies!
Done with a garden area outside, the place feels close to nature. We assure you of a brilliant experience while dining in Neem County. The soothing ambience with a touch of nature is surely to cherish!
Click your nice photographs with food and nature and tag us on Instagram. 🙂
Price – Rs. 2000/- approx. for two.
Location – Bodakdev
Available Cuisines – Mediterranean, Continental, North Indian
Must-Try Food Dishes – Supreme Stone Fire Pizza, Tandoori Naan, Beach Forest Mocktail, Patiala Paneer Sahi Lababdar
3. Mr. and Mrs. Somani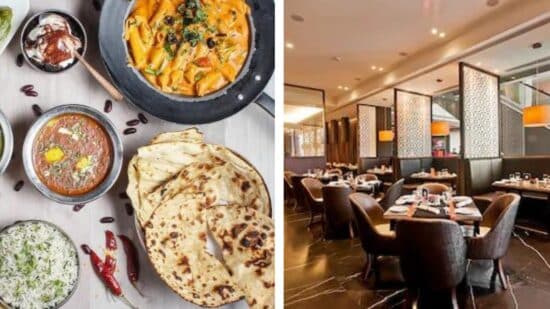 Head to Mr. and Mrs. Somani for an exquisite culinary experience. The food place is located inside The Grand Bhagwati in Bodakdev. With it's sophisticated ambience, nicely done interiors, and decor, it has the potential to attract the family crowd. Mr. and Mrs. Somani is also famous for it's supportive and courteous staff members. Now you know where to head to when you are looking for an alluring place for a dinner! Enjoy, spend some quality time with your family here while admiring the beauty of the place. Relish their amazing North Indian dishes and satiate your taste buds.
Price – Rs. 1400/- approx.
Location – Bodakdev
Available Cuisines – North Indian
Must-Try Food Dishes – Nawabi Dum Biriyani, Rotiyon Ki Tokri, Tovar Tarannum Dal, Mirchi Paratha
4. Agashiye – The House Of MG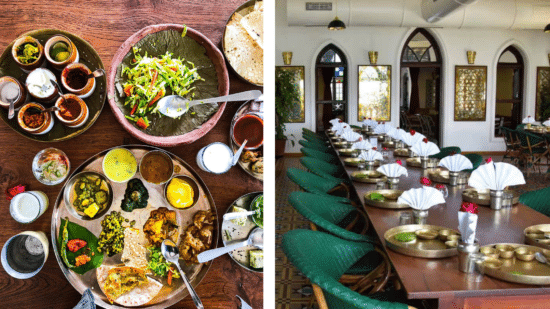 Agashiye – The House Of MG is located in the old city of Ahmedabad. "The House Of Mg – It Feels Like Coming Home" is their tag line. And you will exactly feel the same when you visit this appealing restaurant. 'Agashiye' means 'terrace' in Gujarati. Hence, the food place is spread over the entire terrace of a huge mansion. Which consists of an indoor and an outdoor seating. Here, you can also enjoy your food as a sit down meal just how a Gujarati family eats at home.

Agashiye serves fresh delightful delicacies which are slowly cooked and is full of flavors! Did you know that a Jain menu is also available on request here?
Price – Rs. 1900/- approx. for two.
Location – Lal Darwaja
Available Cuisines – Gujarati
Must-Try Food Dishes – Besan Gatta Nu Shak, Deluxe Veg. Thali, Chaash, Dhokla, Guava Ice cream
5. Palms Kitchen – Fairfield By Marriott
Are you in search of a mesmerizing ambience + modern vibes + fantastic food then you must visit Palms Kitchen. A perfect combination of amazingggg food and ambience indeed! Palms Kitchen – a Fairfield By Marriot is on Aashram Road. Dive into the richness of their super delicious Asian cuisine. The restaurant is famous for it's polite and gentle staff members, good quality of food, and scrumptious lunch platters.
Come here to unwind from your everyday routine and have a jolly-molly time.
Price – Rs. 1200/- approx. for two.
Location – Ashram Road
Available Cuisines – Asian, North Indian
Must-Try Food Dishes – Burnt Garlic Rice, Chinese Combo, Vegetable Green Thai Curry with Rice
Share your delicious discoveries when you visit these amusing food places. And tell us which is your favorite spread from these best luxury dining restaurants in Ahmedabad.