On an average we make few chapatis, dosas, a marshmallow dessert, or a glass of the delicious peanut butter smoothie. We also spend time, i.e half a day in putting together these culinary delights in our kitchen. Don't you agree with us on this? But somewhere down the line, someone wanted to make a record out of these simple food items and daily activities. And they have gone to great lengths to set the amazing records in history! So, we did some research and pulled out a list of the food related wold records that surprised us. We're sure that these brilliantly amazing food related world records will definitely leave you in the state of amusement! Go and get yourself a bowl of your favorite flavored popcorn and be prepared to be stunned!
1. Longest Dosa Record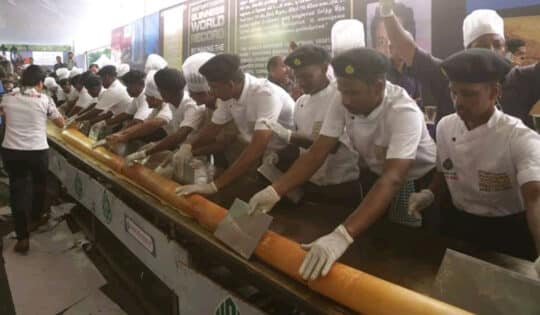 Are you a South Indian food fan ? If yes, then this longest dosa record achieved by 60 chefs will amuse you! Renowned chef and educationist, Dr.Vinoth Kumar led this team who were successful in making a 100-feet dosa at IIT-Madras. Did you know the quantity of the ingredients used for this? It was a hefty 10 kilograms of rice flour, two kilograms chickpeas, green gram 500 grams, who green gram two kilograms, whole black gram 1 kg, rice 10 kilograms, salt 500 grams and 9.5 liters of water. Startled or no? Due to the marvelous efforts of the team, Chennai bags a world record of this delightful dish!
2. Largest Chapati Record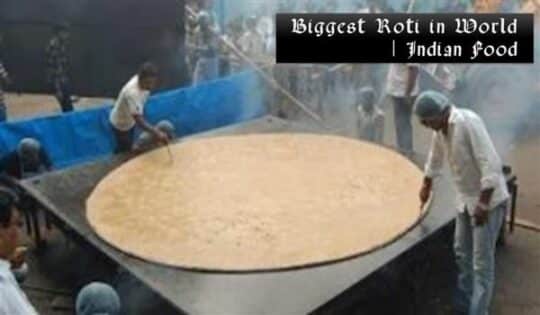 Do you claim your skills of making this quintessential flatbread or a perfect round chapati? Chapati is the essence of most of the Indian meals. Isn't it? This flat bread commonly known as roti is staple in India. You will be surprised to know that world's largest chapati was made during the Ganpati Sarvajanik Mahotsav in Jamnagar on a metal plate measuring 3 m by 3 m! The team made this delightful and the largest chapati weighing 145 kilograms, under the guidance of Mr. Bharatsinh Parmar.
3. Eaten 25 marshmallows in just a minute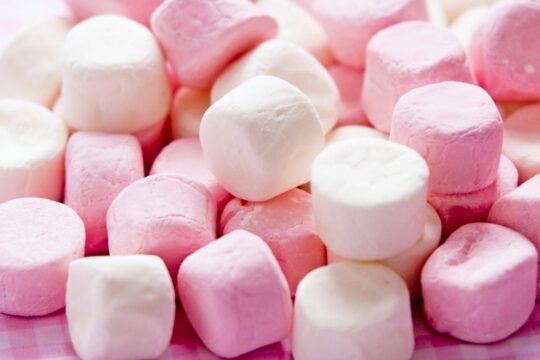 Who would not like the creamy, lofty, and light-as-air sweet delight? This absolute sweet treat can brighten your day up! Let's admit it that they aren't an easy food to eat as they are sticky. Regardless of this Anthony Falzon was able to pull off a record of eating 25 marshmallows in just 60 seconds! Stupefying, ain't it? He held this title in the year 2013 when he was successful in chowing down 25 of these sweet delights on a go!
4. Longest Cooking Hours Record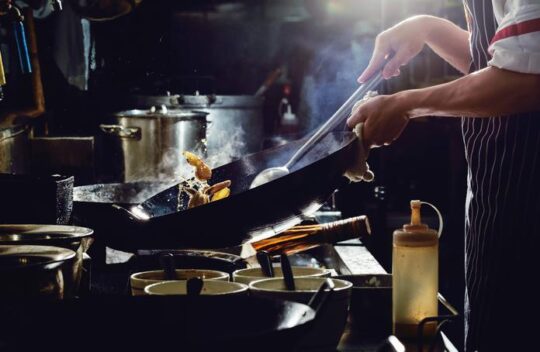 Are you someone who is fond of showcasing the love for culinary delights? Or are you passionate about cooking? If yes, then tell us how many hours of the day can you spend in the kitchen doing your favorite activity? Umm, 3,4, or 5 hours? Now would you believe us if we tell you that a person was able to accomplish the record of cooking non-stop for 53 hours!? Yes, this is true, 53 long hours. Chef Vishnu Manohar of Nagpur was successful in creating this record where he designed a sequence of 20 recipes per hour, each weighing 100gms.
5. Ate almost an entire jar's worth of peanut butter in 1 minute.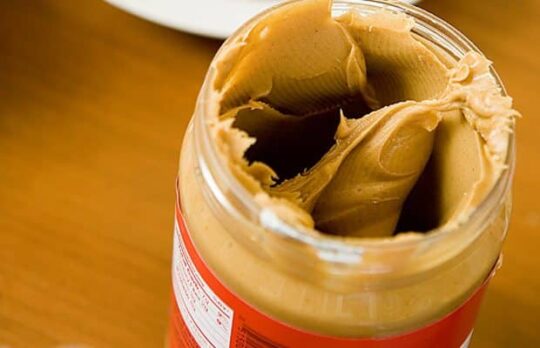 Are you a fitness freak who swears by the thick and gooey peanut butter anytime? You love consuming it due to its rich taste and the nutrients and vitamins present in it. Would you be able to tell us the last time you ate a bottle of this nutritious butter at one go!? Wondering on how does a person attain this? Then you must know this personality who is a
record breaking pro, Andre Ortolf
from Ausburg in Germany. He consumed 1 jar of peanut butter, almost 378 grams in 60 seconds!
Did you find these food related world records interesting? Tell us which got you more hooked to it! We would also like to hear from you if you know any fascinating world records like these.