Aje su bhog dharwana cho bhagwan ne? Umm, ladoo, shrikhand, puri, ane rabdi? Wah-wah, we're already droolinggggg! Ganesh Chaturthi marks the birth of Lord Ganesha! The legend who would always love a tray of sweets by his side. Cause he's a sweet fan just like us! Haha! Hence, let's honor Bappa by offering him some delightful delicacies! We bring to you a listicle of must have foods during the festival of Lord Ganesha.
"Bolo Ganpati Bappa, Moriya! "
May Lord Ganesha fulfill our food wishes and helps us complete all our #foodiegoals too!
Ganesh Chaturthi Foods
1. Churma Ladoo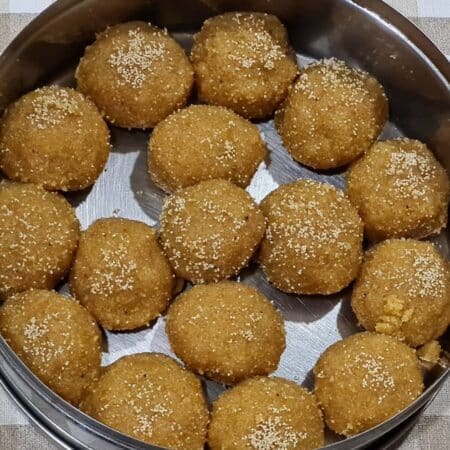 Aree Churma na Ladoo nathi khadha toh su khadhu? Churma na Ladoo or Churma na Ladva is a traditional sweet loved by all. From teenagers to adults to elderly people, they're all fond of this sweet round balls. This authentic mithai is offered to Lord Ganesha during the festivities. It is a Gujarati delicacy made from wheat flour, sugar, desi ghee, and elaichi. A sight of freshly prepared churma ladoos topped with khus-khus is just mouth-watering.
Believe us, you're gonna sleep like a king after relishing two huge ladoos!
Location – Jai Hind Sweets, Vipul Dudhiya Sweets
2. Motichoor Ladoo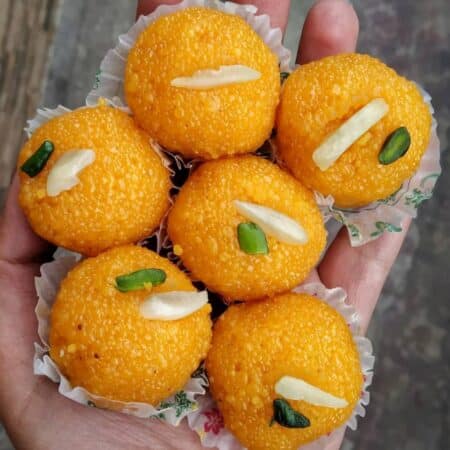 All set to welcome Bappa today? Ahh, but not without his favorite Motichoor ke Ladoos hnuh. Soft and delish motichoor ke ladoos are a perfect combination of sweetness, fragrance, and taste! Trust us, you will not stop even after eating a couple of these melt-in-mouth goodness! You must explore the beauty and taste of these little balls of joy after offering the prasaad to bappa.
Location – Praful Sweets and Namkeen
3. Modak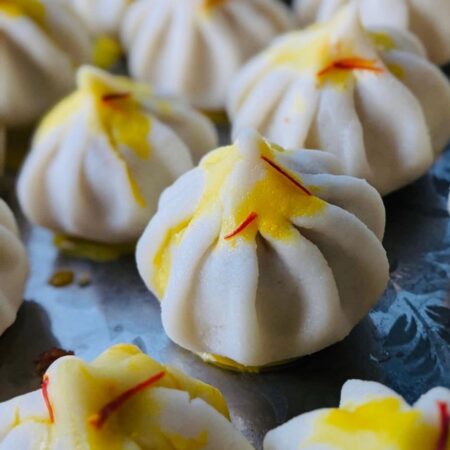 Did you know that Bappa is also known as Modakpriya? It is because he is also fond of sweets just like us! 😛 Modak is a traditional prasad offered to Ganpati. These sweet little dumplings are a pack of flavor, texture, and bliss!
However, there are distinct varieties of flavorful modaks available in the market. i.e Besan Modak, Aata Modak, Mava Modak, Kaju Modak, Kesar Modak, Malai Modak, Chocolate Modak, Coconut Modak, Rava Modak, Chana Dal Modak, Dry Fruit Modak, and many more.
Aren't you surprised by it's varieties? Cause we are absolutely stunned!!!
Location – Saurashtra Chawana & Sweets, Gwalia Sweets
4. Karanji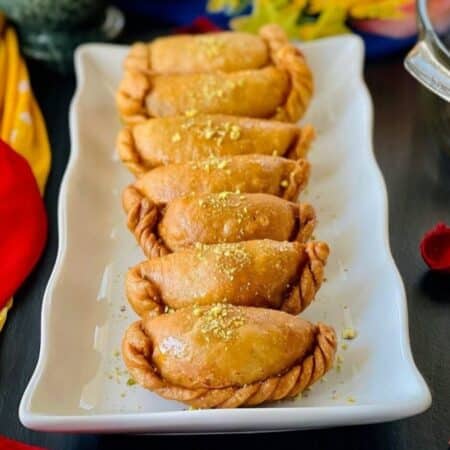 Binging on this festive delight is one of our favorite tasks during Ganesh Chaturthi. Don't you agree with us? 😛
The half-moon shaped Karanji or Gujia is a sweet fried dumplings that are absolutely crispy and delicious. The scrumptious gujias are filled with coconut, dry fruits, and mava. Another amazing sweet treat to treat your taste buds!
Location – Gwalia Sweets
5. Puran Poli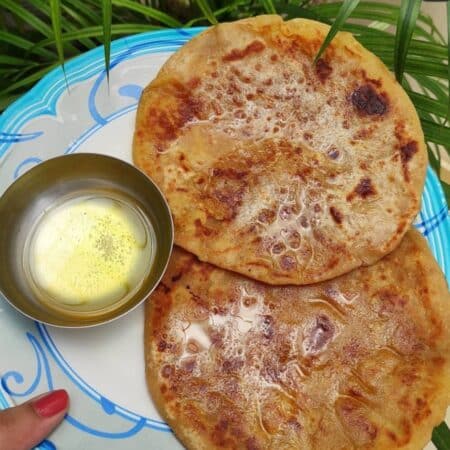 "Abhi Pooran Poli se pet toh bhar gaya lekin maan nahi bhara, hein na? Kyunki dil always maange moreee!" Do you also feel the same after having pooran poli for a meal?
The wholesome and delicious puran poli is a sweet flatbread stuffed with sugar mixture and daal. A generous spread of ghee on garma-garam pooran poli is something you would not want to miss! Try them out now and thank us later!
Location – Madhavrao, Mumbai Food Court
6. Matho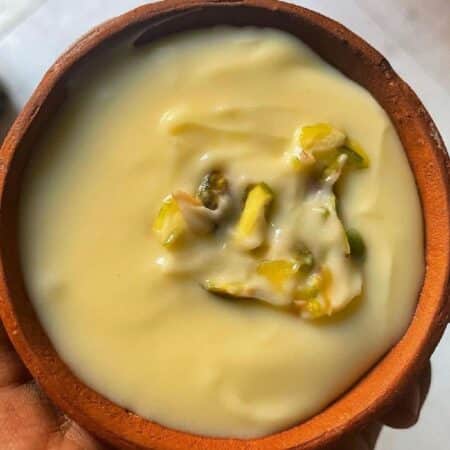 The vibrant and tasteful Matho or Shrikhand with some masala puris tastes absolute heaven! Matho is a wholesome dish to dig in if you are a fan of everything sweet. This creamy sweet dish is a divine medley of taste and texture. Oh, and we assure you that you won't be able to get over that stunning texture and color of shrikhand!
Location – Vipul Dudhiya Sweets, Farki
7. Aluwadi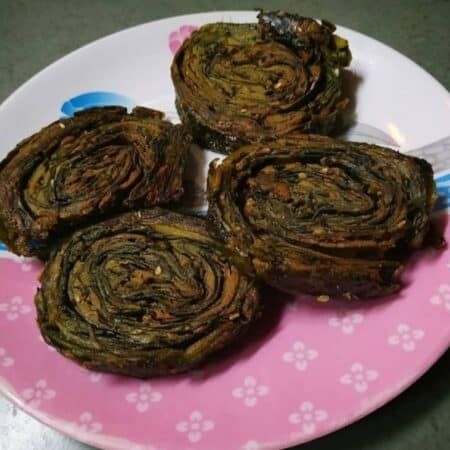 If you also love indulging into savory dishes then look no further and relish some Aluwadi this Ganesh Chaturthi. This gem is one of the Gujju food dish also popular as Patra or Patrodiya. However, the dish is also famous among the Maharashtrians. The steamed aluwadi pan fried in coconut oil tastes wonders. We also wanted to tell you, these small discs with crispy coating goes well with our beloved drink – Chai!
Location – Gathiya Rath – Iscon
8. Basundi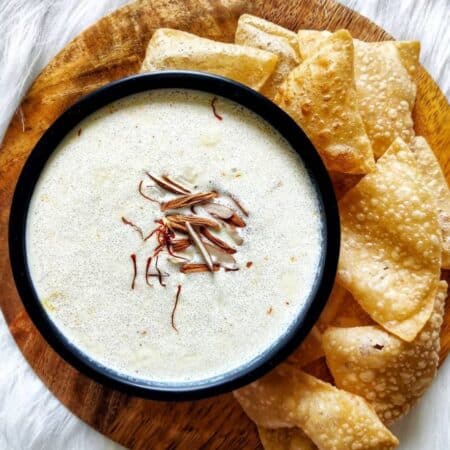 Looking for a dessert dish that is full of milk, dry fruits, and flavors? If yes, then rush to your nearest sweet stores and get some Basundi. This thick textured milk is served to the deity during the festivities. Basundi can be a perfect addition to your festivities. It tastes creamy and indulgent without a doubt! Indulge into the mouth-watering Basundi during the festival of Lord Ganesha and have an amazing time!
Location – Farki
Treat yourself and your loved ones from these must have foods during the festival of Lord Ganesha and have a gala time!
HAPPY CELEBRATIONS! 🙂