Are you craving for some hot-off-the-coals sizzlers? Then this blog is for you. We have a list of the 5 best sizzlers in Ahmedabad. The sizzler is completely satisfying and tummy-filling. As it is a complete meal with appetizers, a main protein like rice, noodles, or pasta, and sides. A 'sizzler' is a serving platter invented for and by the steakhouse industry. The food is served on a sizzling hot metal or stone plate kept on a wooden base. Here's our pick of some best sizzler restaurant in Ahmedabad to satisfy your cravings this week. It's an adventurous experience not to be missed. 
5 Lip-tinglingly Good Sizzlers in Ahmedabad
1. Sizzante – Sizzlers & more
Sizzante Sizzlers is one of the best sizzler place of Ahmedabad. Also, it gives a variety of options to satisfy every cuisine lover. Steaming hot, sizzling food is waiting for you. Each sizzle is a mouth-watering moment and the oomph style of the dish is like an eyeball-grabbing view.
Must try : Sizzante special veg sizzler, Sizzante too hot to handle.
Average cost : ₹2,000 for two.
Location : Shilp Aaron, B/301, Sindhu Bhavan Marg, Bodakdev, Ahmedabad, Gujarat 380054. (Get directions)
2. Yanki Sizzlerr
If you want to taste authentic and mouth-watering sizzler, then head to Yanki's sizzler. A great place for veg sizzlers which offers various varieties according to your taste. So, if you're looking for a go-to place for delectable quality food, Yanki's Sizzler is the perfect choice. Don't hesitate to visit and treat yourself to some of the best sizzlers around!
Must try : Yanki special sizzler, Healthy exotic vegetable platter.
Average cost : ₹1,700 for two.
Location : Commerce College Road, SV Desai Marg, opposite Naranpark Society, H. L, Navrangpura, Ahmedabad, Gujarat 380009. (Get directions)
3. Sazzy Sizzlers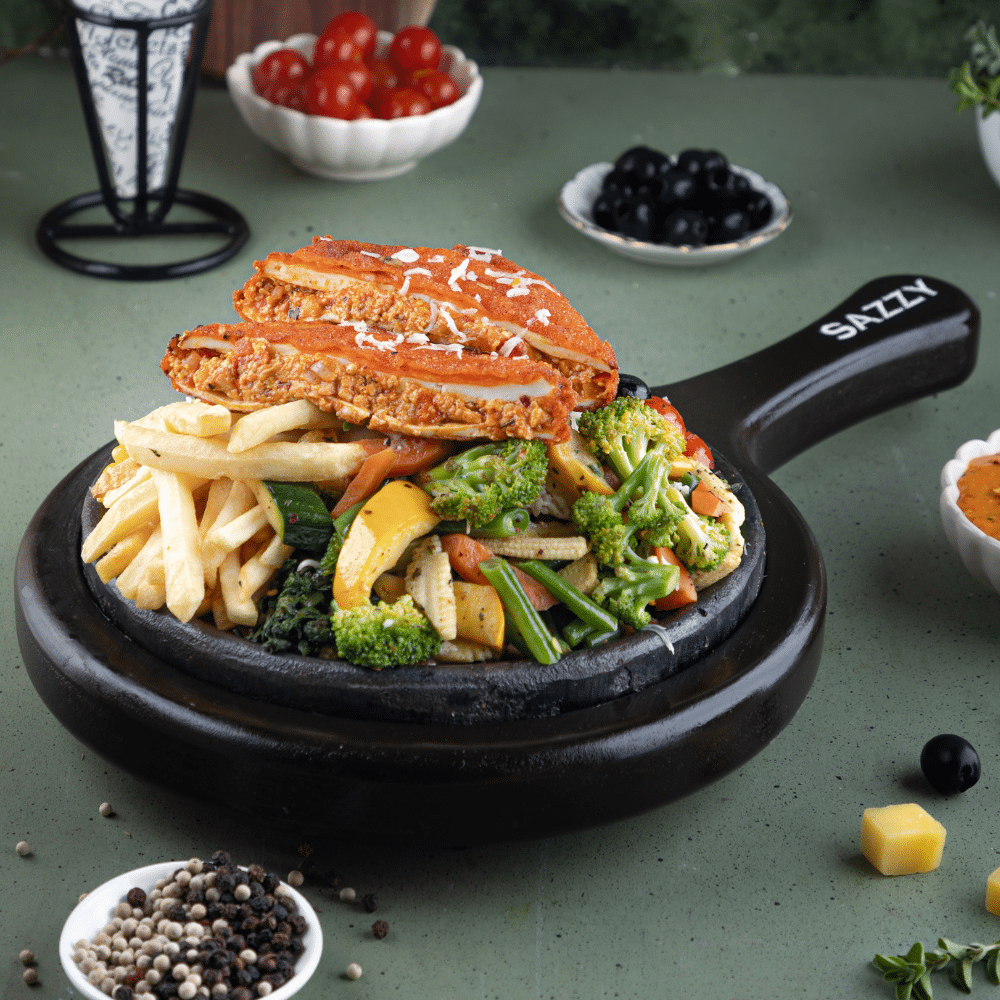 The highly rated Sazzy Sizzlers with its mouth-watering sizzlers has to be one of the best places. As soon as you step inside, you'll be greeted by the divine aroma of sizzlers that fills the room. And with a wide variety of tasty sizzlers on offer, you're sure to find something that satisfies your cravings. What's more, Sazzy Sizzlers offers a great selection of Jain sizzlers, so everyone can enjoy their delicious offerings. Also, At Sazzy Sizzlers, you can even create your own sizzler.
Must try : Paneer hilltop, Sizzling Mexicano.
Average cost : ₹1,200 for two.
Location : Binori Ambit, GF/4, Service Rd, opposite New York Tower A, Bhaikakanagar, Thaltej, Ahmedabad, Gujarat 380059. (Get directions)
4. Ikobo Sizzlers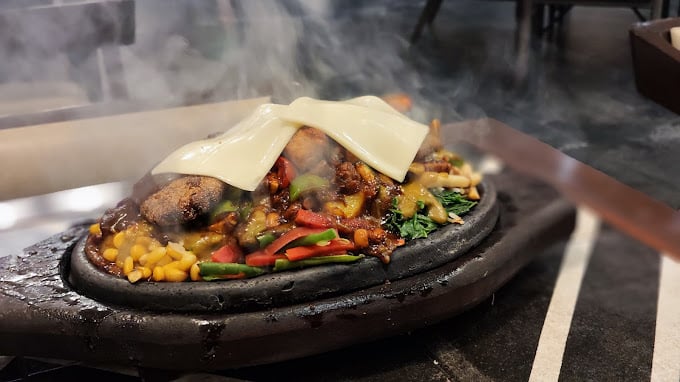 Ikobo Sizzlers is one of the oldest restaurant for sizzler in Ahmedabad and they're still going strong. The soothing ambience, the quality service and quality food are all pleasantly blissful. Their must try sizzlers come in Veg and Jain opions.
Must try : Three style pasta platter cheese, Mushroom garlic chilly hot platter.
Average cost : ₹2,000 for two.
Location : GF 1,2, One world capital, Bh, Rajpath Rangoli Rd, Bodakdev, Ahmedabad, Gujarat 380054. (Get directions)
5. Mocha
The café shows off its unique ambience through its colors and decorative artefacts. Mocha is one of the best sizzler restaurants in Ahmedabad.  Their unique delicious veg sizzlers are the definition of finger-licking good.
Must try : Cottage cheese medallions, Shanghai veg.
Average cost : ₹1,800 for two.
Location : Ground Floor, Devashish Business Park, 6-9, Premchand Nagar Rd, opposite Krishna Complex, Bodakdev, Ahmedabad, Gujarat 380054. (Get directions)
These are some of the best places where you will get delightful sizzlers. You should not miss a chance of going to these wonderful places with your loved ones to have an absolute gastronomical experience! Also, enlighten us about your pick form this list of 5 places serving sizzler in Ahmedabad that you definitely can't miss.