5 Places Serving Sizzler In Ahmedabad That You Can't Miss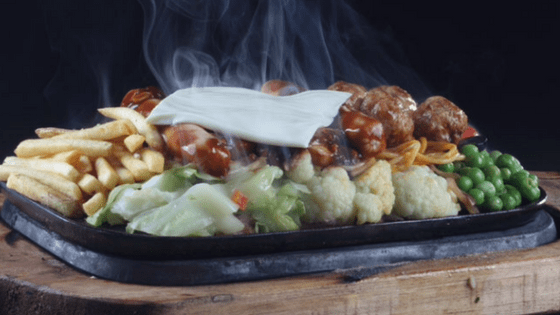 Are you craving for some hot-off-the-coals sizzlers? Then this blog is for you. We have a list of the 5 best sizzlers in Ahmedabad. The sizzler is completely satisfying and tummy-filling. As it is a complete meal with appetizers, a main protein like rice, noodles, or pasta, and sides. A 'sizzler' is a serving platter invented for and by the steakhouse industry. The food is served on a sizzling hot metal or stone plate kept on a wooden base.Here's our pick of some best sizzler restaurant in Ahmedabad to satisfy your cravings this week. It's an adventurous experience not to be missed.
5 Lip-tinglingly Good Sizzlers in Ahmedabad
1. Sizzante, Bodakdev
Sizzante Sizzlers is one of the best sizzlers of Ahmedabad. Plus, it gives a variety of options to satisfy every cuisine lover. Steaming hot, sizzling food is waiting for you. Each sizzle is a mouth-watering moment and the oomph style of the dish was like an eyeball-grabbing view.
2.Yanki Sizzler, Thaltej
If you want to taste authentic and mouth-watering sizzler, then head to Yanki's sizzler. A great place for veg sizzlers which offers various varieties according to your taste.
3. 1944 By Havmor, Bodakdev
If you like to try sizzler with fusion flavors then it's the one you can count on. Havmor serves the best veg sizzlers in Ahmedabad. Chinese sizzler and Punjab di Gali sizzler are the hot favorite ones!
4. Mocha, Bodakdev
The café shows off its unique ambience through its colors and decorative artefacts. Mocha is one of the best sizzler restaurants in Ahmedabad. Try their delicious veg and non veg sizzlers.
5. Varietea, Prahladnagar
If you want to have a peaceful time and enjoy the atmosphere, you will definitely love this place. Varietea is great place for vegetarians looking for unique taste. A must try for the sizzler lover is Indiano Sizzler, served with french fries, vegetables, butter rice and delicious sauce. These are some of the best places where you will get delightful sizzlers. You should not miss a chance of going to these wonderful places with your loved ones to have an absolute gastronomical experience! Also, enlighten us about your pick form this list of 5 places serving sizzler in Ahmedabad that you definitely can't miss.