Eating fruits as snacks in between meals or devouring them when you are starving? Indeed they are the best when the temperature begins to rise during the summer months. There is no doubt that fruits are considered as super foods due to the high water content present in them. Ummm, isn't it hard to focus on them while having other tastiest food options by your side? But what if we tell you that you can also make some scrumptious dishes out of these simple fruits! Amused? Yessss, it would be a good idea to embrace the long summer days with all the glitz and glory of these nourishing fruits. As we've listed some of the interesting DIY dishes with fruits that you can easily make at home. Cause we're sure that you'll agree with us on how fruits are a wonderful choice for smoothies, snacks, or desserts! Assemble these mouth-watering DIY dishes with fruits at your home while the temperature is soaring upwards with these coolest super foods!
Mango Mousse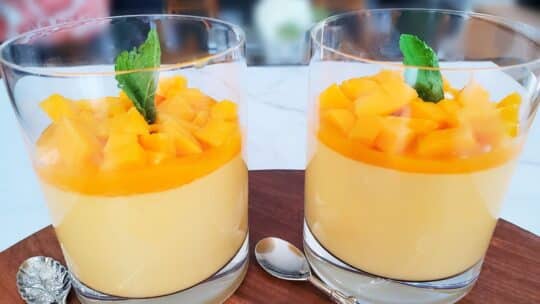 Oh, the king of the fruits that never fails to tempt us! As a matter of fact, mangoes are undoubtedly our favorite part of the summer season! Ain't it? Yes, it's true that you're already eating the satisfying aamraas-puri at home these days but eating mangoes once a day is never enough no. Eating mangoes in different forms would always be captivating and delectable certainly. If you're also a fan of the creamy and delightful desserts then you ought to try out the mango mousse as it does not require any cooking! Make this in a jiffy from scratch with the deliciously fresh mangoes at home and relish it while lazing around in the blazing afternoon.
Fresh Corn And Mango Salad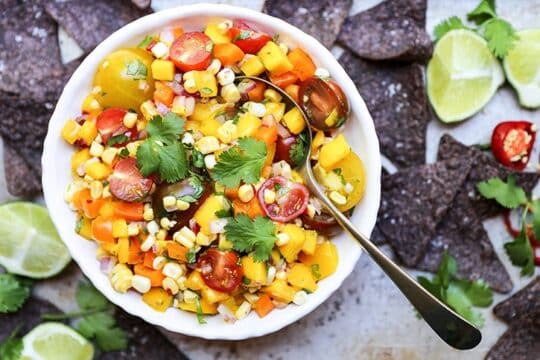 Did you know that mangoes are great for digestion and contains up to 83% water in them? Mangoes in a dessert form is always welcomed but have you heard of relishing mangoes with a tangy and crispy flavor? Heyyyy, all the health freaks out there, we've got an appetizing option for you to relish during the hot summer days. A bowl of fresh corn and mango salad! You're absolutely going to love this refreshing salad with fresh corn, tons of mango pieces, and crispy, fresh vegetables.
Banana Pudding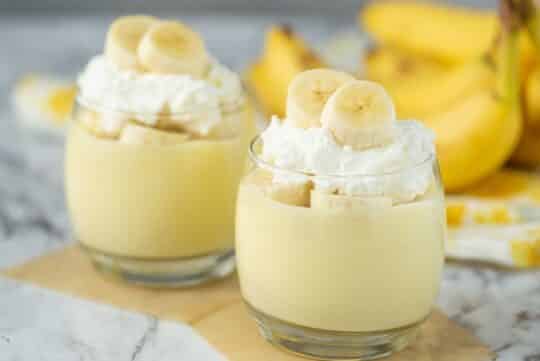 "No matter how much we eat, there's always a room for dessert!" If you're nodding your head in affirmation then we believe that you're an absolute sweet fan! We generally slice the bananas and eat them or peel of the skin and gulp it down the throat. Isn't it that way? But lets not underestimate this delightful fruit though. How about you making the ultra delicious, creamy, and sweet banana pudding at home? Trust us, your mom is going to compliment you after enjoying the appealing pudding. Serve this fancy delight to your family as an after-dinner treat and experience a magical good food moment with them!
Creamy Strawberry Watermelon Smoothie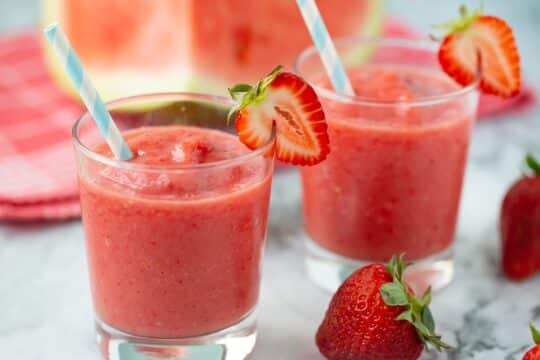 A smoothie a day can never be a bad idea during the scorching heat indeed! If you are someone who loves blending their fruits into the revitalizing smoothie glasses, then this would be an absolute delight to your taste buds. Yesss, we're talking about the creamy strawberry watermelon smoothie containing the bright, summery flavor. Add some yogurt in your blender with these fruits and enjoy the smooth texture of your smooddiieeee!
Fruit Salsa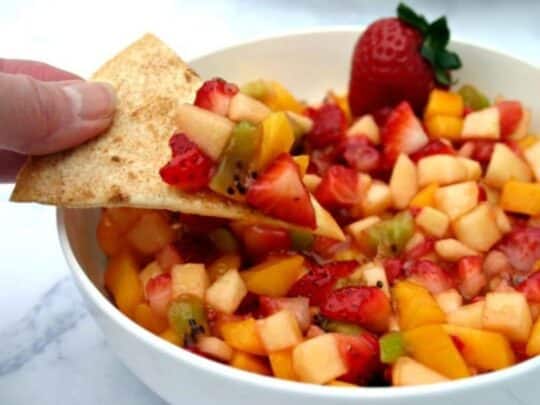 How about salsa for your virtual dinner party tonight? Sounds interesting no? Fruit salsa is made with all the tasteful summer fruits. It's tasty as a dip and is fantastic when served with some nacho chips. Or you can relish the flavorsome fruit salsa with a bowl of your favorite chips while binge watching your favorite television show. It is going to be an absolute star dish as it is easy and a quick recipe where you just have to chop, mix, drizzle, and dip! The fun part is that you can always add any of your desired fruits and enjoyyyyyyy!
Fresh Fruit Salad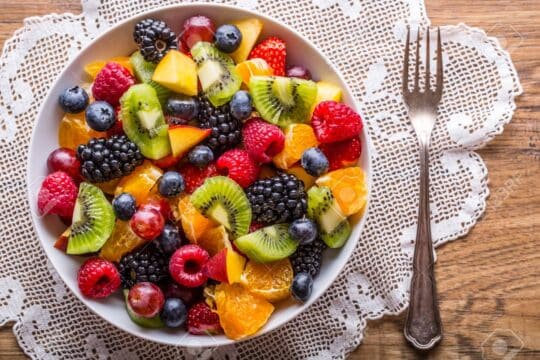 Oh, how can we forget the fresh fruit salad when we're talking about the flavorsome food dishes made with fruits. A flavorful salad dressing can take your fruit salad to a whole new level. Don't believe us? Try it our for yourself and thank us later. You can relish this absolutely vibrant dish as a morning snack or an evening snack as its healthy and nutritious too. What you need here is: tons of fresh fruits, a sharp knife, your desired salad dressing, and a huge bowl to mix these luscious fruits. And voilaaa, you're good to go! Which of these DIY dishes with fruits are you favorite?