"Eat Pasta and Run Fasta"
Hello, wassup, Kem chho foodies in Ahmedabad!
Planning a Saturday dinner or Sunday brunch with buddies and still not decided which place to explore?
Well, here we have shortlisted a few places which serve really the best Pasta in Ahmedabad that'll leave you licking your fingers good!
But not to fret, we also have highlighted the best variety available at the respective location for you to make an easy choice *Ta Da!*
1. Unlocked – Cheesy Arrabbiata Pasta 
If you haven't visited this café already, I'd say you are missing out on something really lavish, both in terms of ambience and delicious food.
The interiors of this place are drool-worthy. From the cushions, and couches to the artistically done walls and roofs it guarantees a quirky and fun experience for its visitors.
If you plan to visit Unlocked anytime soon, I'd recommend you to try their Cheesy Arrabbiata Pasta served with garlic bread.
What I absolutely love about the food here is the presentation, I'd give full marks for it and of course, the taste. *tongue out*
Cost For 2: ₹1000
Location: Navrangpura
2. Turquoise Villa – Cheesy Fettuccini 
Another very cool café of Ahmedabad with both outdoor and indoor seating options provides you with a fine experience. With options to read good books, you can spend quality time with bae reading, chatting and hogging.
The hanging bulbs add to the ambience of this place providing an orange-ish overall lighting. Not to forget, their menu is like a cosmo-newspaper mentioning your relationship status as hungry *wink*. Now that's relatable, right?
One of their best chef dishes is my all-time favourite Cheesy Fettuccini served with a bread loaf. It is hands down the best white sauce pasta in Ahmedabad. How cheesy and delicious it is that even the thought of it sounds *mouth-watering*.
Cost for 2: ₹1200
Location: IIM Road
3. Cafe Baraco – Love Bite Pasta
Café Baraco is also quite popular for its fun interiors and ambience with options of both indoor and outdoor seating. It is literally one of those places that greed you into trying every cuisine of theirs.
As one of the best pasta places in Ahmedabad, the pasta here will teleport you to the streets of Italy. One of the recommended kinds of pasta to try at Café Baraco is Love Bite Pasta.  Scrumptious and cooked absolutely delectable for the taste buds, this place won't disappoint you at all.
Cost For 2: ₹600
Location: Bodakdev
5. Upper Crust – Pasta in Two Sauce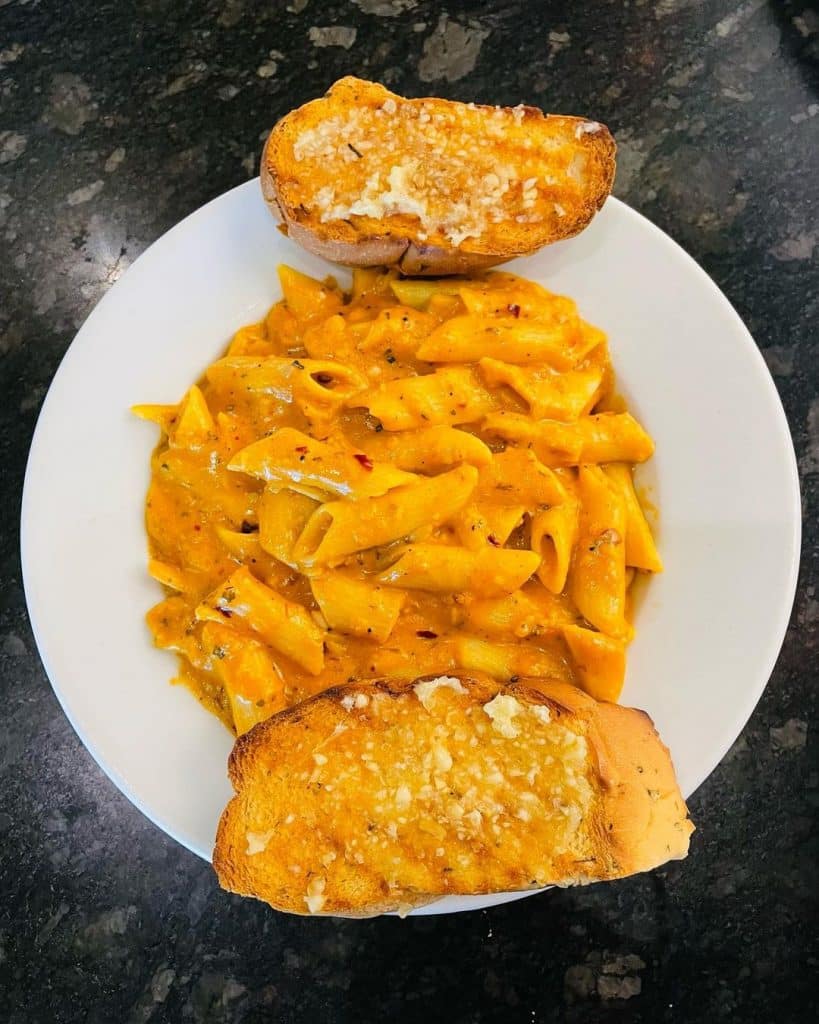 If you are searching for the best non-veg pasta in Ahmedabad, then this cafe is for you.
Serving scrumptious pastas, Cafe Upper Crust is the place to be. With wonderfully creamy sauces, al-dente cooked pasta, and fresh veggies, you are in pasta heaven. 
Indulge yourselves in their variety of pastas – Burmese Spaghetti, Penne Arrabbiata, and ofcourse the Pasta in Two Sauce. Not to forget the best macaroni pasta here! The pasta comes with buttery cheesy garlic breads. *so cheesy, it's uncontrollable*
Cost For 2: ₹700
Location: Navrangpura
6. Sale and Pepe – Smoked Paprika Fettuccine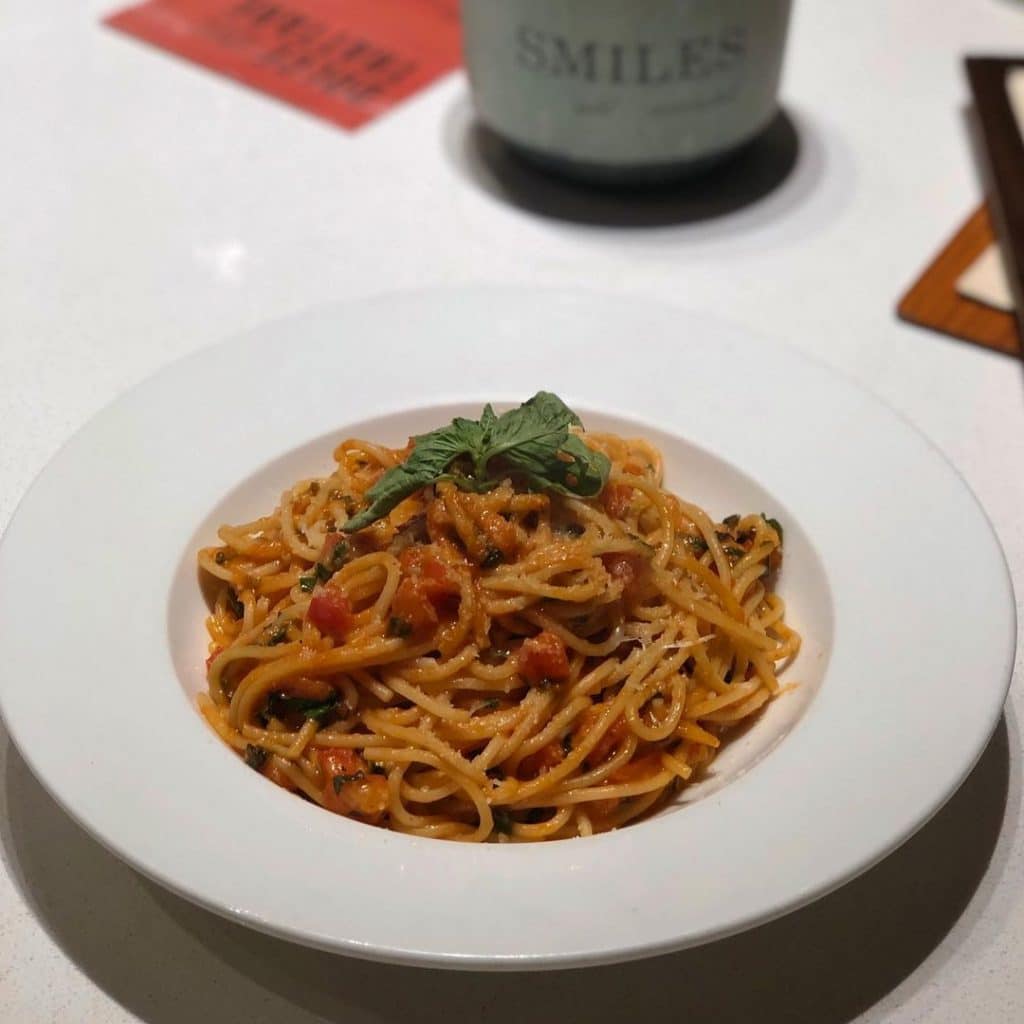 Want traditional Italian pasta in Ahmedabad? Then head on for a tasty meal at Sale and Pepe.
Serving a variety of pastas with traditionally cooked sauces, this place is perfect for pasta lovers.
They serve stuffed Gnocchi, delicious Ravioli, and Spaghetti and more. We loved their Smoked Paprika Fettuccine and Stuffed Tortellini. 
Cost For 2: ₹1200
Location:Theltej
7. Makeba- The Lounge Cafe – Pesto Pasta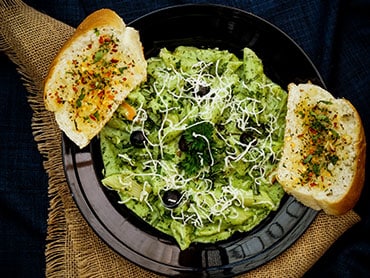 The last one on our list is the very popular rooftop cafe Makeba. The cafe serves both veg and non veg pasta in Ahmedabad. A delicious variety of food and a calming lively ambiance.
If you are into experimenting with new flavours, Makeba is the place for you. It has a great variety of pasta. And all of them are delicious! 
Don't forget to try their picture-perfect Pesto Pasta available with with penne and spaghetti pasta.
Cost For 2: ₹1000
Location: Navrangpura
So we hope we gave you good enough reasons to go hog on this nummy pasta in Ahmedabad. And oh, did we miss out on your favourite location that also serves delicious pasta? Then do let us know in the comments below- Afterall, any food information exchanged is always worth it. LOL! Pasta la vista, baby! *evil laugh*