"Aav re varsaad, dhebariyo parsaad, Ooni ooni rotli ne Kaarela nu shaak." And how about some delectably flavorful bhajiyas or pakoras on a cloudy day? When its rainy season, what's the first thing that comes to your mind? Those waterlogged streets, the smell of mud, chai ki chuski, garma garam pakodas or bhajiyas, slurpy Maggi or even maggie na bhajiya, and the list is never ending, isn't it? But let's agree on a fact that whether it is bhajiyas or pakodas, be it any type, it will surely remind you and make your mouth water when it rains. Now, when we want to enjoy this rainy season to the fullest, here I have some of the most common yet tasty bhajiyas for your rainy evenings. As you know that Monsoon and Bhajiya = Match Made In Heaven!
1. Dalvada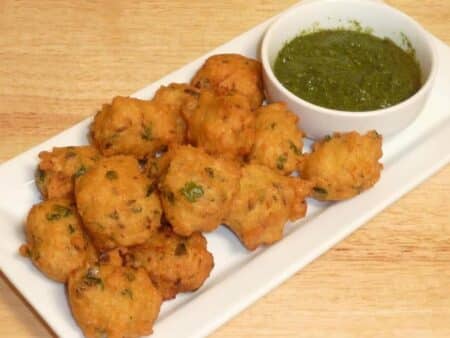 Dalvada kon kon khase? When you're in the office and it's raining outside, and still you manage to make the most of it by ordering Ambika Dalwada with some pickled onions or slices. Tastes best with – Ketchup, Tamarind Chutney, Green Chilies, Hot Spicy Chutney, Garlic Chutney, Khajur Chutney, Besan kadhi.
2. Bataka Bhajiya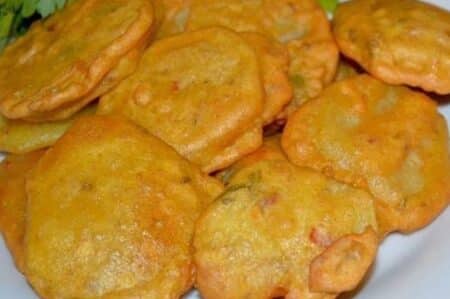 Rainy evenings are absolutely incomplete when you don't have this delicious Bataka Vada deep-fried in oil and served along with green chutney. Tastes best with – Green Chutney, Tamarind Chutney, Garlic Chutney, Red Chili Chutney, Ketchup, Raita.
3. Methi Na Gota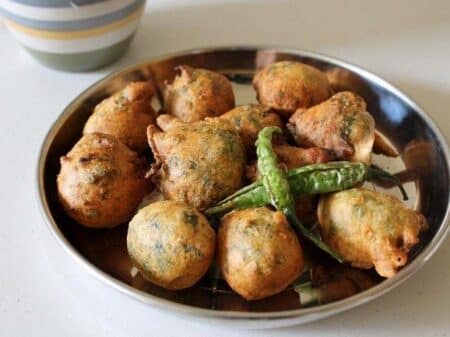 A bite of a soft spongy methi na gota alon with adrakh chai on a rainy evening! What else do you need? This oh-so-soft and melt-in-goodness is an ideal morning or evening snack when it is pouring outside of your window! Tastes best with – Green Chilies, Red Chutney, Tamarind Chutney, Onion Slices, Raita, Besan Kadhi.
4. Kanda Bhajiya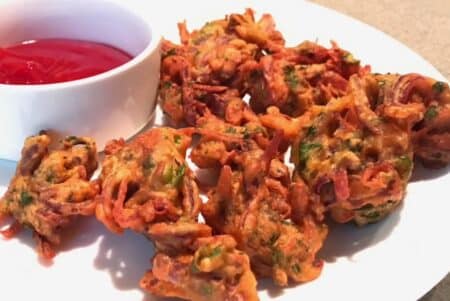 Crispy kanda bhajiya popped out from the hot oil pan served along with tamarind and green chutney is pure bliss for all those who crave for rainy delights. Tastes best with – Ketchup, Tamarind Chutney, Green Chilies, Hot Spicy Chutney, Garlic Chutney, Khajur Chutney, Raita.
5. Bharela Marcha Bhajiya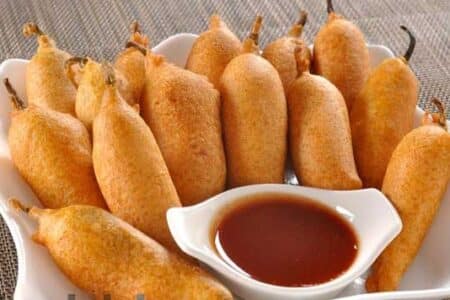 Tujko mirchi lagi toh mai kya karu? 😛 Uff, those big green chilli pakoras are something to binge on when it is raining! Mirchi stuffed with spicy filling dipped in the bhajiya batter and fried in the hot oil, served garma garam! Tastes best with – Tamarind Chutney, Ketchup, Khajur Chutney, Green Chutney, Curd, Chai, Coffee
6. Bread Pakoda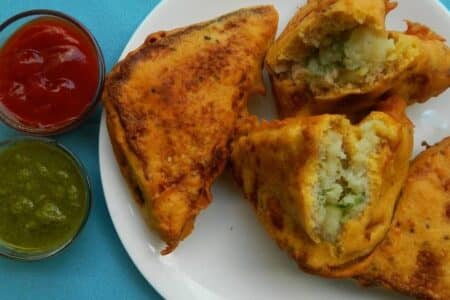 Do you remember the cycle wale bhaiya who used to come with a big dabba of the scrumptious bread pakoras with his special flavorful chutney? Yes, our childhood is filled with many wonderful memories like these! These bhajiya as in bread pakoda are filled with the potato filling is all ready for you to enjoy it with tomato ketchup for the rainy evenings. Tastes best with – Sweet Chutney, Spicy Red Chutney, Green Chutney, Imli Ki Chutney.
7. Spinach Pakora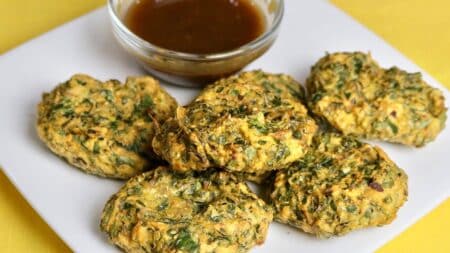 The amazing spinach fritters is a beautiful combination of vibrant color of spinach and the enticing crunch of onions. Paalak pakoras can become your favorite evening snack when it is raining outside. Tastes best with – Ketchup, Tamarind Chutney, Tikha Chutney, Raita, Curd.
8. Banana Pakora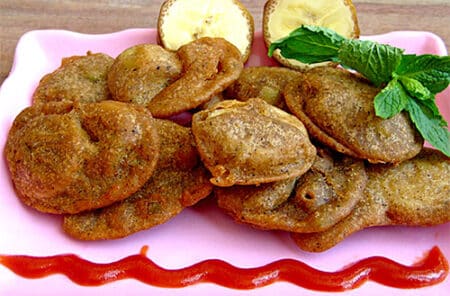 Banana bhajiya, fritters, pakoras, or bhaji is a perfect tea-time accompaniment and most-loved snack since generations. Believe us, you won't be able to resist yourself eating this tasty delight with its fried, crunchy, and sweet banana taste. Tastes best with – Sweet and Sour Sauce, Mint Chutney, Imli Ki Chutney.
9. Cheese Pakora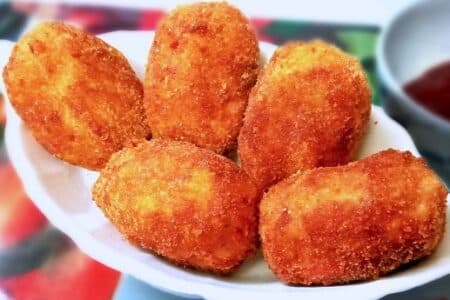 This super quick and mouth-watering cheese pakoras are sure a toothsome delight to indulge into! The crispy tasty outside coating and the gooey melted cheese inside of it is simply inviting. Serve the piping hot cheese pakoras with the following food items that will complement these appetizing bhajiyas. Tastes best with – Ketchup, Sweet and Sour Chili Sauce, Mayonnaise, Mint Mayonnaise, Pizza Sauce, Mint Chutney, Coriander Chutney, Tabasco Sauce.
10. Maggie Bhajiya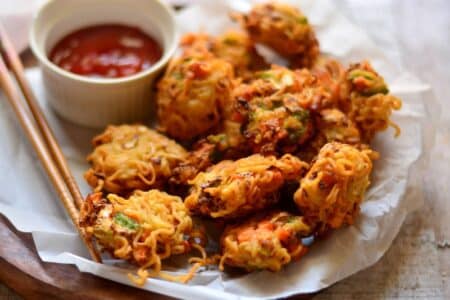 Yes, you heard it right! The absolutely delightful maggie bhajia is a popular street food that is an interesting mix of crunchhy outer coating and the soft maggie. Prepare this dish in jiffy and serve them with a cup of chai or coffee, tomato sauce, tomato chutney, mint chutney, coriander chutney, or any of your favorite side dish. Hurry up and prepare them now for you and your loved ones and thank us later! Aren't you already thrilled to relish these delightful varieties of bhajiyas? We think that you're not going to deny the fact that monsoon and bhajiya are as similar as a beautiful match made in heaven! Isn't it?