We always go bananas over food, right? See, even this phrase consist of a food item. 😛 Of course, food is the highlight of our day where beverages are equally important. Beverages play a vital role in complementing our food dishes. It's interesting how we have beverages that are perfect for every season. Cold for a summer afternoon and Hot for a winter morning! Sounds, perfect no? Tasty beverages do the work when we want something light! While considering all of this, we bring to you a list of some of the best and must-try beverages in Ahmedabad.
Beverages In Ahmedabad
1. Velvet Nutella Thick Shake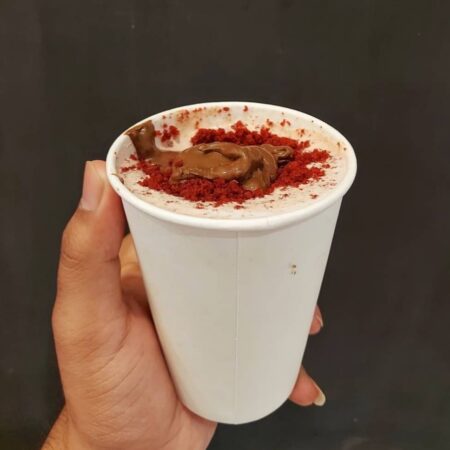 Are you someone who is fond of eating Nutella directly from the bottle. Licking it with your fingers. We are the same then! 😛 Nutella is one of the most loved ingredients that adds flavor to anything chocolaty. You can try out the Velvet Nutella Thick Shake to satisfy your sweet tooth from La Shake Esfera. It is one of the best places in the city for the shake lovers, indeed. Popular for it's tasty beverages, the place also serves mouth watering food. Velvet Nutella shake is surely a dreamy cup of love! The taste and its texture happens to be alluring and delicious. Price – Rs. 153/- Location – La Shake Esfera, Sahibaug Other Beverages To Try – Butterscotch Thick Shake, Kaju Anjeer, Chikoo Shake, Banana Shake
2. Black Currant Shake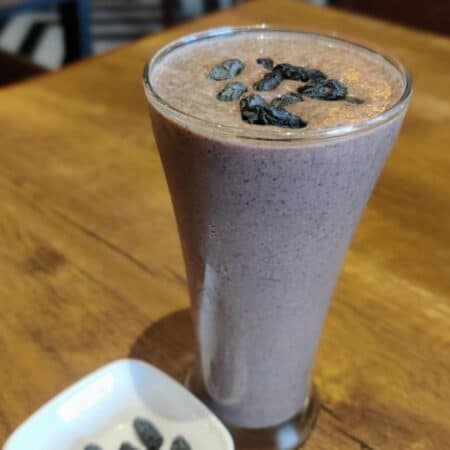 Relish this absolutely tasty Black Currant Shake from Falashin! Allure your taste buds with it's Black Currant Shake cause it's perfectly creamy and refreshing. Falashin is well-known for serving good quality food, ambiance, and it's wide ranging menu. You can spend a lovely time with your friends or family here while enjoying their yummy beverages. Location – Falashin, Surdhara Circle Other Beverages To Try – Passion Mango Smoothie, Maia Juice, Beetroot Carrot, Orange Carrot, Banana Protein Shake
3. Bloody Coffee

The fresh pouring of a cold coffee in your favorite glass is a sight to see, isn't it? Coffee – the popular beverage is something we always look forward to! But have you tried something beyond the regular ones? Now you can, from OCD Culture! It serves stunning beverages. Where Bloody Coffee looks red hot amazing! OCD Culture is hands down one of the best cafes for perfectly brewed coffee. Try out their Bloody coffee which has an excellent flavor combination. This beverage is an absolute caffeine hit for all the coffee addicts! Believe us dear coffee lovers, you're never going back after visiting this wonderful place. It also serves delightful food dishes. Price – Rs. 200/- Location – OCD Culture, Bodakdev Other Beverages To Try – Americano, Coconut Mocha, Vanilla Cold Coffee, French Press, Coffee Redbull
4. Kitkat Thick Shake

Remember those childhood times when we felt like partying when we were given a kit-kat? Those crunchy and finger licking sticks! Nostalgic no? Now you can relish your favorite chocolate in a shake too! Party with this stupefying Kit-Kat Thick Shake from Dreams and Mocktails! This indulgent shake is sure to take your taste palate on a joy ride. Dreams and Mocktails cafe is a rooftop cafe with a beautiful outdoor seating area. The cafe offers great food and services. Where you can spend a lovely evening in the company of your favorite beverage. Price – Rs. 311/- Location – Dreams and Mocktails, Bopal Other Beverages To Try – Peach Ice Tea, Hot Chocolate, Protein Powerhouse Shake, Caramel Popcorn Thick Shake
5. Cold Brew with Tonic Water

Quench your thirst with this Cold Brew plus Tonic Water from Costa Brewed Cafe. Costa brewed cafe is an affordable food place that serves delightful culinary delights and beverages. One of their brilliant beverage is cold brew with tonic water. This fizzy coffee will keep you cool on hot summer days. It comprises of espresso or cold brew, ice, and tonic water. Half soda and half iced coffee, sounds cool no? Price – Rs. 266/- Location – Costa brewed Cafe, Bodakdev Other Beverages To Try – Classic Cold Coffee, Cookie Crumble, Tiramisu Latte, French Vanilla Latte, Affogato
6. Signature Korebi Coffee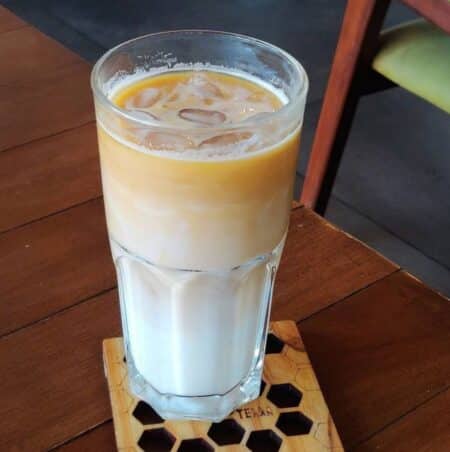 "Coffee, Coffee, aur zyada Coffee is love!" True no? If you are yearning for a decadent coffee right now, then this is for youuuu! Sip this gorgeous Signature Korebi Coffee from Terra cafe. Terra cafe is a multi cuisine food place providing tasteful delights. Popular for the refreshing drinks as serving exotic beverages is what sets them apart! Enrich your experience by trying this oh-so-amazing Korebi coffee here. The bold taste of the coffee along with cubes of ice will set your mood right! Price – Rs. 240/- Location – Terra Cafe, Bodakdev Other Beverages To Try – Original Cold Coffee, Cappuccino, Only Watermelon, Sunshine Yellow
7. Cookie Crumble Coffee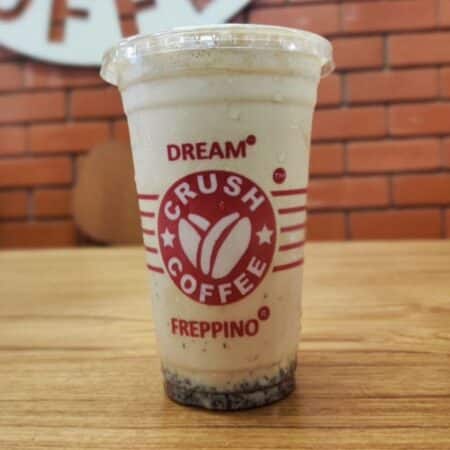 Cold coffee fan? Then have this delightful Cookie Crumble Coffee from Crush Coffee. The cool cookie crumble coffee is full of flavors. It's crunchy, creamy, and delightful. This popularly delicious icy beverage is every coffee lover's dream! If you're already drooling and wanna try this fabulous coffee, you should! Visit Crush Coffee cafe and order this cool coffee and thank us later. Price – Rs. 230/- Location – Crush Coffee, Satellite Other Beverages To Try – Coffee Freppino, Kitkat Shake, Kutch Truffle Shake
8. Chai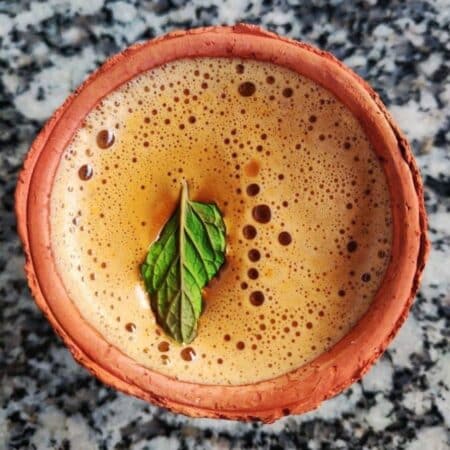 CHAI = PYAAR! Lots of emotions and memories are attached with our beloved beverage. The lovely gupshup with our loved ones along with a cup of chai is something we alwayssss look forward to! Enjoy a cup of kadak chai from Tea Khana Cafe while reading an enticing book. Price – Rs. 30/- Location – Tea Khana Cafe, Adalaj Other Beverages To Try – Oreo Milk Shake, Limbu Soda, Kesar Tea, Special Chocolate Tea, Desi lavo/Kahwa, Honey Tea
9. Butterfly Pea Iced Tea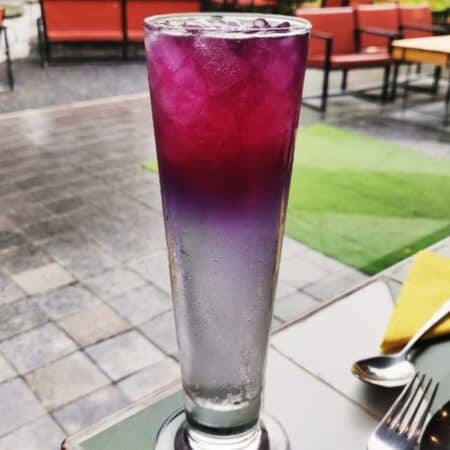 Butterfly Pea Iced Tea! The name itself seems exciting. It is a caffeine free drink made from dried butterfly pea flowers boiled in water. You can find this herbal tea at Muse – The Bistro in the city. However, it's a fun drink because of its absolutely alluring colors and taste. A tinge of deep blue and pinkish purple! Aesthetically pleasing no? Take Instagram worthy pictures of this pretty tea and post it with a cute caption. Muse is known to serve varieties of culinary delights such as pasta, pizza, quesadillas, focaccia bread, and many more items. Price – Rs. 220/- Location – Muse – the Bistro, Bodakdev Other Beverages To Try – Chocolate Cappuccino, Dark Cold Coffee, Brown Sugar Caramel, Cafe Latte, Black Coffee, Hazelnut Cappuccino Enlighten us about your favorite drinks from this list of must-try beverages in Ahmedabad. We would also like to know which out of these beverages in Ahmedabad becomes your go-to drink!