The one thing that binds us all together is our immense love for food and well when it comes to our traditional meal, nothing beats the happiness and joy of being served the delicacies from one's own state and origin. Hello, wassup and Kem Cho amdavadis? Recently, Hungrito organized a tasting session inviting a few food bloggers from the town to Swaad Sadan.. We wold like to share what all we did with you all!
Talking About The Ambiance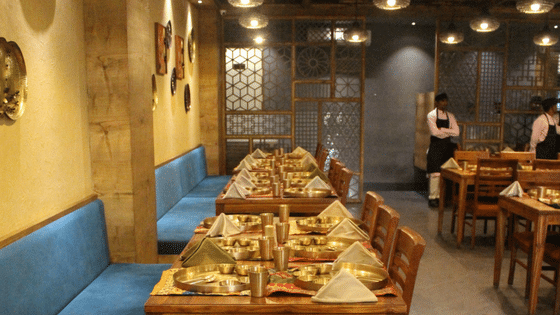 Recently, Hungrito organized a tasting session inviting us, a few food bloggers from the town and introduced this newly opened Gujarati dining place, Swaad Sadan, Ahmedabad. It was a lunch get together and we were warmly welcomed by their team and got seated. The Brass thalis already laid on the wooden tables give you the ethnic vibes instantly. The ambiance is quite decent in terms of interiors which are aptly done with a yet traditional – modern feel. The wall decor has an elegant and a classic touch to it. Moving forward with the meet, one of the team members of Hungrito introduced their idea of coming up with this concept, forming a community where all food lovers can get notified about the latest food discoveries from the town and how they have evolved over these years. As we exchanged a few talks and got more comfortable, we shared our own food blogging journey as to how we began and what challenges do we face as food bloggers. It was then only after a few moments that the staff started serving us the items one by one.
Heading Towards The Food Section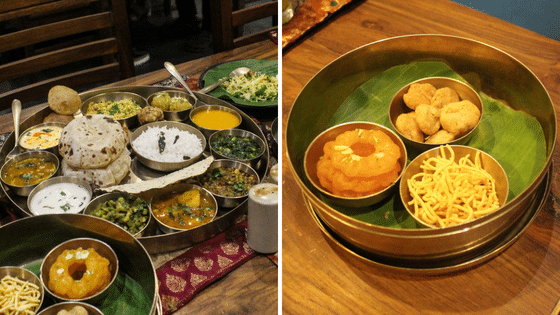 We were first served the very refreshing Nimbu Pudina Drink. It was indeed very tasty, minty and began the tasting session on a right note. Just like any Gujarati thali place, here also began the first round of quick service by their staff serving luscious delights and specialties of Gujarat. The staff was quick and served everything with utmost care and love. The aamras – seasonal drink of thick texture was well prepared and so was the masala buttermilk which though could've been a bit thicker in terms of consistency but the smoky flavor added the punch and made it more palatable. Moving on to the snacks, we were served- Sev khamni, sabudana vada and, basket chaat. I totally enjoyed them to the fullest so I also went for a round two for each snack item as they really were too well made. Coming to the main course, there were 4 kinds of sabji from which aloo matar and corn palak were my personal favorite. The Dal and Kadhi were aptly made the Gujju way, hence sweeter in taste. What I really enjoyed were the extremely small and crisp puris more than the regular chapati. Rice was served hot in the thali on a banana leaf, certainly giving more authentic and traditional base to the dining experience. Other additional items included the Papad, sev, three types of chutney, pickle, also not to forget, Sukhdi as a sweet item.
Fun Time During The Meet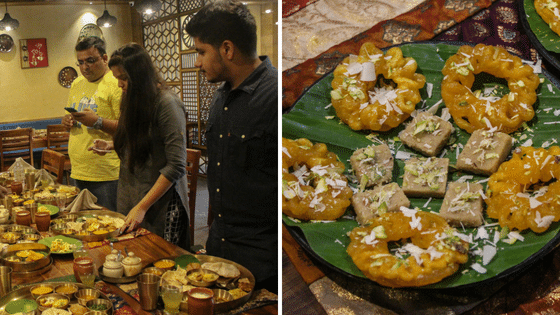 Did I forget to mention the two games Hungrito organized for us? Basically, we were divided into two teams at Swaad Sadan- A and B. The first contest was the best thali photography contest and Hungrito had kept a poll on Instagram asking their followers to vote for the best clicked Gujarati thali. The second game was held at the end which was – who finishes the plate full of imartis and Sukhdi first. The steaming hot Imartis was too pleasant. Do I need to mention the state after eating that whole scrumptious Gujarati meal? Well, finally you need after eating that much amount of food is a good two hours of sleep. We concluded the meet with a nice goodie item from team Swaad Sadan that consisted my most favorite sweet- Motichur ke laddoo and indeed it was a very delightful visit to a new Gujarati restaurant after a long time.
Verdict
If you are expecting anything extraordinary or too outstanding, you may be tad disappointed but having said that it is definitely a must visit if you are looking for some new place to try Gujarati thali. The price of a thali is Rs. 357/- (plus taxes) giving you a decent VFM for sure. So foodies, hope you found this post delectable enough to tantalize your taste buds and give you hunger pangs right away. Do share with us your experience in the comments section below and keep eating without guilt! Mini Choudhary is a big time foodie and a fashion blogger. Follow here for more discoveries: @munchtoomunch To know more about this awesome city and the life of Hungrito in the city follow us on Facebook, Instagram.