Rise and shine buddy, it's pancake timeeee! Pancakes are love, isn't it? Whether You're looking for tasty breakfast meals or lazy evening snacks we've got you all covered with all the inventive snack ideas. Also, if you're a proud kitchen owner who is fond of experimenting in the kitchen then you'll love these creative pancake ideas. These culinary delights are scrumptious and has a decadent flavor. Put together these delicious spins for a fun breakfast or an evening snack. Believe us, these beauties are sinfully delicious and once you make them there's no going back!Make your Instagram feed even more delightful and creative with all these amazing looking treats! You're surely gonna fall in love with your feed even more after adding these tempting delights to it.
1. Cinnamon Chocolate Pancakes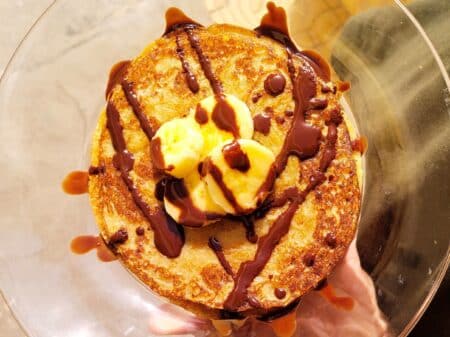 Sweeten up your mornings with some enticing cinnamon chocolate pancakes. Well, we love anything that has chocolate in it, right? You can garnish the pancakes with your favorite fresh fruit and dig right in after drizzling the oh-so-delightful chocolate sauce on top of it.Tastes fantastic with – Banana Slices, Fresh Berries, Maple Syrup, Chocolate Chips.
2. Carrot Coconut Pancakes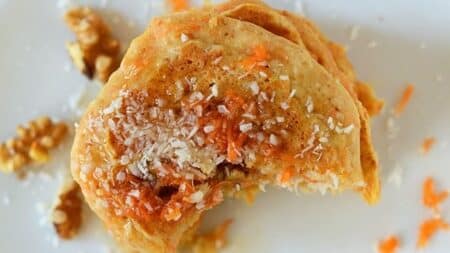 If you are someone who is fond of the juicy carrots and coconuts then you must try making these distinctive pancakes. The flavor and color of carrot and coconut are equally pleasing and sweet. Carrot and coconut pancakes are light, fluffy, and extremely fulfilling.Tastes fantastic with – Hot Maple Syrup, Thin Coconut Slices, Sweetened Shredded Carrot, Walnuts, Almond Slices.
3. Rainbow Pancakes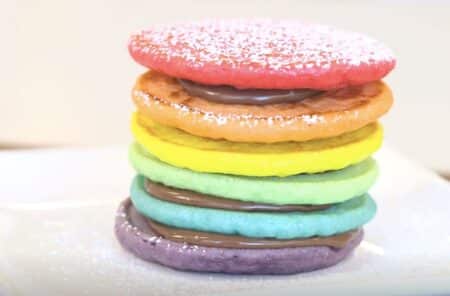 Looking for something fun with your food during your snack time? If yess, then we've found a perfect version of the delectable pancakes for you. Prepare these wonderful pancake sin all different colors and stack them up. Trust us, your snack time will be more fun with these beauties.Tastes fantastic with – Chocolate Sauce, Chocolate Syrup, Maple Syrup, Mixed Berries, Banana Slices, Strawberry Syrup, Blueberry Syrup.
4. Peanut Butter Pancakes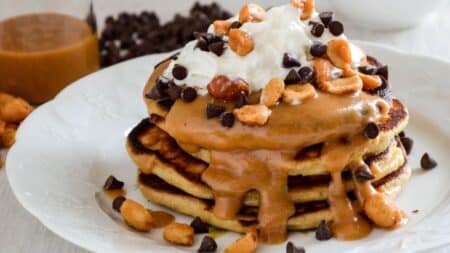 Dear health freaks, where you at? We're here with an interesting breakfast option for you. The appetizing and healthy peanut butter pancakes! These fluffy pancakes are literally the game changer when you're looking for something sweet and tempting yet healthful. You can make your delight with crunchy or gooey peanut butter, however you prefer!Tastes fantastic with – Crunchy Peanut Butter Drizzle, Warm Maple Syrup, Chocolate Chips, Fresh Cream, Warm Strawberry Syrup, Walnuts, Banana Slices, Vanilla Ice-cream.
5. Burger Pancakes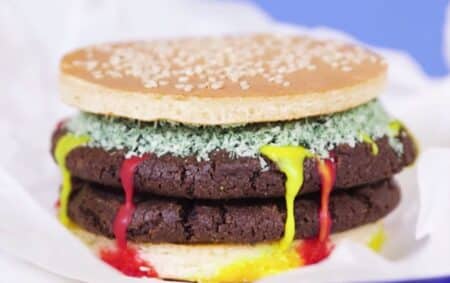 Ever heard of pancakes that looks like burger? If not, then you can make one at home too! Assemble these beautiful treats while turning them into burger. This absolute sweet treat is a tasty creation that your loved ones will surely go gaga over it. An ideal treat for any celebration at home. Put together some double chocolate chip cookies with some tasteful sauces sandwiched between two regular pancakes that looks like bun! Voilaaa, you can dive right into your burger pancake!Tastes fantastic with – Whipped Cream, Honey, Fresh Fruits, Honey, Chocolate Syrup, Blueberry Syrup, Nuts, Chocolate Chips, Peanut Butter, Raspberry Jam.
6. Red-Velvet Pancakes With Cheese Sauce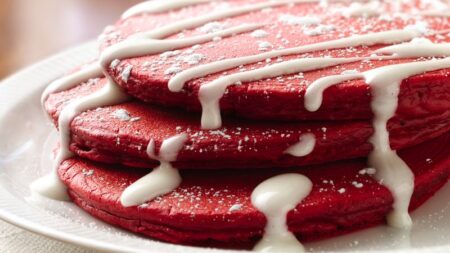 If you are someone who goes wild for the red-velvet flavor along with a combination of some cheesy gooey sauce then we've got a perfect dish for you! Relish the luscious and fluffy red-velvet pancakes with cheese sauce on it and thank us later for all the creative pancake ideas for a joyful meal!Tastes fantastic with – Warm Maple Syrup, Chocolate Chips, Whipped Cream, Warm Strawberry Syrup, Banana Slices, Vanilla Ice-cream.
7. Oreo Pancakes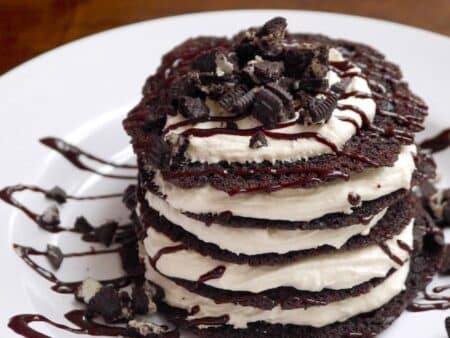 If you go wild about the oh-so-delicious Oreo cookies then we're sure that you'll love love love to relish a stack of Oreo pancakes! These mouth-watering delights are very easy to make that is ideal for a weekend brunch, house party, family get together, or an evening snack. You can also serve these awesomeness as desserts after a meal!Tastes fantastic with – Crushed Oreo cookies, Honey, Whipped Cream, White Chocolate Sauce, Chocolate Chips, Maple Syrup, Vanilla Ice-cream.
8. Easter Bunny Pancakes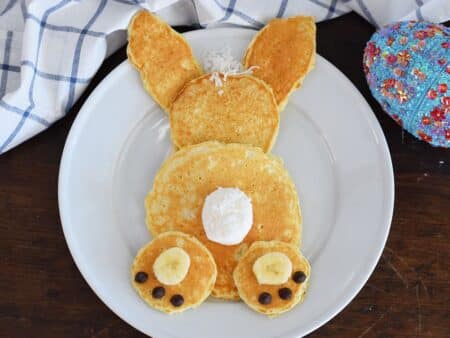 Kids will definitely fall in love with these cute Easter bunny pancakes. You can easily make different sizes of circular pancakes and put them together in an adorable shape of a bunny! These bunny shaped pancakes are sure to indulge your inner child.Tastes fantastic with – Banana Slices, Hot Chocolate Sauce, Strawberry Syrup, Blueberry Syrup, Fresh Berries, Raspberry Syrup.
9. Sweet Potato Pancakes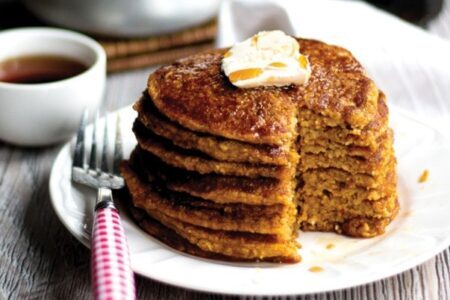 There is nothing better than starting your day with a stack of fluffy pancakes! Won't you agree with us on this? You'll be thrilled to try these scrumptious and fluffy sweet potato pancakes due to its unique taste. Spend your cozy mornings with a mug of piping hot coffee and some gooey warm sweet potato pancakes!Tastes fantastic with – Butter, Whipped Cream, Chocolate Sauce, Chocolate Chips, maple Syrup, Honey.
10. Banana Pancakes With Strawberry Sauce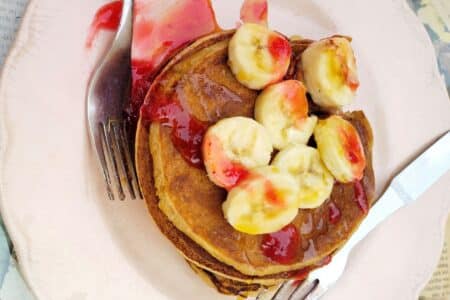 Banana pancake is a classic food dish mostly preferred by all the pancake lovers. This dish is one of the easiest to make that is slightly tender, softer on the inside, and crispier on the outside. Enjoy these appetizing stack of pancakes after drizzling a generous amount of strawberry sauce on top of it.Tastes fantastic with – Banana Slices, Chocolate Sauce, Honey, Maple Syrup, Almond Slices, Fresh Berries.Make these mouth-watering delights from this list of creative pancake ideas and tell us which is your favorite from it. Let the pancakes do the talking all the while when your taste buds go on a divine journey!