Are you a foodie who loves books just as much ? Do you also like places where you can eat and read, too? Spending your leisure time with your two favourite activities combined in one!
What a packaged deal though, right? Where you can read while relishing delicious food items or you can simply relax with a cup of tea/coffee while reading your favorite author's books.
We have curated a list of the 5 best cafes for book lovers in Ahmedabad for you. You will absolutely love being here. A book lover's paradise, indeed !
1. The Project Café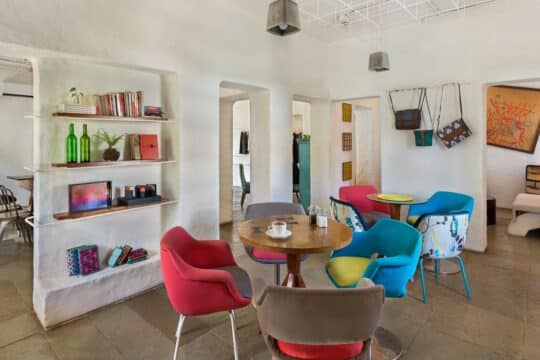 The Project Café is in Ambavadi. The café specializes in Italian and Continental cuisine. It is popular for its art where you can spend quality time by reading, writing, or simply appreciate its unique ambiance and art.
You can simply come here to finish your project or complete that remaining art of yours! The café is also known for organizing creative events regularly. A cozy and beautiful place that provides a wide range of coffee options and some yummiest desserts.
Must try : Cheese Spinach Balls, Blueberry Cheesecake, Vegetable Lasagna, Mexican Rice, Cheese Nachos.
Cost for two : ₹950.
Location : Yellow House, 7, Dr Vikram Sarabhai Marg, Ambawadi, Ahmedabad. (Get direction)
2. Café Soul Square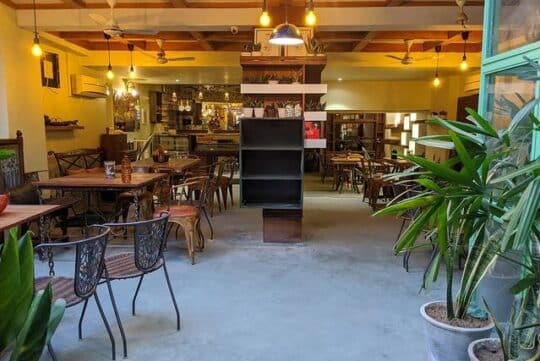 Café Soul Square is in Bodakdev. The eatery serves Italian and North Indian cuisines along with fast food and beverages. The motto of the café "Read well and eat healthily" would inspire you to visit this place.
The café has a well-stocked library with some amazing books starting from fiction, photography, lifestyle, and children's books. It is also known to celebrate a healthy lifestyle with a passion for reading.
You can indulge in your desired delicacies while sitting in a corner reading your favorite book without getting disturbed. As the café is popular for its comfortable and cozy seating.
Must try : Hot Chocolate, Potato Wedges, Nutella Cold Coffee, Cappuccino, Mexican Platter.
Cost for two : ₹1,000.
Location : Rajpath Bunglows Road, Bodakdev, Ahmedabad. (Get directions)
3. Vibes The Cafe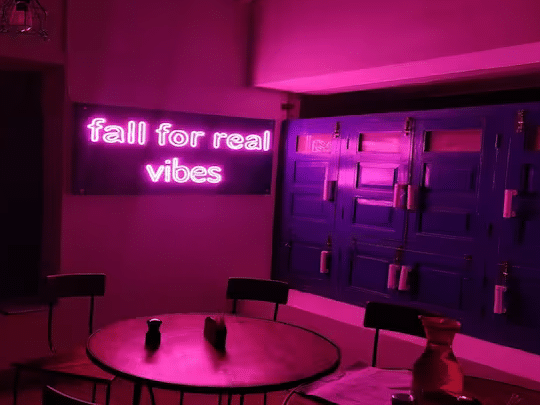 If you are a fan of funky lighting, cozy vibes, and lots of different seating options, check out Vibes Cafe. Nestled on C G Road, this cafe is the perfect cafe for getting lost in the world of your book. The cafe has multiple rooms with different lighting and decor that give each room a unique vibe.
You can nestle with a book in nooks and corners or play games and hangout with your friends at a single place. Plus, the food is drop-dead beautiful and delicious. Head on here for a wonderful time and some great food.
P.S. Vibes the cafe has a few books in-house for you to enjoy too!
Must try : Burrito Supreme, Mexican Hotpot.
Cost for two : ₹700.
Location : Umashankar Joshi Marg, Sardar Patel Nagar, Ellisbridge, Ahmedabad. (Get direction)
4. Prithvi Art Celebration Cafe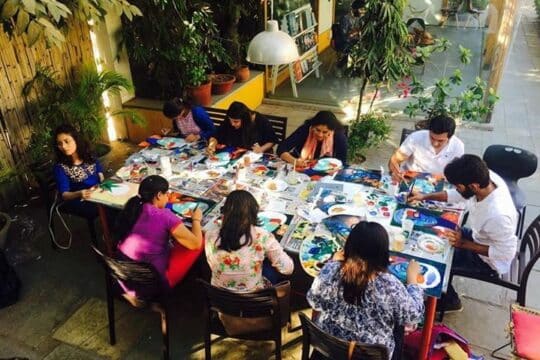 Prithvi Café lies in Ambavadi. The cafe is a lively café bursting with energy with an impressive collection of books showcased there.
It is an open café with lush greenery having a peaceful and welcoming ambiance. If you are an avid reader or an occasional reader, you can absolutely walk optimistically in the café as its collection has something for all.
Prithvi Cafe also provides wonderful reading spaces and some delicious food items which you can savor while reading your favored book in solitude.
Must try : Falafel, Hummus, Brown Blast Thick Shake, Cheese Paprika Fondue.
Cost for two : ₹600.
Location : Shri Sahajanand Arts & Commerce College, Plot – b, Chandragupta society,b/h, Ambawadi, Ahmedabad. (Get direction)
5. Turquoise Villa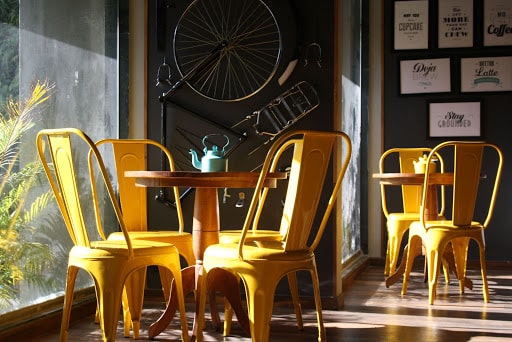 Turquoise Villa is in Vastrapur. The place serves North Indian and Italian cuisine along with some delightful desserts and beverages. It is popular for its nice décor and peaceful ambiance.
It also gives you a positive vibe and offers the right environment where you can eat your comfort food with a good book. You can always carry your current read to the café to enjoy its soothing atmosphere.
Must try : Cheese Fondue, Pesto Pasta, Mojito, Spaghetti Bolognese, Chocolate Fondue, Bruschetta, Nachos.
Cost for two : ₹1400.
Location : University Area, Ahmedabad, Gujarat (Get direction)
6. Project Otenga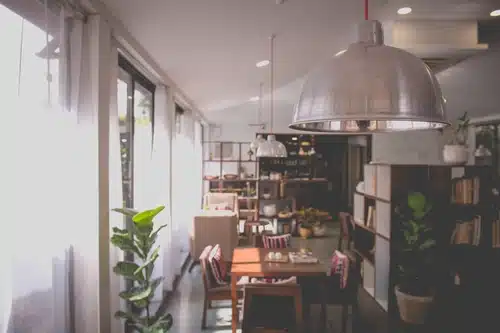 Project Otenga is in Navrangpura. They feature unique North-east Indian flavours in Ahmedabad which truly makes them a must try for all the foodies. Project Otenga as a community rather than a café.
They shine through as a community holding all kinds of events and functions be it personal or public. They have workshops as well. With their mindful design, they make for an immaculate choice for cafe for book lovers in Ahmedabad.
Must try : Assamese Style Veg Mini Meal, Mouthful Whisper, Vap Diya Narikol Pitha, Xando.
Cost for two : ₹600.
Location : Commerce Six Road, Navrangpura, Ahmedabad. (Get directions)
7. Wagh Bakri Tea Lounge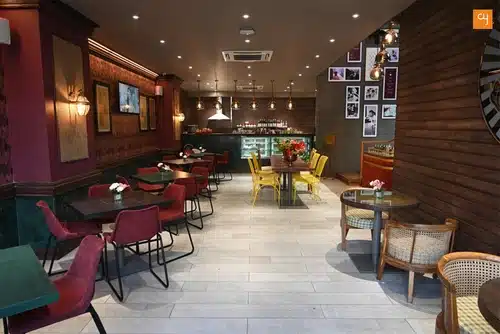 Located in Ellisbridge, the Wagh Bakri Tea Lounge is an exquisite place designed for both a fun time with friends and for work or meetings. Their impressive range of national and international blends make them a must try for all the tea lovers as well.
Their delicious tea make for the perfect company for all the book lovers. They have a fascinating collection of books and games and a soothing design that cuts the thread of worries of the outside world.
Must try : Lemon Grass Tea, Darjeeling Kesar Tea, Sulemani Chai, Saffron Tea.
Cost for two : ₹950.
Location : Gujarat College Road, Ellisbridge, Ahmedabad. (Get directions)
8. Karma Cafe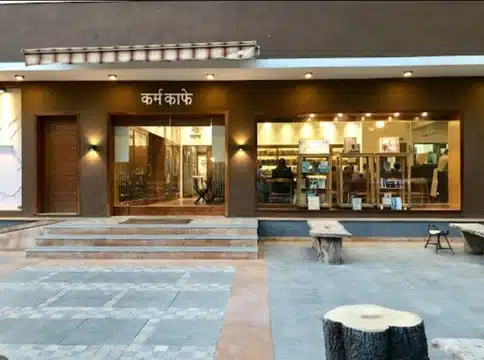 One can't miss Karma Cafe, when the conversation is about the best cafes for book lovers in Ahmedabad. It is located inside the Navjivan press which was started by Gandhiji during his freedom fight. They have the typewriter, printing machine and memorable pictures from that era on display.
The cafe carrying Gandhian ideology makes for a great place for history lovers since they own some truly wonderful books from the time of freedom fights. Their fame for providing a peaceful ambience doesn't fall short IRL. Moreover, they serve some of the most delicious food at a very reasonable price.
Must try : Gandhi Thali, Masala Tea, Bhakhri Pizza, Biscuit Topping.
Cost for two : ₹250.
Location : Navjivan Trust, Gujarat Vidyapith, Navrangpura, Ahmedabad. (Get directions)
9. Aclove – The Book Cafe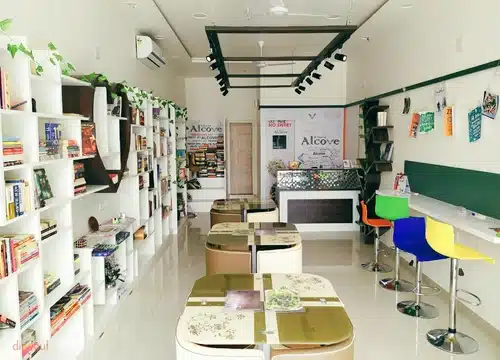 Aclove is a cozy cafe in Bopal, designed for book lovers. The stationary and cafe mixes work and fun just right. The unique and fresh idea does its job impressively enough.
Their range of books which can be seen from afar or in photos is more than ample. They have luscious loaded fries and blissful beverages to go along with their wide range of books making it one of the best cafes for book lovers in Ahmedabad.
Must try : Barbeque Fries, Tandoori Fries, Schezwan Fries, Hot Lemon Tea.
Cost for two : ₹400.
Location : South Bopal, Bopal, Ahmedabad. (Get directions)
These are our handpicked cafes for book lovers in Ahmedabad. We're thrilled to know your favorite café from the list of the 9 best cafes for booklovers in Ahmedabad. Think we missed any wonderful cafe? Do let us know.