"Beta, ye apple khao jaldi se, it's good for health. Aaj tiffin me konsa fruit pack karu? Aur ye ek banana bhi kha ke jana aaj." Sounds similar, right? Oh, come on, we've heard this at least once in our lifetime by our mom. Because she wants that we should always incorporate these healthy and tasty fruits in our diet. Fruits offer nutrition, essential vitamins, minerals, and antioxidants. An appetizing bowl of deliciousness, vibrant colors, and mouth-watering flavors that is equally healthy is all we need for a hearty meal. We assure you that you'll be obsessed by this list of fun fruit salads that you can make at home after tasting them! 😀
Fun Fruit Salads
1. Pomegranate and Kiwi Salad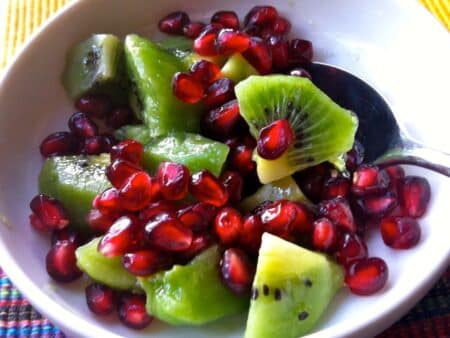 Who would not like to indulge into a bowl of delightful salad that is bright and colorful? Pomegranate and kiwi salad can surely become a side dish that would enhance your main meals! The beautiful, flavorful, and crunchy pomegranate seeds added to the kiwi slices along with a spoon or two of sweet tart honey lime dressing tastes amazinggg! You can serve this fine salad along with a bowl of warm soup, or nacho chips for that extra crunch.
2. Fruit Cube Salad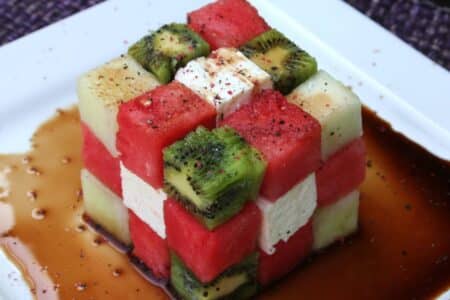 Creativity always creates wonders. Isn't it? One such creative and appealing dish is Fruit Cube Salad. You must make this fun salad if you're a Rubik's cube fan! Assemble a few simple ingredients like watermelon, kiwi, feta cheese, or any of your desired fruits and form a cube. After creatively arranging it, you can also drizzle some honey or maple syrup for an added taste. Certainly, this refreshing and eye-catching salad would be a treat to your taste buds.
3. Mint Mojito Fruit Salad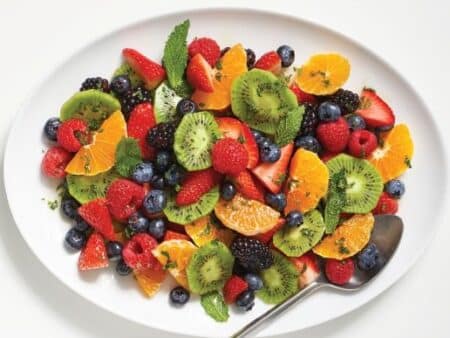 Heyy, the secret's out that you are obsessed with mojitos just like us! Now that you're a fan of this amazing beverage, you can also make a fun Salad for a meal. Cause it's dinner winner for sure when Mint Mojito Fruit Salad is on the table! Yesss, you can relish a bowl of luscious and juicy dish that comprises of mint, fruits, and sugar powder. Toss this delectable dressing into freshly chopped colourful fruits of your choice and drizzle a lightly-sweetened lime on top of it. Your oh-so-amazing and flavorful mojito salad is readdyyyy!
4. Rainbow Fruit Salad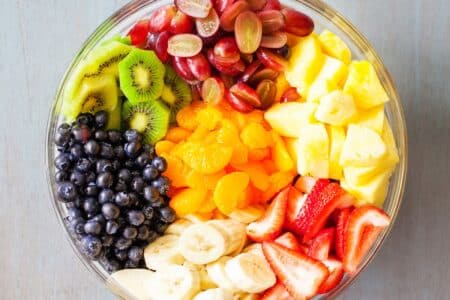 Remember the times when we were hopping around to see the rainbow in a sky. A feeling of nostalgia, right? Now you can recreate this attractive rainbow in the form of a super simple Rainbow Fruit Salad. Yes, you heard it right! A large platter full of tasty and colorful fruits would always be a hit for a brunch or as a healthy snack. Toss the fruit pieces separately in a scrumptious syrup mixture, plate them like a rainbow on your platter, and drizzle a spoonful of honey on it. Annnnddd dig right in!!! Believe us, the nature's beautiful dessert platter will cheer you up any day with its awesome colors, textures, and distinctive flavors.
5. Maple-Lime Dressing Salad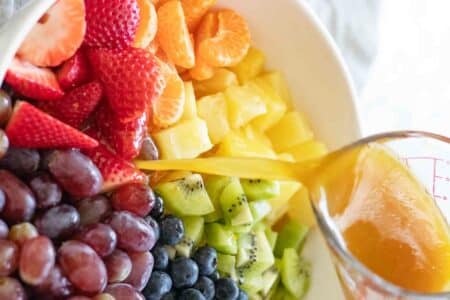 If you're fond of using the maple syrup in different ways, then look no further than this good-looking Maple Lime Dressing Salad. Picture this in front of you – the juicy strawberries, pineapple, raspberries, kiwi, and blueberries would undoubtedly make a pretty and refreshing meal plate. Its just heavenly when it is topped with the most delicious dressing. This fruit dish is full of inviting combination of sweet and tart flavors, colors, and nutrition. Check this link to know how to make a batch of mouth-watering maple lime salad dressing. Also, you can make this impressive salad dish for a get-together or a virtual party with your friends. We'd also like to know if you've got other interesting options of fun fruit salads that you can make at home. And we apple-solutely adore you!