Burgers, Pizzas and Fries. Mexican, Chinese and Punjabi. Yes, the more often we eat out, we look forward to choosing a type of cuisine or dish which usually don't eat at home. But, have you thought how lavishly the food of Gujarat has been graced upon. Well, tighten up your ghaghra, wear up your best makeup and get ready to groove in this Navratri with a dinner date which will only include Gujarati food. Yes, go be Gujarati after all! You might be looking for the pure veg restaurants to have a delightful food experience. hence, we are here to your rescue. Try out the Garba, and best Gujarati dishes during this Navratri.Here are some pure veg restaurants serving unlimited Gujarati thalis around the city, to give you a jolly time.
Rajwadu
Gather up Gujarati favourites and put them all on a plate. Well, that is what you get here with a touch of rich exposure to Gujarati cuisine. With their overwhelming approach towards the ambience, this one is a must-visit place, for a Gujju as well as a non-Gujju individual. Lightly gathered up with performances and natural outdoor seating, this place is a delight in winters. Also, a family get together sounds ethereal.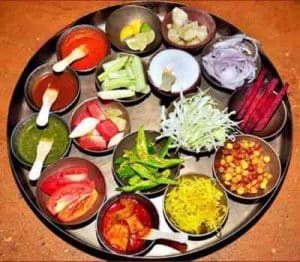 Where: Vejalpur, Ahmedabad Cost for Two: ₹1,300
Gordan Thaal
Appropriate and engaging for all you people out there who want to enjoy the Gujarati cuisine. Ensure to have a lovely lunch or a dashing dinner at this ravishing restaurant. This restaurant is the taste of Gujarat brought to you in a brass plate served with immense love and leisure.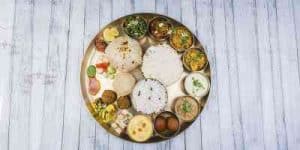 Where: Satellite, Ahmedabad Cost For Two: ₹650
Agaashiye
The House of MG, gives you all those things, an authentic Gujarati cuisine needs. Along with good ambience and a seating at the terrace, a lovely plate filled with various food items is also served with all the affection you just were in search of. Apart, from the food and the place, you'd be glad to have a lovely staff to welcome you.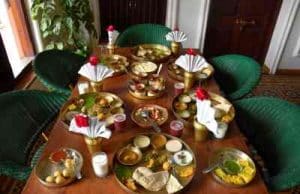 Where: Lal Darwaja, Ahmedabad Cost For Two: ₹1,900
Annkut
You will definitely need a huge appetite to consume this enormously huge, healthy and tasty thali filled with Gujarati delicacies. Also, this restaurant is a spacious place with good and healthy food.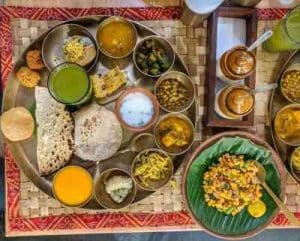 Where: Prahladnagar, Ahmedabad Cost for Two: ₹750
Shree Mahendra Thaal
Enjoy a lovely drive on the SG Highway while you go visit this amazing restaurant with good food and courteous staff. Here is a place, to handle a lovely get together with family and friends this Navratri and enjoy the Gujju-ness of the season.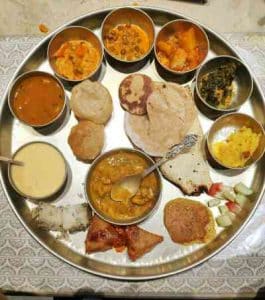 Where: Thaltej, Ahmedabad Cost For Two: ₹600What exactly are you waiting for? Go, grab your best outfits for Navratri and enjoy the essence of being in Ahmedabad and visit these pure veg restaurants during this Navratri!