Hola dear foodies, Where you at? Calling all the mango lovers here! Do you also wish how lovely it would be if the mango season was all year? As we spend most of the summer eating this amazing fruit, then why not make some tasty dishes from mangoes. Mango is an immunity-boosting fruit that is rich in antioxidants, improves skin health, and aids in digestion! We keep waiting for mangoes all year around, isn't it? Mangoes takes us down the memory lane whenever they arrive! We're always eager to indulge into a beautiful plate of aam-ras puri, enticing mango milkshake, mango ice-cream and the list goes on and on! Therefore, we bring to you some of the creative ways to use this superfood in its fantastic new avatars! We assure you that it'll be a mouth-watering journey.
1. Mango Halwa/Sheera
Craving for some luscious homemade halwa? If yes, then try out this not-so-common version of halwa that has our favorite mangoes in it! Mango halwa, also popular as mango sheera or mango kesari is a fabulous sweet dish made with semolina(sooji), nuts, sugar, and ghee. However, the addition of ripe mangoes spiced with cardamom gives an interesting twist to the indulgent sheera and makes it a star dish! Make this quick mango halwa at home and enjoy the piping hot, sweet, and satisfying bowl of halwa after lunch. The dish also proves to be a nutritious punch in your diet!
2. Mango Cheesecake
A perfect treat for your sweet tooth indeed! The delectable, and rich no-bake Mango Cheesecake is made from Marie biscuits, creamy cream cheese, sugar, and a whirlwind of mango puree. This four-layer mango cheesecake is a delicious dessert dish that will fulfill all your summer dreams! Handcraft this beauty at home and enjoy the heavenly taste of the mango cheesecake! You can also serve it as an after-dinner treat and your loved ones will be joyful while satiating this melt-in-mouth goodness.
3. Instant Mango Pickle
Raise your hand if you're in love with khatta-meetha aam ka aachar! Certainly, this tongue-tickling delight is a combination of many flavors that'll burst in your mouth. The instant Mango Pickle made with semi-ripe mangoes is an Indian condiment that can be relished with a variety of food dishes. Put together this sweet, tangy, and spicy pickle with all the ingredients that are easily available at home. Tell us that your mom gave you a pat on your back when you made this divine instant mango pickle!
4. Mango Iced Tea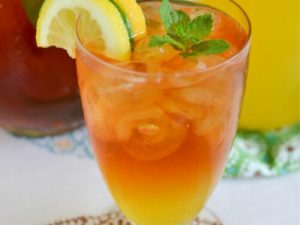 Looking for a delicious and fancy drink this summer? Mango iced tea brings relief from the scorching summer heat that comes together in no time. A refreshing blend of flavorful mango iced tea is an ideal drink that can be relished besides the evening snacks. This fruit-flavored tea is made with simple ingredients that you can easily find at home. Enjoy the juicy taste of mango in each sip that you take while watching your beloved television show!
5. Mango Mousse
If you're looking for a quick fix for satiating your sweet tooth, then you must try making the toothsome Mango Mousse at home. Believe us, you're not going to regret it. The bright and creamy mango mousse is a perfect dessert for instant sweet cravings or last-minute culinary delight for house parties! Did you know that you can make this fruity mousse in just 10 minutes? Ahh, you don't believe us? Then pick all the ingredients required, keep a stopwatch for 10 minutes, and start rolling. Voila! What you see is an appealing dessert made from scratch in front of you.
6. Mango Chia Pudding
Make a glass of instant Mango Chia Pudding and devour it within no time. Trust us, it is a flavorful evening snack option. This fairly quick and easy-to-make delight tastes yummy with the natural aroma of the freshly diced mangoes on the top! You'd want to take pleasure in devouring this yumminess with all the benefits chia seeds provide. Chia seeds are a fine source of nutrients, antioxidants, and are high in quality protein. If your top favorite mango dish isn't on the list, don't forget to share it with us. Also, we'd love to know which of these tasty dishes from mangoes you made at home!!