"Eat breakfast like a 'king', lunch like a 'prince' and dinner like a 'pauper'." This is a very famous and pragmatic saying for all the people who wish to stay fit and healthy.
But in our city, people usually tend to miss breakfast, either because it's college time already or you're getting late for work. To keep up with the sudden morning rush and the exhausting city traffic, we generally skip the first meal of our day.
For a lot of working city dwellers, good breakfast now seems a luxury. Not only the morning hustle but sometimes even our procrastination skills make us forget breakfast. Want a scrumptious breakfast or its variant? This list will help you out to relish delicious breakfast from these best breakfast places! We bring to you the hidden jewels of the city which offer some amazing breakfast options. Whether you crave a wholesome and scrumptious breakfast or some light yet filling variants, this list is your answer to all. From savory waffles, croissants and omelettes to parathas, maska bun and chai, you can fulfill all your desires here.
1. English Breakfast
The full English breakfast is the ultimate life saver. The delightful combination of potato hash browns, eggs of your choice, grilled tomatoes, a bowl full of baked beans and stuffed mushrooms served along with your choice of favorite hot beverage or juice, it couldn't get any more nutritious. Recommended Places:-
2. French Breakfast
Not everyone may be a fan of a conscious breakfast. For such enthusiasts, there are always delicious French baked bread to the rescue. Crepe, Croissant, French toast, French omelette, Cinnamon French toast are among the few options to choose from. Recommended Places:-
3. Parathas
Clearly, no substitute has yet been found for the heavenly parathas. For some people the day does not kick start until they have their favourite parathas. Also, if there's a tall glass of lassi alongside then it's the perfect match. Recommended Places:-
4. American Breakfast
One of the most loved breakfasts all over the globe. Whether it be a fitness freak or a working employee, this serves the purpose for all. From sandwiches, eggs (poached or scrambled), and sausages to delectable pancakes with maple syrup and savory waffles, it is the epitome of greatness. Recommended Places:-
5. South Indian Breakfast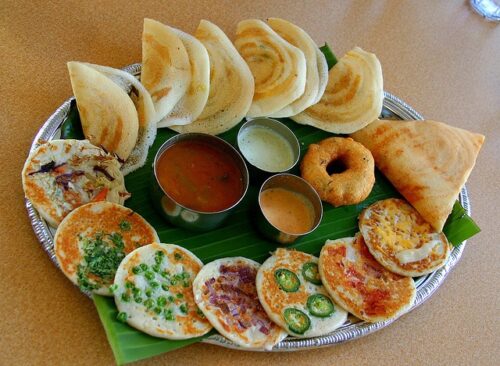 It is the most familiar breakfast from our college canteen or office cafeterias. Including varieties like idli, dosa, uttapam, medu vada, this cuisine has a soft spot in our hearts no matter what time of day it is. Recommended Places:-
6. Continental Breakfast
Since childhood, a bowl of cereal and milk has been our ideal breakfast choice. Furthermore adding our favorite fruit and sweet muffins alongside them it is all we could ask for. It is a perfect blend of a healthy yet light meal to start a day. Recommended Places:-
7. Traditional Breakfast
Mornings without a great cup of tea seem incomplete. The common breakfast dishes made at our home are poha, parathas, bun maska but what if we somehow skip or are no longer adorned with these delicacies? So, here are some places which serve home-like food and to enjoy the favorite – chai. Recommended Places:-
8. Gujarati Nasto
We wait for Sundays or any public holiday to glut our morning appetite with the mouth-watering Gujarati dishes. Comprising khaman, dhokla, fafda, ganthiya, jalebi, dhokla and much more, the list seems inexhaustible. Recommended Places:-
A healthy and palatable breakfast assures that your mornings stay fresh and the day goes well. So make sure that from onwards you never miss out on your breakfast. Visit these places to try the different breakfast variants and determine your new favourite. Tell us which of these breakfast places have become your favorite after visiting them.