Summers are here and you all must've felt that temperature is escalating day by day. Now to hear the beat I was making a list of places that can help me beat the scorching heat. Now that list was ready, next question comes which place to visit first? Plus, I wanted to start this season with something unique. And guess what I found a perfect place, Candy Crush RO Water Gola. This Place has the most unique combinations of coolers and gola. You must be wondering what is so unique that I'm talking about? I won't make you wait for any further, so let's find out.
1. Whisky Slush
Wait wait! Before you start debating on how come this place can serve alcohol in a dry state or so. Let me tell you a secret! This whisky bottle you see is the bottle of a flavor essence which smells exactly like whisky but it's not alcoholic. Seems like an adventurous delight, right? Also, you can also fool your friends by putting up such picture given the fact that you're from a dry state. I bet they'll get surprised for sure.

2. Nutella Gola
Who'd thought that your favorite Nutella can be combined with icy gola? After seeing it on their menu I could not resist ordering one as I am always up to try a new way to have my Nutella.

3. Mava Malai
If you're less of 'let's try something different' person and who wants to play safe then your answer to this summer days is 'Mava Malai Gola'. This is such flavor which will never disappoint you.

4.Rainbow Slush
Remember that colorful gola with all sorts of flavor that you used to have in childhood? Then this is the must try for you. They've got the best of the flavours for this slush including orange, mango, guava and setur.

5. Chocolate Nutties Gola
The bowl full of ice topped with chocolate flavor syrup, chocolate sauce, choco-nutty, gems and rainbow sprinkles. This gola was accompanied by the twisters which I think will be the reason that your friends will fight about.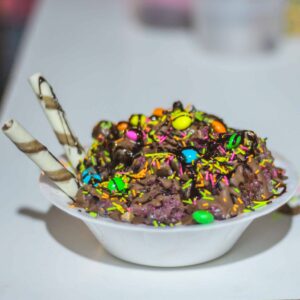 Now that I have given you a plenty of options that'll definitely treat you the best in the summers. Go and try them all at Candy Crush RO Water Gola and also don't forget to tell me which one you liked the most.