Are you a part of the cream team? The ice-cream team? Would you not like to scream for an ice-cream? And don't you think that it would be exciting if you can make the delightful and fancy desserts at home!? If by all means it's a yes, then check out this list of the some of the appetizing ice-cream sandwiches that you can make at home. Make any of these absolutely delicious and creamy desserts at home. "Whatever floats your boat." Trust us, your taste buds will definitely thank you later after feeding them with this amazing frozen dessert. Summer season is already here and we think this is the best season to indulge into an ice-cream or an ice-cream sandwich. This sweet, chewy, and chocolatey treat can be stacked in your refrigerators for an emergency dessert treat!
1. Cookie Ice-cream Sandwich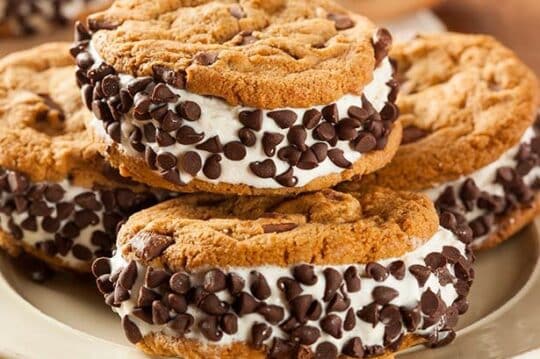 This is simply one of the best and easiest way to indulge into your favorite fancy dessert. You might want to use two biscuits here and squish a scoop of vanilla ice-cream between them and enjoy the deliciousness. Make a bunch of these flavorsome homemade cookie ice-cream sandwich and relish when you're craving for some cold sweet at home!
2. Waffle Ice-cream Sandwich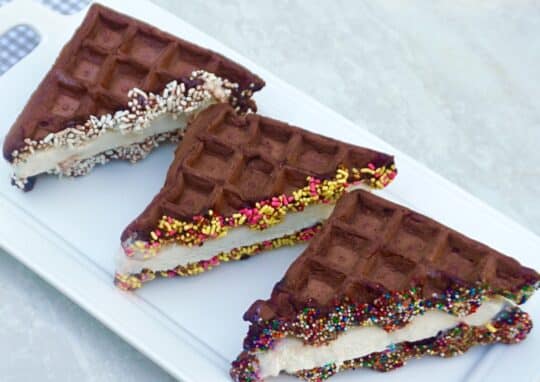 Why choose between ice-cream and waffles when you can have them both? A big waffle ice-cream sandwich can be a better option to have them both at once! Cooling your friends or family with this sweet treat on a hot summer day would be fantastic. Isn't it? Squish any of your desired ice-cream flavor between the crunchy waffles and relish it while binge watching your favorite television show.
3. Doughnut Ice-cream Sandwich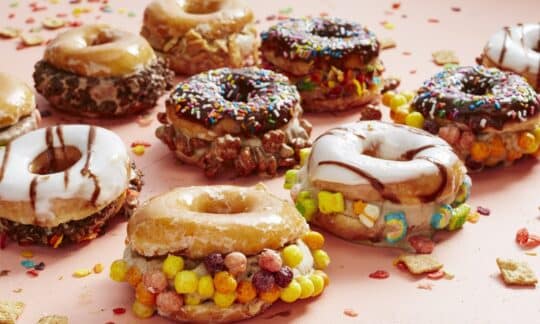 Fond of doughnuts and ice-cream too? But can't choose any one? Then why choose one, when you can have both in a handheld treat? Yes, try this doughnut ice-cream sandwich and thank us later. You can also customize it to make it according to your choice and it'll not take long! One of the best things to do is that you can mix and match the ice-cream flavors here and decorate the doughnuts with the beautiful and tasteful sprinkles to make it look more appealing.
4. Chocolate Cookie And Mint Ice-cream Sandwich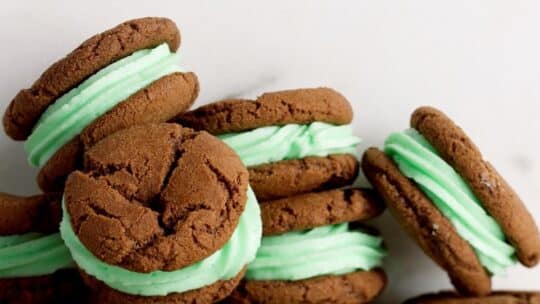 Are you someone who has a sweet tooth and would like to indulge into the desserts anytime? How fabulous it would be if you can relish three in one dessert? Yes, the combination of dainty chocolates, cookies, and delightful mint flavored ice-cream is something you should try. It tastes heavenly! You're going to grab another one after relishing one!
5. Red-velvet Ice-cream Sandwich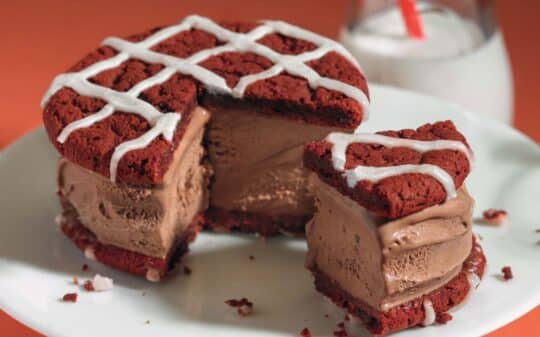 Love the red-velvet flavor cake and the chocolate ice-cream too? Confused on what to choose between the two? Worry not, make some red-velvet ice-cream sandwiches which give you the best of both worlds. Cool yourself or your loved ones by making them the flavorsome red-velvet ice-cream sandwich at home now to beat the summer heat. It will surely become the summertime family treat!
6. Brownie Batter Ice-cream Sandwich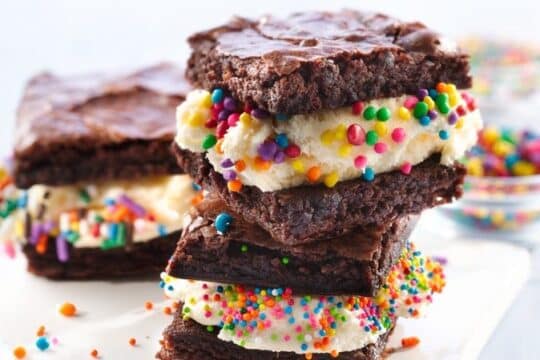 Wanting to indulge into some brownies? But also want an ice-cream that's lying in the freezer? What if we tell you that you can have them both at once? Yes, jump on to that brownie batter and make some tasty brownies. Now squish a scoop of the ice-cream between tow scrumptious brownie sheets and enjoyyy! A sandwich game is better any day, right? If you're falling short of ingredients at home, then do the following. Order a vanilla ice-cream, put it in between two favorite cookies, and sprinkle some chocolate chips on top of it. Voila, you've a quick ice-cream sandwich now! Also, tell us which of these delightful ice-cream sandwiches are you making for your Sunday maniac!