Vada-Pav, Samosa, Kachori, Sandwich, anyone? Imagine eating the absolute flavorsome variants of chutneys with your favorite food dish! If you are obsessed with various flavorful chutneys or dips then try making these at home and indulge into these deliciousness. We've pulled out a list of types of chutneys that will go along with all your desired and mouth-watering food dishes. Chutneys are the super fantastic foods that has the ability to enhance even the simplest of dish into a rocking dish. Hence, it is proved that you're left with a wonderfully inviting meal with any chutney by your side! We're sure that you'll lick your fingers delightfully with all these mouth-watering dip dishes!
1. Mint Coriander Chutney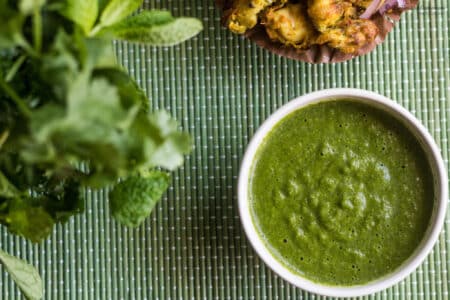 There are multiple variations of the mint coriander chutney. Wherein every household has its own way of making this classic beautiful green chutney. This versatile dip also popular as green or hari chutney is mildly spicy and tangy. it goes with almost every Indian starters and snacks. You name it and it fits perfectly with everything! What goes well with Mint Coriander chutney? Samosas, Kachori, Sev Puri, Dhokla, Fritters, Bhel Puri, Dabeli, Aloo Tikki Burger, Ragda Patties, Sandwiches, Fries, Chana Masala.
2. Onion Chutney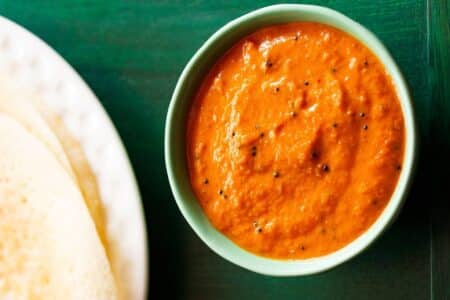 The complex flavors of the chutney tastes divine. Onion chutney is thick, hot, and scrumptious side dish consisting of bursting flavors. You're going to love the caramelized flavor of the onions along with the sweet and tangy touch of flavors. Make this traditional chutney at home and relish it with your favorite foods. What goes well with Onion chutney? Use it as seasoning, Sandwich, Pasta, Pizza, Hot-dog, Burger, Chips, Nachos, Rava Idli, Dosa.
3. Red Chili Chutney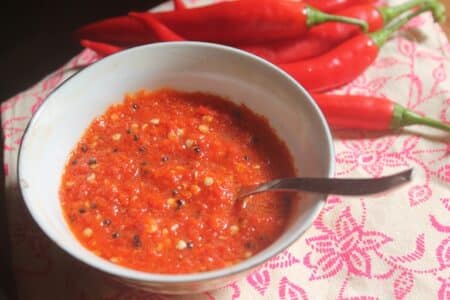 Tickle your taste buds just right with this spicy and mouth-watering red chili chutney. Red chili chutney is a hot and spicy dip consisting of strong flavors. This is a famous Maharashtrian chutney that goes well with all the appetizers. What goes well with Red Chili chutney? Idli, Dosa, Vada-Pav, Burger, Ragda Patties, Bhel, Uttapam, Pakoras, Chilla, Chaat, Momos,
4. Beetroot Chutney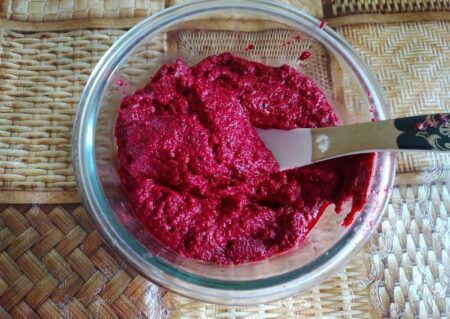 To all the health freaks out there, beetroot chutney is a healthy and nutritious option for you to relish along with your preferred snacks! Your taste buds will thank you later as this vibrant and aromatic chutney is full of flavors. What goes well with Beetroot chutney? Salad, Wraps,Bread Toast, Rice, Roti, Paratha, Rasam Rice, Smoothies, Dips for chips or nachos.
5. Khajur Imli Chutney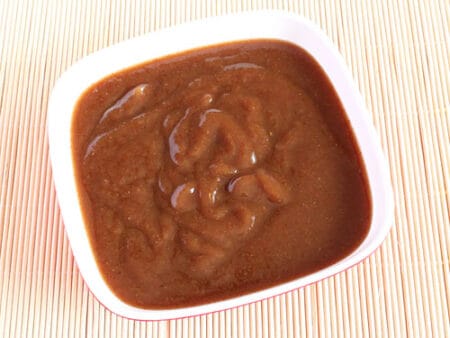 Khajur imli chutney also popular as dates tamarind chutney has a mix of sweet and sour taste. This excellent dip is fully packed with flavors and you are not going back once you taste this flavorsome chutney! What goes well with Khajur Imli chutney? Chaat, Samosas, Bhel Puri, pani Puri, Fritters, Vada-Pav, Cutlets, patties, Gota, Sev-Usal, Dahi Vada, Dahi Puri.
6. Tomato Basil Chutney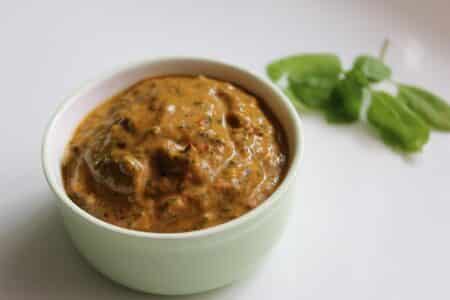 This simple, aromatic, and tasteful tomato basil chutney goes well with all kinds of pastas and pizzas. It is a multi-faceted chutney that consists of peppy masala of spices and dal. Your taste buds are going to thank you later after feeding them with this simple yet delightful side dish. What goes well with Tomato Basil chutney? Starters, Dosa, Hot Idli, Dosa, Pasta, Pizza, Beans Salad, Salad bowl, Savory Pancakes.
7. Dry Garlic Chutney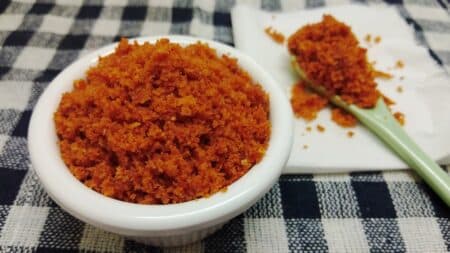 How can we not think of vada-pav when we talk of dry garlic chutney? You already drooling, right? Yessss, we are on the same page! Dry garlic chutney is a must-have for vada-pav! It is a famous Maharashtrian lasun chutney that is packed with fabulous flavors and texture. What goes well with Dry Garlic chutney? Vada-Pav, Debeli, Cheese Rolls, Potato Fingers, Avocado Toast, Sandwich, Butter Toast, Aloo Gobi, Dry Potato Curry.
8. Vrat Ki Chutney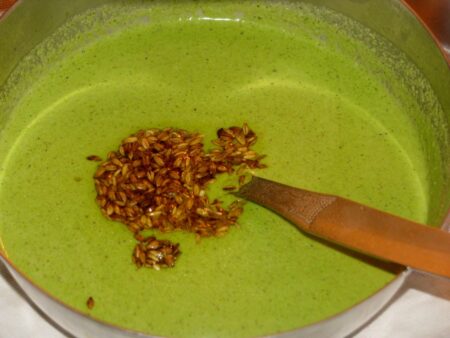 Vrat ki chutney commonly known as farali chutney is an ideal side dish for any fasting day. It does not contain garlic and onion and can be made with handful of simple ingredients at home. This strong and tasteful dip goes really well with all the farali food dishes. What goes well with Vrat ki chutney? Farali Batata vada, Sabudana Vada, Farali Khichdi, Sabudana Khichdi, Potato Chips, Banana Chips, Aamarant Paratha or Puri.
9. Mango Chutney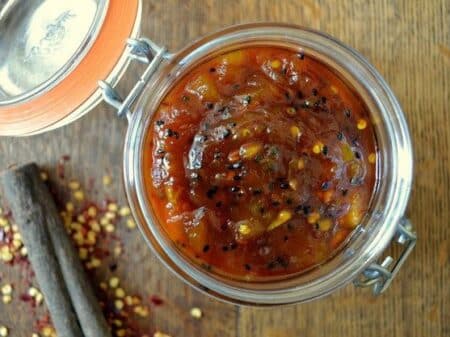 We're never bored of the tasty mangoes and the dishes made from it! One such side dish made from this yummy fruit is the mango chutney. The fresh, vibrant, and delightfully delicious dish is full of bursting flavors. It is really tempting and versatile! What goes well with Mango chutney? Cheese Rolls, Sandwich Spread, Dressing on Sauteed Vegetables, Fried Paneer or Tofu, Salad, As Dips or Dressing for Chips, Cheese Sandwich.
10. Besan Chutney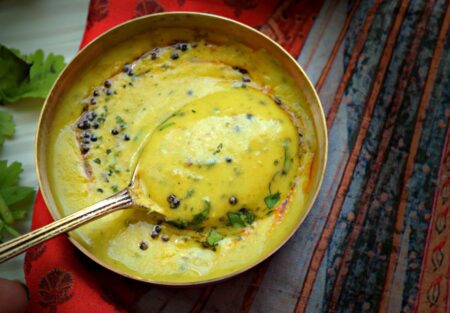 Make a generous bowl of besan chutney before frying those drooling fafdas! Now dip your most-loved fafda into the chutney and relish it like a king. It is well-known as Bombay chutney that is easy to make and tastes soo gooood! What goes well with Besan chutney? Dosa, Idli, Roti, paratha, Fafda, Thika Gathiya, Fritters, Puri, Chorafali, methi na Gota, Onion Fritters. We'd be thrilled to know which chutney out of this list of types of chutneys is your top-favorite!