Food is something that we're never bored of and we're always waiting to try new dishes and flavors of food where ever we go. When we're vacationing in a charming place like Kumbalgarh, our top priorities would be experiencing it's rich cultural heritage and rich Rajasthani cuisine! It consists of plethora of delights ranging from spicy starters, crunchy snacks, lovely desserts, and tasteful curries. We've pulled out a list of must-have food dishes in Kumbalgarh for you to relish on your wonderful vacation to this gorgeous place.
Ahh, and you shouldn't leave this place without trying out these famous and authentic dishes cause they're everything that a food lover would always want!
Must-Have Dishes In Kumbalgarh
1. Daal-Bati Churma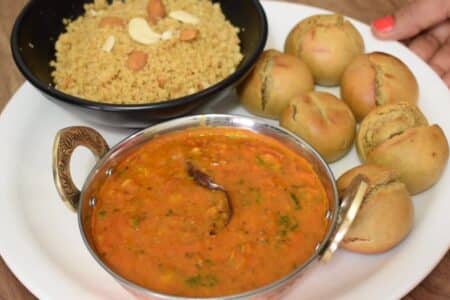 If you haven't tried this signature dish of Rajasthan then you must top Daal-bati churma on your food list when you're traveling to Kumbalgarh. It is one of the most delicious, authentic, and traditional food items of the place. Try relishing this for a weekend brunch or plan a special meal with your friend or family while you're in Kumbalgarh. Believe us, you're not gonna stop after eating a plate of daal-bati churma, you will crave for more and more!!
2. Kadhi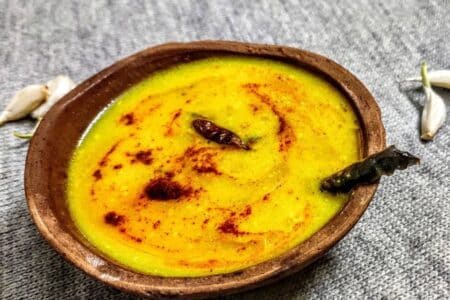 Wanna experience a splash of tasty flavors in a simple food dish like kadhi? If yes, then try out the lip-smacking Rajasthani kadhi. You will become an absolute kadhi fan after indulging into this spicy and masaledaar food dish. Relish a bowl of warm kadhi with any of your favorite curry, vegetable, or pancakes and enjoy its tasty flavors.
Tastes Best With – Aloo ki Sabzi, Rice, Bajre Ki Roti, Phulka, Rajasthani Kaddu
3. Gatte Ka Saag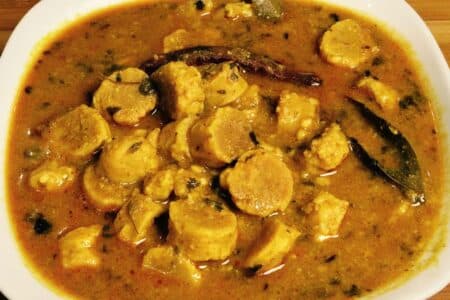 Gatte ki sabzi or gatte ka saag is a delectable yogurt gravy-based dish made with simple ingredients. i,e tomato, spices, buttermilk, and chickpea flour. Above all, this savory dish is a complete mix of interesting flavors, eye-pleasing texture, and awesome taste
Tastes Best With – Phulkas, Bajre Ki Roti, Steaming Rice Plate, Paratha
4. Chruma Ladoo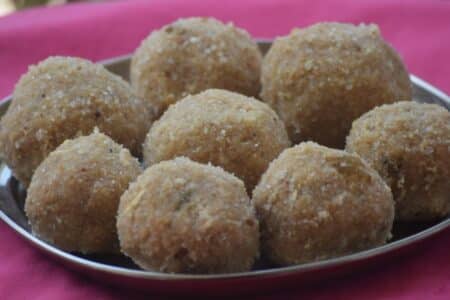 Rajasthani churma ladoo also popular as atta churma ladoo is a toothsome dessert dish to relish in Kumbalgarh. One can enjoy these richer in flavor ladoos after a hearty meal to treat your taste buds. You can also relish this sweet dish along with a traditional meal of dal and baati. And trust us with this, this amazing combo is not going to disappoint you!
Tastes Best With – Panchmel Daal, Dal-Bati Churma
5. Masala Bati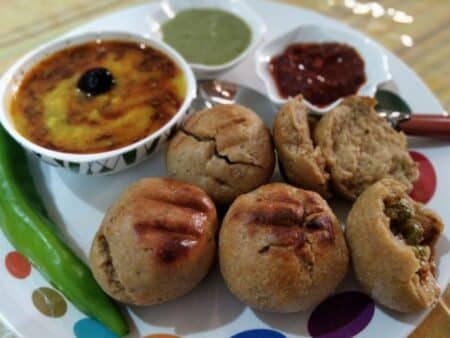 The inviting Masala Bati also known as bharwa masala bati or stuffed masala bati is a condiment of potatoes stuffed inside bati. It is a simple mix of basic ingredients that forms dumplings and spicy potato filling. This appetizing food item is also one of the tastiest and authentic dishes of Rajasthani cuisine.
Tastes Best With – Kadhi, Spicy Chutney, Green Chutney, Curry
6. Panchmel Daal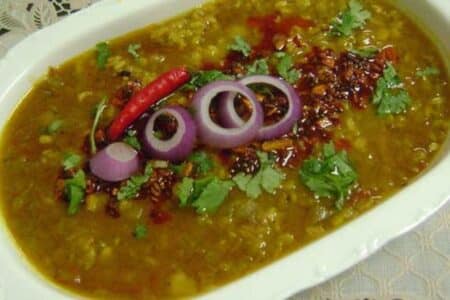 Are you someone who is fond of tasting varieties of daal, when ever you're travelling to a new place? If it's a big yessss, then we believe that you'll not regret after enjoying the Panchmel Daal! Panchmel daal is popularly known as panchratna daal that is rich in protein and consists of nutritious qualities of five distinct daals. Along with the beautiful and appetizing mix of lentils, spices, and vegetables Panchmel daal proves to be healthy and delightful too!
Tastes Best With – Plain Rice, Jeera Rice, Parathas, Roti, Bajre ki Roti
7. Bajre Ki Roti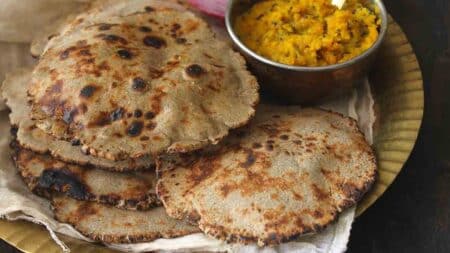 Most of us are pancake lovers here and are always looking forward to indulging into distinctive and healthy pancakes. One such pancake that would absolutely become the star of our meal is Bajre ki Roti! Bajre ki roti or millet pancake is a healthy flatbread with rustic flavor and texture. Likewise, it is also high in fiber content.
Well, hellowww, all the gluten free food lovers out there! This is for you, yessss! You can relish this gluten-free roti with any of your favorite vegetable or chutney.
Tastes Best With – Gatte ki Sabji, Rajasthani Kadi, Kadhi Pakora, Aloo Sabji, Panchmel Dal, Lasun ki Chutney, Garlic Dip
8. Raab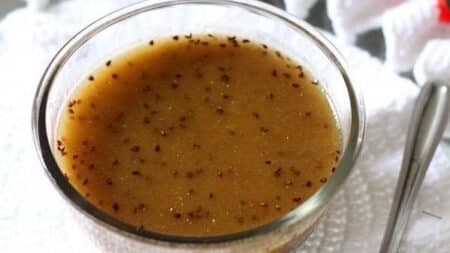 This sweet delight can be a wonderful warm hug on a winter day. Raab is a traditional sweet dish or rabri made from pearl millet flour, jaggery, nuts, and ghee. While it is nutritious and healthy, it is also delectable drink that is perfect for all age groups right from toddlers to children to adults to elders.
If you subsequently feel that the temperatures are rising up when you're traveling in Kumbalgarh, you must relish a bowl of this goodness right away along with some daal-bati churma.
9. Ghevar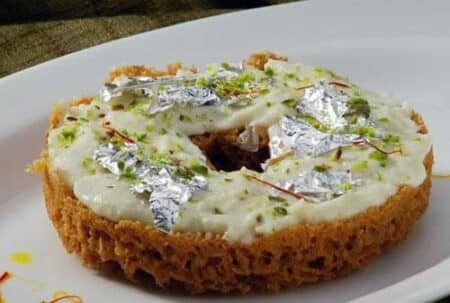 This rich, exotic, and lusciously tempting dessert comes in varieties of flavors and colors. Ghevar – a circular disc shaped dessert is nothing less than heaven! Don't forget to try this extremely delicious and mouth-watering delight once while you're in Kumbalgarh.
Tastes Best With – Rabdi, Dry Fruits
10. Onion Kachori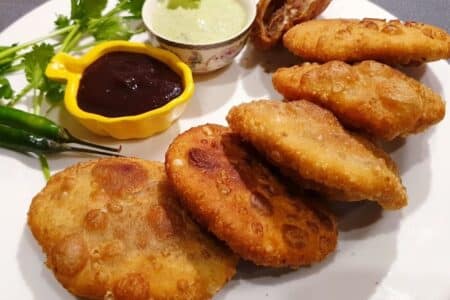 Onion kachori or pyaaz ki kachori is a crispy and flaky snack with a combination of tangy, sweet, and savory flavors. It is a native Rajasthani breakfast dish also famously served as street food. Eat a kachori or two for a morning breakfast or an evening snack to satisfy those sudden hunger pangs!!
Tastes Best With – Red Chutney, Imli Ki Chutney, Coriander Chutney, Other Chaat Dishes
Enlighten us if we've missed any of popular Rajasthani delight in this list of must-have dishes in Kumbalgarh.
Here's a list of all the fun and adventurous things you can do on your trip to Kumbalgarh!!
Always remember to carry your bottle of sanitizer and don't forget to double mask yourself. 🙂